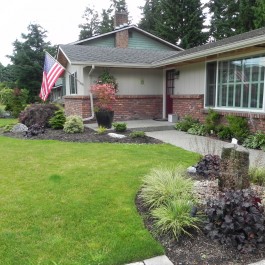 The thought of trying to landscape our front yard by ourselves was overwhelming. After seeing Heidi's website, we decided to use a professional. Needless to say, Heidi made the entire process fun and exciting. We love our yard. The plants have matured just like Heidi said they would. Her continued follow-up with us is very much appreciated. After almost 2 years, we still get compliments on our yard!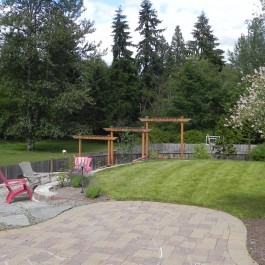 Heidi GOT us when we did our first consultation – and when she presented her ideas it was exactly what we wanted. Her work is beautiful, and there is no question her work on the design end saved us money when we went into construction. Our property looks amazing – and continues to evolve as the plants grow through the years. We would recomend Heidi to anyone looking for help with their landscape needs.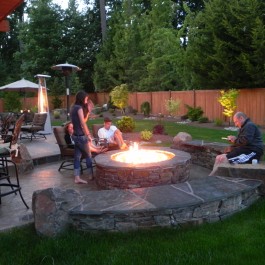 It's hard to mention all the great ideas Heidi had with our project. She took what looked like and inner city lot and turned it into a place we couldn't of dreamed of. Her ideas kept flowing and our backyard is now a destination for 4 teenagers and their friends and well as us and our friends. Why didn't we do this 10 years ago?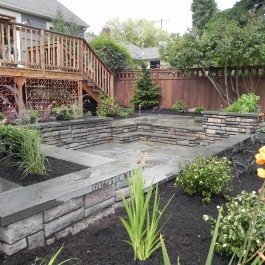 Wow, it's hard to narrow down what the best part of working with Sublime Garden Design is. I enjoyed the design process because in both the front and back yard projects we had very different concepts to choose from and Heidi was very flexible in mixing concepts and changing ideas, so I felt before demo we really had solid plans in place.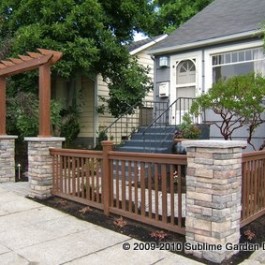 I loved being able to tell Heidi certain plants or colors I liked and have her suggest varieties I have never heard of and pull together trees and shrubs of all sizes to make a nice cohesive garden. And Heidi made the whole project from demo to finish completely worry free. I knew she would make everything perfect. The best part is the results. She has completely transformed the exterior of our house. The yard is so well thought out that with every season we get a new surprise whether it's flowers, colorful blooms, or berries, it's beautiful all year round.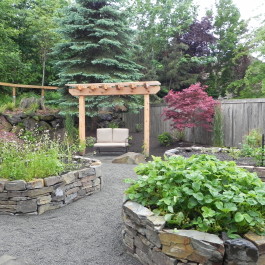 Working with Heidi and her team is such a pleasure. From the begining, I felt that she "got" what I was aiming for in redesigning our backyard, and was able to bring it all together. The end result for us is a backyard that we absolutely love, with features that we wouldn't have thought of – like the gorgeous stone planting beds! I love strolling through my edible garden, and it is a joy to look out the kitchen windows and see a yard that reflects our family's character and taste. Thanks for a great experience!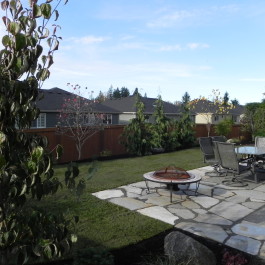 I was very frustrated after years of trying to get anything to work in my yard. Each year I would experiment with new plants and ideas that would only work marginally at best and usually ended with removal of the dead or diseased plant only to try again next year. My lawn was always a disaster not having been planted properly by the house builder, and I had given up on it. My wife and I needed to overhaul our entire front and back yards. It was going to involve a lot of work that I no longer had the time (or the back) to do myself. We called Sublime in for a consultation. It was the best thing we could have done. I provide some examples below of what you can expect from Sublime, how they work, and why you should consider using them for your landscaping needs.
Landscape design: It all starts with a well thought out, detailed, and professionally drafted design of the desired landscape result. I learned this is a crucial step for the dimensional aspects that need to come together, spacing, and to have a visual of what you can expect the final result to look like. I liked that Sublime really took the time to listen to what we wanted, consulted with us on various options, and provided us with multiple drawings for us to narrow down to the configuration we liked best. Sublime provided color photos and full descriptions of all the plants and trees proposed for our landscape. We also received pictures of the other items such as the shed, planter boxes, stone, arbor, etc. so that we always knew exactly what was being discussed and proposed. They really worked with us and made it a pleasant experience.
Plant selection: We were very impressed with the botanical knowledge Sublime could offer, not only with a complete in depth command of the types of plants, trees, shrubs, etc., but also with the insight for how the plants would work in our environment and to our expectations. We really felt a peace of mind knowing that Sublime was actually purchasing the plants on our behalf and hand selecting only the healthy, quality specimens and guaranteeing the health of the plant for the first three years. Sublime also will visit at 6 months and at one year to make sure the vegetation is holding up and to consult with us on how to best maintain them (water, prune, fertilize, etc.).
Landscape contractor selection: Sublime has a history with a variety of different landscape contractors. Because of this it removed the risk from us to try to find a quality and reliable outfit to work with. In fact, Sublime presented to us live interviews with a handful of contractors allowing us to be part of the process and to make sure we were comfortable with the final selection before moving forward. Sublime definitely steered us in the right direction that once again brought us peace of mind so important in an investment like this. Note: we had an interesting situation where Sublime really showed why they are a successful business that will be around a long time. Long story short, after we selected a contractor and an agreed price, Sublime was not comfortable with the bandwidth of this contractor to be able to adequately do the work in the time period we required. Sublime found another group on our behalf and even got them to agree to the original price and schedule we had with the first contractor. We are so grateful that sublime was watching out for us. It really showed their professionalism and their concern for their customer.
Quotation Process: Mentioned above, Sublime arranged for us to receive multiple quotations on the final design we chose. What we loved was that each quotation was itemized line by line of all the work to be done: removal, preparation, material, equipment, labor, etc. that we could compare side by side. Not only that, but we also had the option to take on any item ourselves to save or cut costs. It was very open and very flexible with nothing hidden or questionable.
On site supervision: Sublime was on site every day to oversee that the work in progress was meeting the design and Sublime's high expectations. Once again, we were relieved that we did not have to worry about this. I was also incredibly impressed by the landscape contractor. The crew showed up every morning on time, worked very hard, and always cleaned up after themselves daily so that there was no mess anywhere. They knocked all the work out in just over 5 days – incredible considering it included removing an old lawn, bringing in 24 yards of topsoil, rototilling, moving in a number of 2 man rocks, planting 98 plants/trees, and putting in a stone patio and walkway. This would have taken me a couple of years to do by myself…..
End result: Our yard looked exactly like the drawing and pictures that Sublime created early in the process. It was amazing how well and quickly it all worked out. It is a night and day difference and we could not be happier with the results. Sublime is a great investment. They are very professional, friendly, knowledgeable, open, fair, and have their customer's best interest at heart. I cannot recommend this company enough.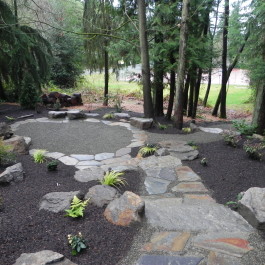 I purchased a new construction house that was on the market for quite a while. The builder ran out of money and did not do any landscaping in the back yard. Aside from the nice big trees in the back yard, it was overgrown with various weeds, invasive ivy and holly trees. The thought of me trying to maintain that backyard and slowly turn it into something nice was quite overwhelming and a lost cause.
I came across Sublime Garden through researching on the internet. In reading their philosophy and various blogs, I really felt that this company was the right fit for me. Their ideals for gardening and landscape design matched what I was looking for… in fact it was like sharing a similar vision of what I wanted my backyard to be.
The best part of the experience was how easy this process went. Heidi and Kryssie listened to what I liked and what I did not like. They provided previous design blue prints and copious amounts of pictures and magazines to get my thought process going. From this starting point, we were able to have a meaningful conversation and come up with a lot of great ideas that provided the basis for their design.
I was blown away by the design. It was better than I expected. The cool thing is that they provide different flavors of the design layouts so that you can look at them and say hmm… I like this part from this design and I like that part from the other design. Overall I am very happy with the design process.
Heidi and Kryssie were able to guide me into making sensible choices regarding my backyard. I really wanted a vegetable garden back there. They could have said yes and added a raised garden. However, they suggested to me that was a bad idea because my backyard does not get enough sunlight. I also wanted to have a certain plant and tree back there. Again they hinted to me that it was a bad idea because those plants and trees would not thrive in the shady area and perhaps would die. What they did then was provide a nice big list of plants and trees that would do well in shady areas and from this list I was able to select plantings that I liked and did not like. Easy right?
Also one of my main goals is to have a low maintenance backyard. Let's just say I did not know that a low maintenance backyard can also look that nice!!! The overall design blended well with my surrounding (I have a lot of big trees in my backyard and also adjacent to my property). My backyard still has that nice nature woodsy feeling. I can't wait till my plantings mature and bloom. There will be lots of wonderful colors for sure even if they are shady plants!
Heidi and Kryssie were wonderful to work with. They were very professional and above all they know what they are doing and they are very knowledgeable about plants, designs, and finding the right people to implement the plans. This process was very straightforward. They procured bids from three different contractors that they highly recommended. To keep them honest, I also procured a bid from a different contractor that they haven't worked with before. I ended up choosing one of their contractor based on my set of criteria: Price, manpower, and equipment. The company I ended up choosing was Devonshire Landscape Inc. and they did a wonderful job. Enough can't be said about their crew!
I ended up paying Sublime Garden to manage my backyard project. I am glad I paid for that extra service because they made sure that the design was implemented correctly. I remember watching Heidi directing the Devonshire crew in meticulously laying out the boulders and risers for my backyard. She must have had the crew lift the same boulder and rotate every which way possible until it looked just right. Heidi is quick in letting the contractors know that something doesn't look quite right and to have landscapers redo it.
The only thing that I could think of that could make the experience event better was perhaps the weather. During the project, it rained a lot and the ground also froze over. This ended up delaying the project by 2 weeks. The cool thing was that since it was winter, I was in no hurry!
 I researched a lot of local designers online and, I thought Sublime's website reflected a design process that was a notch above. The pictures of the finished projects were so impressive!  And, then after I talked to Heidi and one reference, I was sure that we were going to get a super high quality plan with great creative vision behind it. The consultation, the plan itself and the awesome organized plant lists…You guys surpassed our expectations. It's funny how just having a plan has motivated us bite off bigger projects in our yard. We can't wait to get all of it done!!!
We haven't gotten around to planting everything yet. But, what we have done so far has made a visible difference, and we haven't even seen it bloom yet!  We also really appreciate that Heidi tried to use the really great plants that we already had. They may need to be transplanted to a different part of the yard…..but, she doesn't waste a good plant. 
We should have called you guys sooner!

I saw an article featuring some beautiful landscapes in The Everett Herald. The landscapes were designed by Sublime Garden Design. From the article I got the necessary information to make contact. The most exciting part was probably getting the suggestions and ideas on how to improve the landscape around our home.
Heidi is very knowledgeable about the many different plants available and is an expert on designing the landscape. I'm very satisfied with the changes that were made. I like all of the plants that were recommended. I think they worked out well and I look forward to seeing how they look as they continue to grow.
We did some of the work ourselves. Heidi was here and helped with all the changes that were made. The people she recommended to also help with the work have done an excellent job. Heidi was here, on site, to supervise all the changes that were made. I have no complaints, really. I like the appearance of the yard now. I know that it will improve further as the plants mature. I have learned more about plants and yard maintenance in the process.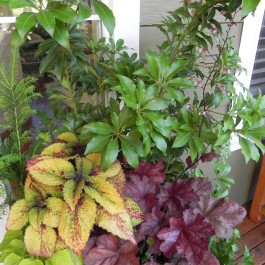 Heidi – thank you for transforming my surroundings! Who knew container pots could be this beautiful? You offered the perfect solution for my busy lifestyle and far exceeded my expectations! I love having the prettiest pots on the block!
You are a pleasure to work with. Thanks for sharing your talents with the world.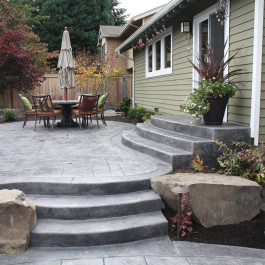 I loved the design part. It was fun to think of all the things we could do, and then figure out what we should do. The implementation process was great too. We've done a lot of work ourselves, but this project was much bigger and it was a relief to have you there to oversee and help guide that process along.
 I love plants, so I was glad we could reuse some existing plants. This time around I wanted less maintenance and I think we achieved that, while still having it look fantastic. Heidi planted a few things I've never had before – looking forward to seeing how they fill in. Our old yard was very overgrown, and the difference is remarkable. Looks like a completely different yard, but very much our style.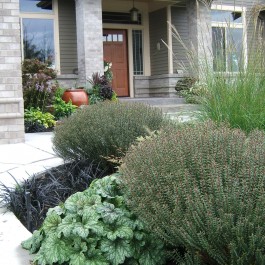 Our home was new construction so the yard was non-existent. Heidi planned the landscape completely, taking into account my likes and dislikes, the slope of the land, the uses we had in mind for different areas and did a plan that allowed us to do the work in stages as money and time allowed. She has been available for ongoing consultations and continues to help with the planning as our landscape changes with the growth of plantings and our changing needs. I would highly recommend talking to Heidi – she is very knowledgeable and willing to listen, which is a huge asset. Our yard is beautiful and we are enjoying it through all seasons thanks to Sublime Garden Design and Heidi.