Woodinville Landscape Designers & Landscape Architects
Outdoor spaces that feel good and do good.
Sublime Garden Design creates holistic outdoor spaces that promote the health and well-being of the client, the garden, and the eco-system in which they all exist.
With our Snohomish team led by Heidi (owner, landscape designer, certified horticulturist) &  Kryssie (Landscape Architect),  we can handle your project  from creation & design to architecture and implementation management.
Small renovations to complete outdoor living spaces all across Snohomish County and North King County.
Ready to get started on your landscape design?
Great! The best way for us to get started is to schedule a free phone consultation to find out if we are the right Woodinville landscape designer for your project. Please fill out our client questionnaire so that we can get to know more about you and your goals, and we will contact you shortly to schedule a phone call. We will typically respond within one business day.
Not sure you need a landscape designer?
No problem.  We can help you figure if you need a Woodinville landscape designer. Provide us with some information about your project and your goals and we will get back to you shortly. We will typically respond within one business day.
"I now have an amazing outdoor living space that is better than I could have ever imagined. I appreciate the way Heidi took into account my lifestyle, taste and the existing plants that I already had into her design. My yard looks more and more amazing each day. I can't wait to see it in the spring."
—Lila B. (Everett)
See what other clients have said…
Northwest Garden Style Goes Great in Woodinville
The northwest garden style includes many different aspects including asymmetry, year-round interest, and using native plants and a mix of woody and perennial plants. The larger plots found in Woodinville work wonderfully with this style.
Asymmetrical landscape designs have a more natural, casual feel which is why they fit in so nicely in the landscapes in Woodinville.  Landscape designers, like Sublime Garden Design, can assist visualization through 3D cad drawings.
Having a mix of woody and perennial plants along with using native plants also helps create a more dynamic and sustainable landscape.
Year-round interest is also important for the northwest garden as we experience all 4 seasons and we want the most from our gardens as we go through the year. By combining these 4 aspects, you can create a beautiful northwest garden that is sure to delight all year around.
Asymmetry:
Determine a central focal point to base your axis off of. Front doorways or a big shade tree in the back yard are good options.
Plant a large shade tree on one side of a pathway and in the other, plant a couple of smaller trees and mix in some lower growing shrubs to balance it out.
Use pathways to lead the eye  to a focal point.
Structures and natural hardscapes designed by your Woodinville landscape architect can be used as well.
Use plant textures to create balance and unity.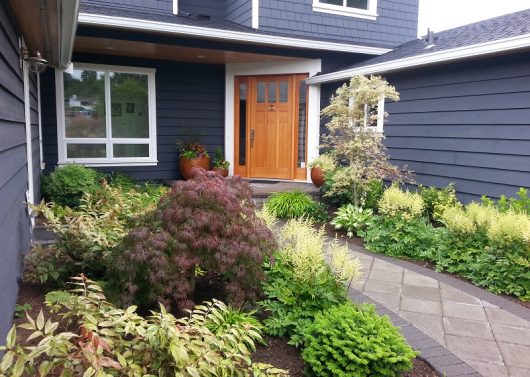 Native Plants:
Native plants help create a garden that can be sustained naturally
Many native plants are easy to care for
Mixing Woody and Perennial Plants:
Create a changing, dynamic display in your garden by mixing and layering woody and perennial plants
Year-Round Interest:
Evergreen plants are a great option to maintain winter interest.
Woodinville landscape designers with horticulture expertise are adept at planning interesting plantings.  Sublime Garden Design is always ready to help you get the most out of your garden design.