Colleen Hanzen
Landscape Design Assistant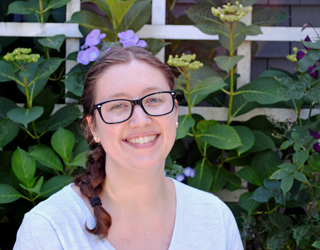 With my dad being an arborist, I grew up always trying to answer his favorite question: "What kind of tree is that?" everywhere we went. I spent much of my childhood going to job sites and helping with maintenance and building small landscape designs my dad would create. While attending the University of Idaho for Theatre Arts, I gradually started taking more and more landscape design classes and by the end of my 4 years, had minored in Landscape Architecture.
After I graduated from U of I in 2014, my husband and I immediately moved to the Seattle area where he had a job lined up that had us traveling to England for 6 months only a month after we moved here. It was such a great opportunity and we got to see so many castles and beautiful gardens while there! After we got back, I started working from home as an Office Manager for an educational company teaching WordPress website classes. I gained much of my website and marketing knowledge from this position but knew that Landscape Design was where my heart belonged and I knew I needed to follow it.
I really enjoy working in a supportive role as a Landscape Design Assistant for Heidi. You'll often see me posting on our Facebook page with new blog posts (if you have a topic you'd like to see discussed, let me know!), updating you through our monthly newsletters, or posting new pictures of fresh, new projects on our Houzz page. I get excited by a good checklist and even more so by a neatly organized excel spreadsheet. I love learning about new plants and materials and how everything works together in a landscape design.