Bothell Landscape Designers
Outdoor spaces that feel good and do good
Sublime Garden Design creates holistic outdoor spaces that promote the health and well-being of the client, the garden, and the eco-system in which they all exist.
With our Snohomish team led by Heidi (owner, landscape designer, certified professional horticulturist) &  Kryssie (our own Bothell Landscape Architect) & Colleen (our Landscape Design Assistant),  we can handle your project from design to installation.
We do small renovations to complete outdoor living spaces all across Snohomish County and North King County.
Ready to get started on your landscape design?
Great! The best way for us to get started is to schedule a free phone consultation to find out if we are the right fit as your Bothell landscape designer. Please fill out our client questionnaire so that we can get to know more about you and your goals, and we will contact you shortly to schedule a phone call. We will typically respond within one business day.
Not sure you need a Bothell landscape designer?
No problem.  We can help you figure if you need a Bothell landscape designer. Provide us with some information about your project and your goals and we will get back to you shortly. We will typically respond within one business day.
"I now have an amazing outdoor living space that is better than I could have ever imagined. I appreciate the way Heidi took into account my lifestyle, taste and the existing plants that I already had into her design. My yard looks more and more amazing each day. I can't wait to see it in the spring."
—Lila B. (Everett)
See what other clients have said…
Some of Our Work as Bothell Landscape Designers
Such a great area and Sublime Garden Design has worked on many landscape design projects here, each with their own unique design and feel. We are skilled at developing creative, alternative, well thought out landscape design solutions to your needs, wants, and goals.
Throughout the entire landscape design process, we worked with each of our Bothell clients to create an outdoor space that met their wants and needs, goals, budget, and timeline.
Backyard Fire Pit
When someone sees a slope, one of the first things they think of is a retaining wall. But, what many don't know is that a level space does not always mean the space will be more usable. This client, like many others, called and said 'I need a retaining wall to make my yard level, so that it is more usable'. In this case a retaining wall was not the best solution. Sublime Garden Design can often create a much more interesting space without that retaining wall. Retaining walls can also eat up a budget extremely fast as was the case for this home in Bothell.
Landscape designers and architects on our team worked together on creating a landscape design without a retaining wall that took advantage of the existing slope. The design created a backyard suited for entertaining that maximized the space of the small yard. What they got was a larger deck for grilling, a dining patio, bubbling rock water feature, and a sunken fire pit patio with built-in seating. All with keeping the backyard dog friendly for their little escape artist… And no retaining wall.
Solara Covered Patio
Another client needed Bothell landscape designers for both their back and side yard. They needed a family-friendly space for entertaining and an option for a covered space for the wet weather we get so much of the year in this area.
The space before consisted of a composite deck (portion of it remained) and spa (removed) and was surrounded by tall grasses and weeds. The yard was unusable when the client contacted us to help them with their landscape design.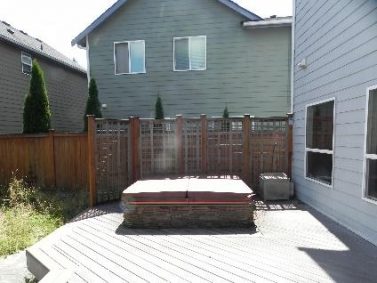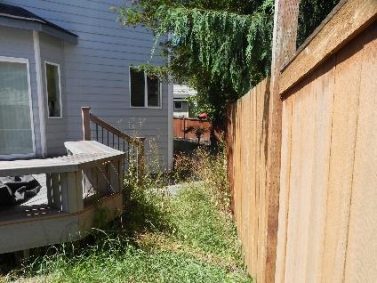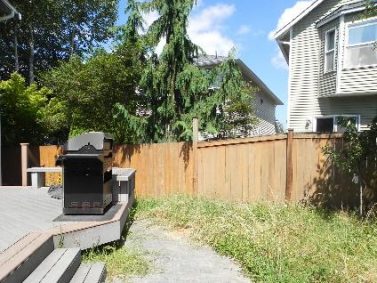 The backyard was transformed to include a flagstone patio with a fireplace, bubbler water feature, lawn, and a covered shade structure using a Solara adjustable patio cover. Even though this was a smaller space, we were still able to design many different features and maximize every inch.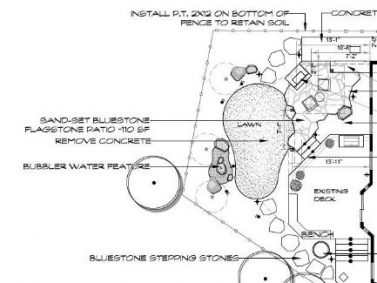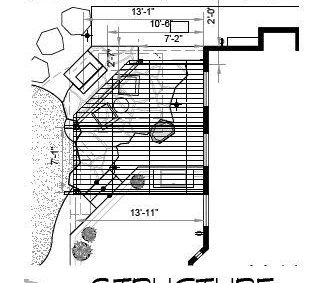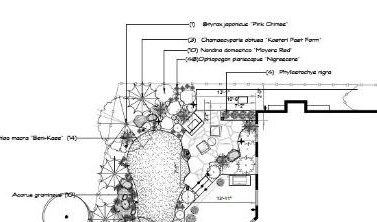 The side yard, while used to connect the back to the front with stepping stones and existing concrete, also included a very unique feature: a gravel knife-throwing area.
Your outdoor living space is an extension of your home and a reflection of your personal style, and you should enjoy it to the fullest. We work hard to make sure that we understand your wants and needs, goals, timeline, and budget and turn those wishes and dreams into an outdoor space that you'll love for years to come.  Sublime Garden Design is thrilled to be Bothell landscape designers.
Why not take a look at our Mill Creek landscape architect work!