Whether you're wanting to make a statement, add a soothing element, or wanting to support local artists, incorporating art into your landscape can be fun and rewarding for you and your guests. Art pieces can be great conversation starters and can help accentuate certain features of your garden; they can serve a functional role in the landscape, as well.
Glass- in the pacific northwest, blown glass can be found almost anywhere and comes in so many different shapes and sizes. Glass floats can be used as pops of color throughout a perennial border or in a water feature or tall, skinny pieces can be used in a pot to add height.
Sculpture- this broad category can include many different kinds of materials ranging from small to large. Stone, cement, resin, and metal (such as iron) are all common materials used in outdoor sculpture. An abstract metal piece or cement sphere can add a contemporary touch, or a statue made of stone can have a more traditional feel.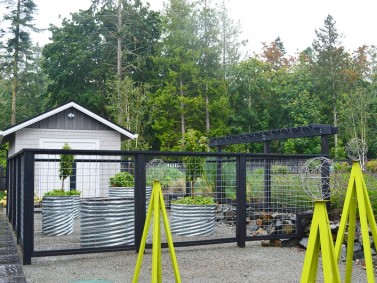 Water- if you're wanting to add in a soothing art element to your garden, water is an excellent option. Water elements can range in size from small bubbling urns and rocks to large ponds and water falls. Water features can also be customized and designed to fit your garden's aesthetic. Even a small birdbath is a welcome site on a sunny day for both you and the birds!
Planters/Containers- Planters are an easy and relatively inexpensive option to add some art and color into the landscape. We know firsthand how hard it can be to find just the right pot, but once you do, it can really help complete your space. You can find so many different options in all shapes and sizes to suit your needs and it's even more fun to find plants to put in them.
Parasoleil panels for screening- Why not let your art have a functional role in your landscape? Parasoleil panels can be used shade, screening, railing, and cladding. You can choose between aluminum, copper, and steel and there are over 50 different patterns to choose from along with custom patterns.
Fence planters- If you have a window facing a fence or a small space that you want to spruce up, fence planters can help you out. You can place as many as you'd like without taking up valuable space and they can be planted with small plants such as succulents.
Upcycling/DIYing Art- If you're into DIYing or getting crafty or have kids that like arts and crafts, you can create your own piece of garden art with found and recycled objects. Upcycling old tools, making mosaic stepping stones, or even making a day of it and hitting up your local antique shops are all fun ways to add art into your landscape.
With all of these options available, the possibilities are truly endless. If you're wanting to add an artistic flair to your landscape, Sorticulture is just around the corner and is a great place to find unique art pieces and plants for your garden. This event takes place from June 8th-10th and is fun for all ages so be sure to check it out as it only happens once a year!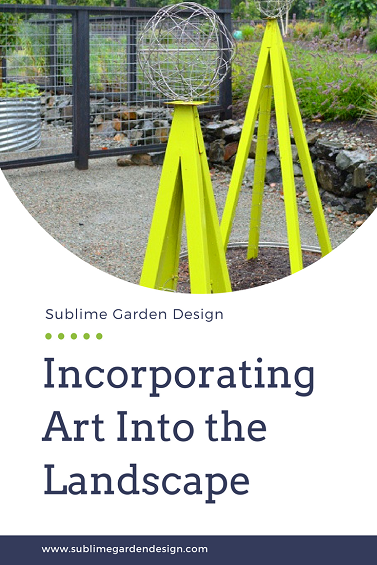 Organized under Containers, Garden Art & Funky stuff, Trends. Labeled as art, art in the garden, art in the landscape, blown glass, containers, fence planters, Garden Art, incorporating art, incorporating art into the landscape, make a statement, make a statement with garden art, parasoleil, parasoleil panels, planters, pots, recycle, sculpture, Upcycle, water.