Caring for your water feature in the winter time is important for the overall maintenance and proper function of it all year round. By following these quick tips, you'll make sure it won't stop working when the freezing temperatures hit.
Although it's cold, you'll want to make sure the pump is clear of any leaves, twigs, and other debris that might have fallen in from strong winds, especially if your keeping your water feature running all year long.
Since we have a milder climate in the Pacific Northwest, you can continue to run it year-round even through snow fall and freezing.
If you decide to keep your water feature running throughout the winter, make sure to keep an eye on the water level and refill as necessary. Gently remove any build-up of ice. Do not let the pump run dry and make sure it is always fully submerged. By keeping the pump running continually, you'll help your water from becoming stagnant.
If you decide that you'd rather turn off your water feature for the winter months, you'll want to make sure to winterize it before doing so. Always make sure that you disconnect it from its power source before performing any maintenance. You will need to remove the pump and place it inside protected from freezing. Drain all water from the feature and cover with a tarp or other covering to protect it.
To read more about water feature maintenance and care, check out this blog post for how to keep yours running smoothly in every other season.
Do you prefer to turn off or keep your water feature running in the winter months? Let us know in the comments, we'd love to hear from you!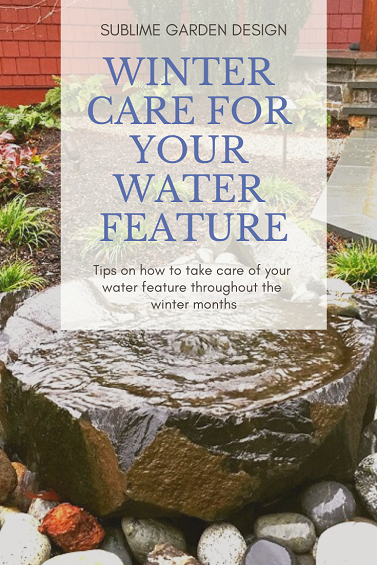 Organized under Garden Maintenance, Garden Tips & Advice, Water Features, Winter Gardens. Labeled as can i keep my water feature running in the winter, caring for your water feature, how to take care of my water feature in winter, how to winterize water feature, water feature care, water feature maintenance, water feature winter care, what to do with water feature in winter, winter care for your water feature.