These 10 drought tolerant plants will help you create a more water wise, low maintenance garden. Keep in mind that while these are drought tolerant once established, they will take anywhere from 2-5 years to fully establish and require less watering. If you're experiencing an extended period of drought, these plants will also very much appreciate some supplemental watering, but they will require less than other non-drought tolerant plants will.
Evergreen Huckleberry (Vaccinium ovatum)- This evergreen shrub has bronze new growth in spring and white flowers in summer followed by edible blue-black berries in late summer. It grows best in full sun but can handle partial shade. The more sun it gets, the better flowering and fruiting you'll have. It is drought tolerant once established, but has better flowers and fruits with at least occasional watering during extreme heat. It will get to be about 6 feet tall and wide.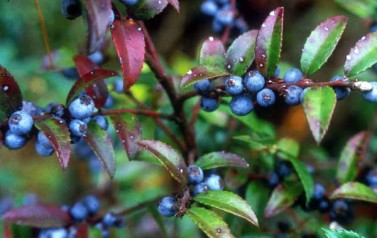 Giant Feather Grass (Stipa gigantea)- This densely mounded grass has arching foliage and panicles that open as silvery-purple and mature to a golden-yellow color in summer through fall. The panicles can reach up to 8 feet tall. Although the foliage is evergreen, once it's established, it should be cut back in late winter to promote new growth once spring comes around. It can also be tidied up but raking through the foliage mound to loosen the dead grass. This grass is also deer resistant which is an added bonus, especially if you live in a more rural area. Place in full sun and well-draining soils.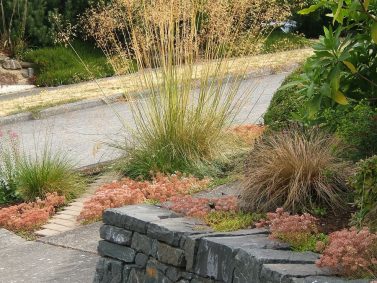 Hameln Dwarf Fountain Grass (Pennisetum alopecuroides 'Hameln')– A compact, deciduous grass that has deep green foliage in summer changing to a golden-orange color in fall. Orange-bronze colored plumes of flowers also bloom in late summer through fall. It gets to be 2-3 feet tall and 1-2 feet wide and likes full sun. You can cut back foliage in late fall or February before new growth appears.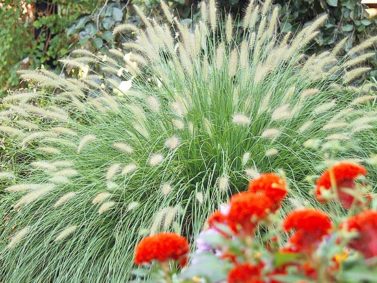 Dwarf Hinoki False Cypress (Chamaecyparis obtusa 'Nana Gracilis')- This slow growing, compact tree (or large shrub) only gets to be about 8 feet tall and 6 feet wide. The Dwarf Hinoki False Cypress has dark green fans of foliage in a tight, pyramidal form. It can be planted in full sun to partial shade, well-drained soils, and will appreciate being protect from strong winds in the winter.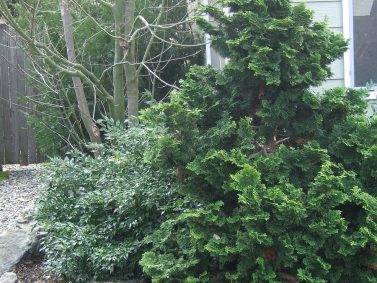 Irish Yew (Taxus baccata 'Fastigiata')- Most commonly used for hedges, this upright evergreen shrub has glossy, dark green needle like leaves. Red, berry like fruit sometimes may appear in late spring to summer but they are not edible. It handles shearing well and can be placed in full sun to light/open shade. It's one of a few conifers that can tolerate dry shade. It grows slowly to reach 15-30 feet tall and 4-8 feet wide.
Vanessa Persian Ironwood (Parrotia persica 'Vanessa')- This upright, columnar deciduous tree has burgundy new foliage in spring that matures to green in summer and is followed by shades of red, yellow, and orange in fall. It does flower in late winter/early spring before the foliage emerges, but they are tiny and they don't have any fragrance. Fall color will be best in full sun. It can grow to be 15-30 feet tall and 10-20 feet wide.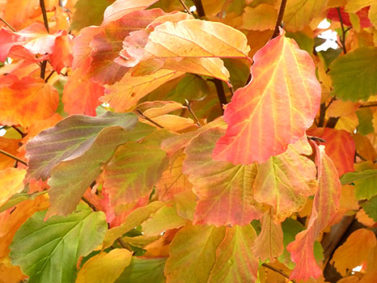 Daylily (Hemerocallis)- The easy to grow daylilies are known for their bright blooms that come in a huge range of colors. They prefer being in full sun (to get the best flowering) but will also do fine in part shade. Moist soil will also help produce the best flowering but they can handle mild drought. Hemerocallis will begin blooming in spring and will continue throughout summer and will attract hummingbirds. Grass like foliage is a lush green and grows quickly and reaches 27 inches tall and 18-24 inches wide. To promote re-blooming and keep it tidy, removed old foliage and spent blooms.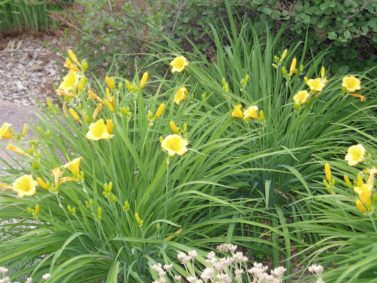 Redhot Poker (Kniphofia)- Narrow, grass like foliage emerges in spring and remains tidy throughout spring and summer. The spikes of flowers rise above the foliage in summer and continue through fall and come in a range of warm colors. The flowers can add a very interesting, vertical texture to any garden. It likes full sun and gets to be about 18 inches tall with the blooms reaching 30 inches tall and 12-18 inches wide.
Coneflower (Echinacea)- These colorful blooms come in so many different colors that you definitely won't run out of options for how you use them. They start blooming in late spring and continue well through summer and work well for cut flowers. Echinacea prefers full sun and well-drained soils.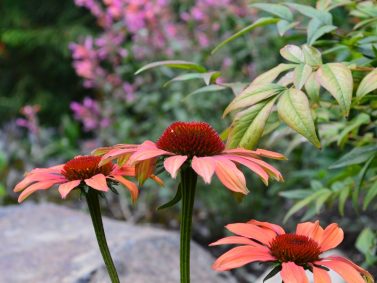 Roman Beauty Rosemary (Rosmarinus officinalis 'Roman Beauty')- The arching stems of this Rosemary spill gracefully over a rock wall or container. The blue-purple flowers bloom in spring and the fragrant, needle-like foliage can be used in cooking. Not only is it drought tolerant, it is also deer resistant and can adapt to different soil types (although it prefers well-drained soils). It grows slowly and reaches 2-3 feet tall and wide.
What are your favorite drought tolerant plants? Let us know in the comments, we'd love to hear from you!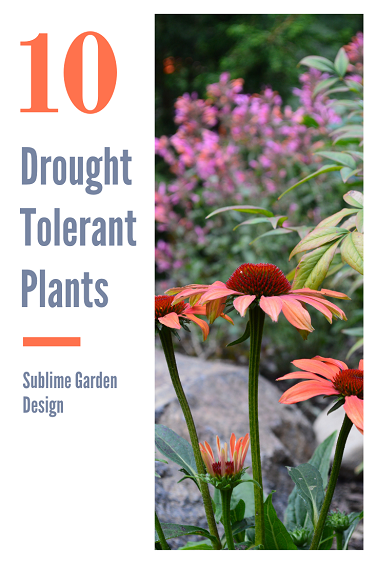 Organized under Buds and Blooms, Garden Maintenance, Garden Tips & Advice, Gardens, Low Maintenance Gardens, Plants I Dig, Sustainability, Trends, Water-wise Gardening. Labeled as Chamaecyparis obtusa 'Nana Gracilis', Coneflower, daylily, drought tolerant plants, Dwarf Hinoki False Cypress, echinacea, evergreen huckleberry, full sun plants, Giant Feather Grass, hameln drawf fountain grass, hemerocallis, irish yew, kniphofia, low maintenance plants, parrotia persica vanessa, pennisetum alopecuroides hameln, plants for full sun, plants that can handle drought, plants that can handle full sun, red hot poker, roman beauty rosemary, rosemary, rosmarinus officianalis roman beauty, stipa giangtea, taxus baccata fastigiata, vaccinium ovatumm, vanessa persion ironwood, water wise gardening.