While many plants shine in spring, summer, or fall, these 5 colorful evergreen shrubs will hold their own throughout winter and every other season.
Scarletta Fetterbush (Leucothoe fontanesiana 'Zeblid')– Scarlet-purple leaves pop out of this evergreen, shiny deep-green shrub in spring and has bronze-red fall coloring. In winter the foliage has tinges of bronze-red making this shrub stand out in the winter garden. The Scarletta Fetterbush does best in partial shade to filtered sun and needs regular watering and likes plenty of organic matter mixed in to the soil. It was get to be about 1'6″-2′ tall and 3-4′ wide.
Flaming Silver Pieris (Pieris japonica 'Flaming Silver')– The bright red new growth and fragrant white flowers are vibrant in spring, but the silvery edged foliage hangs on throughout the year. This bright plant is sure to add some much needed color throughout the year. You'll want to place this in partial sun and water regularly especially in times of intense heat. It looks well-drained soil and to be placed out of harsh winds. The Flaming Silver Pieris will get to be about 3-5 tall and wide.
Golden Mexican Mock Orange (Choisya ternata 'Sundance')– The golden chartreuse foliage provides year-round color in the garden. The orange blossom-like flowers have a sweet, citrusy scent in spring. It can handle partial to full sun but will need regular watering and well-draining soils to thrive. It will reach 5-6 feet tall and wide.
Goshiki Holly Olive (Osmanthus heterophyllus 'Goshiki')– This highly variegated shrub has splatters of various shades of white, green, and pink on its foliage. Once mature, the flowers are also fragrant in fall. Smaller in size, this shrub gets to be 3-4 feet tall and wide. The Goshiki Holly Olive will do best in partial to full sun and moist, but well-drained soils.
Glossy Abelia (Abelia x grandiflora 'Kaleidoscope')– This compact shrub has quite a dynamic color transformation through the year. In early spring, tiny light-green leaves appear with bright yellow edges, maturing to have dark green centers and lime green edges. White flowers bloom in summer through fall which provide food for bees and butterflies. The growing season is finished beautifully as fall colors of red, orange, and yellow wash over this shrub. It can tolerate dry spells once established but prefers to be watered regularly. Glossy Abelia will do well in partial to full sun in well-drained, acidic soils. It gets to be 2- 2'6″ tall and 3- 3'6″ wide.
Which is your favorite winter shrub to add some color to your garden? Let us know in the comments, we'd love to hear from you!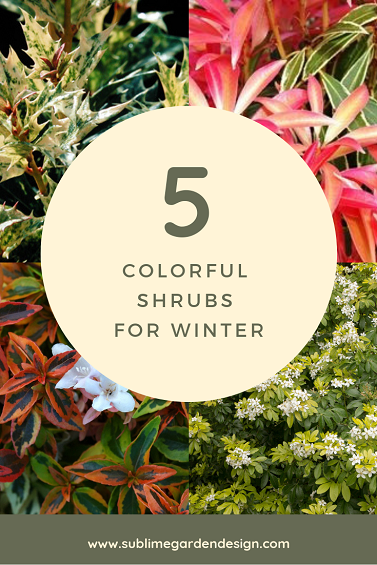 Organized under Evergreen Foliage, Foliage, Gardens, Plants I Dig, Variegated Foliage, Winter Gardens. Labeled as 5 Colorful Shrubs for Winter, abelia, Abelia x grandiflora 'Kaleidoscope', choisya, Choisya ternata 'Sundance', colorful evergreen plants, colorful shrubs, Evergreen plants, evergreen shrubs, flaming silver pieris, glossy abelia, golden mexican mock orange, goshiki holly olive, leucothe, Leucothoe fontanesiana 'Zeblid', osmanthus, Osmanthus heterophyllus 'Goshiki', pieris, Pieris japonica 'Flaming Silver', scarletta fetterbush, shrubs for winter gardens, winter garden shrubs.