High maintenance plants can cause many problems in your garden from growing too big for their space, taking over structures, pruning nightmares, and a lot of messes and hassle that make people frustrated and tired of spending day after day in the garden instead of enjoying it. But, if your goal is a gorgeous garden, you don't have to settle for high maintenance plants. There are many different alternatives that will help you achieve your goals of a beautiful, but low maintenance garden.
Peonies instead of Roses
Roses are notorious for being high maintenance and can be tricky to grow. If you're wanting something similar with big blooms and fragrant flowers, Peonies are a good option that won't have you spending all spring and summer clipping and tending to them. Peonies make great cutting flowers just like roses and come in all different colors and sizes. If you're wanting the lowest maintenance peony, find ones that have small to medium sized blooms, so they don't need to be staked to stay upright throughout the growing season. For an even lower maintenance plant, you can use Tree Peonies in place of roses. Tree Peonies don't need cutting back in the fall/early winter like regular Peonies do. If you don't mind taking the time to stake them, go for the big blooms, you won't regret it. Since they grow from bulbs, they'll die back in winter and then come back up again in spring.
Itoh Hybrid Peony (Paeonia x Itoh 'Canary Brilliants')

Yellow Tree Peony
Viburnum, Abelia, or Spirea instead of Butterfly Bush (Buddleja)
Butterfly Bush produces flowers upon flowers throughout its bloom time which also means it produces a ton of seeds that spread very easily. Because of this, they are hard to contain in just one garden and in some states, are considered an invasive species. If you want a plant that provides food for butterflies but doesn't take over or spread, try Viburnum, Glossy Abelia, or Spirea.
Viburnums such as Compact Korean Spice Viburnum (Viburnum carlesii 'Compactum'), Summer Snowflake Japanese Viburnum (Viburnum plicatum tomentosum 'Summer Snowflake'), and Onondaga Viburnum (Viburnum sargentii 'Onondaga') all have fragrant white flowers in spring and maroon-red fall coloring. This a very small selection of Viburnums you could use in place of Butterfly Bush and you can find them from large, evergreen shrubs to small, compact, deciduous shrubs.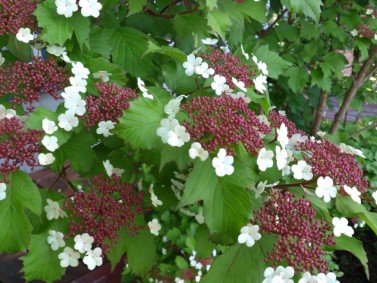 Glossy Abelia (Abelia x grandiflora 'Kaleidoscope') has white flowers in summer through fall that provide food for bees and butterflies. This drought tolerant, evergreen shrub only gets to be about 3 feet tall and wide making it perfect for smaller gardens. Foliage starts out light green with bright yellow edges and gets darker throughout summer and is washed with colors of reds, oranges, and yellows in fall.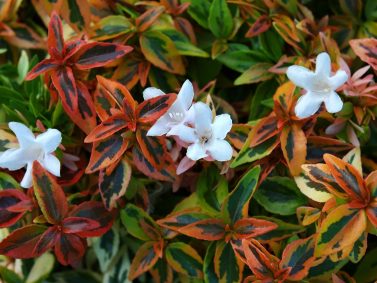 Spireas are a deciduous shrub with green to gold colored foliage and rose colored, butterfly attracting flowers in summer. They also have great fall coloring. Some of our commonly used Spireas are 'Magic Carpet', 'Goldflame', and 'Goldmound'. They stay relatively small and can handle short periods of drought once established.
Climbing Hydrangea instead of English Ivy
While most would consider this an invasive species, especially in our area, it does cover large areas very quickly to provide a green wall, but it will takeover almost anything in its path which is why you should steer clear of this one and find an alternative quickly.
Climbing Hydrangeas (Hydrangea anomala petiolaris), once established, are a vigorous climbing plant that will cling to fences, walls, etc similar to ivy but doesn't tend to jump like English Ivy does. The dark green deciduous foliage is covered with white lacecap blooms in summer providing an extra bit of interest that English Ivy can't provide. It can be pruned yearly after it's done flowering to control its size as well. It can handle full shade to partial sun.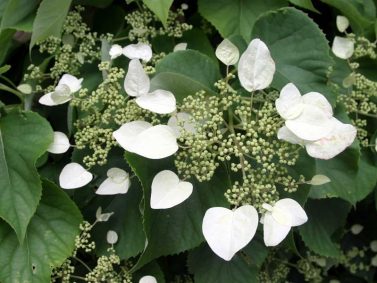 Hicks Yew instead of Leyland Cypress
Leyland Cypress grows quickly and because of this, many people like to use them for blocking unsightly views or providing privacy. But what most people don't realize is that these outgrow their space very quickly and suck up any water nearby making the space around them bone dry and therefore, hard to plant. Without proper pruning, Leyland's also get very wide which can take up valuable gardening space.
Hick Yew (Taxus x media 'Hicksii') is an evergreen shrub that works perfectly for privacy screens and can be used in both small and large settings. It has dark, shiny green needle-like foliage and bright red cone-like berries. The upright growth habit means that they only get to be about 3-4 feet wide and can get up to 10-12 feet tall without a ton of pruning and they can handle shearing if you want to keep them really neat and tidy but that's usually not necessary.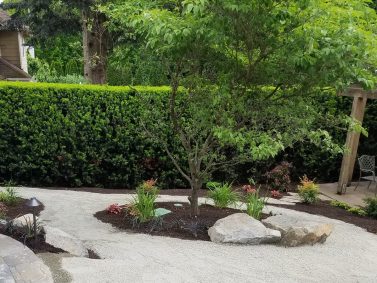 Honeysuckle or Clematis instead of Wisteria
Wisteria, while pretty, is like English Ivy in that it can quickly take over any structure it's been attached to and likes to jump if given the chance. If you're looking for a flowering vine that won't get out of hand, Clematis is a good alternative.
Like Wisteria, Honeysuckle does well in sun but won't get out of hand. The Mandarin Honeysuckle (Lonicera brownii 'Mandarin') is a deciduous vine with fragrant, tube shaped flowers that are red/orange/pink in color. It can grow easily on arbors, trellis', fences, and also draped over walls. The flowers are also great for attracting hummingbirds and have a long bloom time starting in late spring and continuing through summer. It can be pruned after its done flowering to control the size if needed.
If you have an area with less sun, Clematis will work well. Clematis grows quickly but is easily controlled by pruning after it's done flowering. Depending on the variety, the foliage can be deciduous, like 'Vyvyan Pennell' or evergreen like 'Apple Blossom' or 'Snowdrift'. Showy, fragrant flowers bloom in spring through summer, depending on which one you have and range in colors from white to pink to blue to purple and even red.
Morning Light Maiden Grass or Karl Foerster Feather Reed Grass instead of Pampas grass
Pampas grass is usually used in situations where you need height to screen something such as around utility boxes or along a fence line, but this grass can be messy and spreads very easily and is considered invasive in some places. Both Morning Light Maiden Grass (Miscanthus sinensis 'Morning Light') and Karl Foerster Feather Reed Grass (Calamagrostis acutiflora 'Karl Foerster') provides a nice amount of height for screening without needing constant supervision.
Morning Light Maiden Grass (Miscanthus sinensis 'Morning Light') has graceful, arching, variegated foliage with pale red flowers in fall turning to reddish brown. It gets to be about 5 feet tall and 4 feet wide with silky, bronze tinged plumes making it reach up to 6 feet tall. This grass goes dormant in winter and fades to a light sandy color and provides architectural interest in the winter garden.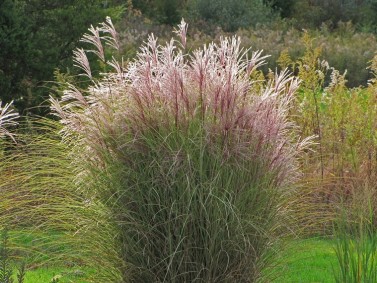 Karl Foerster Feather Reed Grass (Calamagrostis acutiflora 'Karl Foerster') is also a deciduous grass but with tall, purplish cream-colored feathery flower stalks that get up to 6 feet tall. In fall they turn golden in color and provides winter interest before being cut back in late winter. It can handle both wet and dry conditions making this a pretty versatile ornamental grass that won't get messy.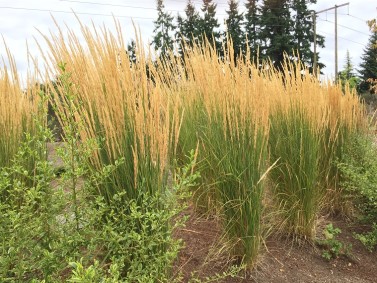 Hydrangeas instead of Dahlias
Dahlias are tubers (not bulbs) and are susceptible to things like root rot if they're not planted at the right time or the soil is too wet and need to be dug back up in Fall to protect from frost. While the blooms are gorgeous, Dahlias require staking since the blooms can get so big and weigh down the whole plant and they do need to be pinched and deadheaded regularly to maintain those big blooms. If you're willing to go through all this work, Dahlias can be beautiful in the garden but if not and you still want big blooms that will work as cut flowers, Hydrangeas are where it's at.
Hydrangeas come in all sorts of colors and sizes. Instead of only providing one season of interest like Dahlia's, Hydrangeas provide year-round interest. In spring green foliage emerges and is soon followed by those iconic blooms in early summer and continue through late summer/early fall. Flowers will hold on throughout fall and winter but can be removed if you prefer. Foliage turns colors of reds, oranges, and purples in fall before revealing bare stems, some of which are interesting colors. You can read more about different kinds of Hydrangeas here.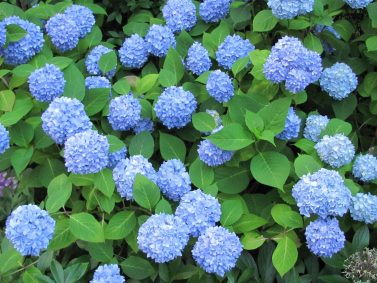 Lawn Alternatives
If you're tired of mowing throughout summer and dealing with watering constantly, there are quite a few options to replace your typical lawn with. Some alternatives include Festuca rubra rubra, Creeping Lilyturf, and Dwarf Mondo Grass. You can read more about these and other lawn alternatives here.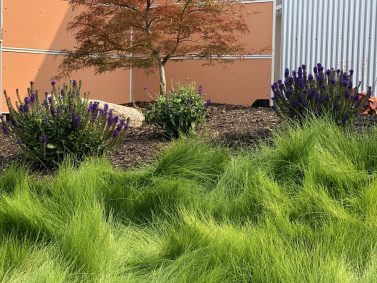 In general, high maintenance plants are going to be the ones that require constant deadheading and pruning along with plants that spread quickly and takeover other plants, structures, etc when they're not suppose to. It's also a good idea to check to see what plants might be considered invasive in your area so you don't accidentally plant them. Something that might keep itself contained in a garden here in the Pacific Northwest, might do the opposite in warmer temps in the South. If you're shopping for plants online or just browsing to see what's out there, it's always a good plan to check the zone to make sure it'll grow properly wherever you're located, along with its size and soil and water requirements. This will save you from a lot of extra maintenance if you choose plants that are right for your zone and the space that they'll be planted in.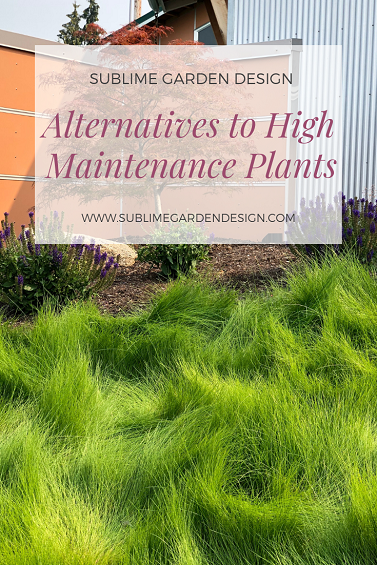 Organized under Buds and Blooms, Garden Maintenance, Garden Tips & Advice, Gardens, Low Maintenance Gardens, Plants I Dig, Trends. Labeled as abelia, alternatives to high maintenance plants, buddleja, butterfly bush, calamagrostis, camellias, climbing hydrangea, dahlias, english ivy, festuca rubra rubra, hicks yew, honeysuckle, Karl Foerster Feather Reed Grass, lawn alternatives, leyland cypress, leylandii, low maintenance plants, miscanthus, Morning Light Maiden Grass, pampas grass, peonies, roses, spirea, tubers, viburnum, wisteria.