Vertical gardening opens more possibilities for adding plants to your space rather than just on the ground level. If you have a smaller outdoor space, this could add much needed planting space that you might not have had otherwise. You can even add vertical gardening options in your house, as well.
Fence Planters- You can find fence planters in many different sizes and styles. They're easy to install and take up virtually no space so they're perfect for small side yards. Fill them up with various succulents, small flowers, and trailing plants.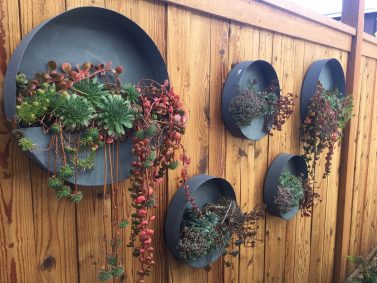 Teepee Trellis- These are great in your vegetable garden for vine type plants such as peas and beans. They can also be used for larger veggies like cucumbers and summer squash or for flowering vines like clematis. Teepee trellis' can be made from either metal or wood depending on how sturdy you need it to be and can be DIYed or purchased from garden centers.
Arbors/Pergolas- If you have an arbor or open pergola, adding climbing vines are a good option for adding more greenery and shade once its established. Combining arbors and pergolas with plant material can help create a "garden ceiling" and make the space feel more enclosed and private.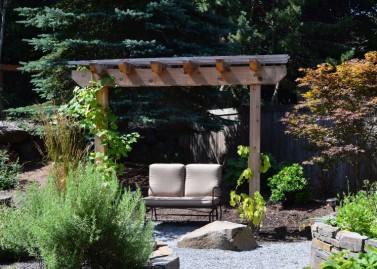 Plant Walls- These can be made from a ton of different materials and can be customized to your own style and can be made for small or large scale spaces. You can create a small plant wall with simple things like pallets or picture frames or large plant walls with lattice work or upcycled items like dressers or bookshelves.
Woolly Pockets- These planters can be used inside (or out) and are made from recycled plastic bottles and felt with a moisture barrier to protect your walls. They're easy to install and you can find single pockets or full wall hangings to accommodate whichever size of wall you have. Add soil and plants and you have a living wall in your home.
What creative ways have you found for vertical gardening? Let us know in the comments, we'd love to hear from you!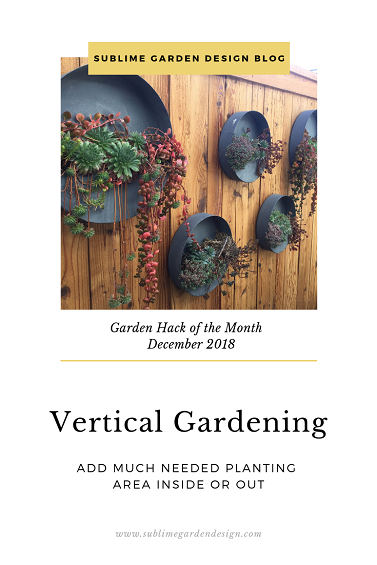 Organized under Containers, Garden Art & Funky stuff, Garden Hack of the Month, Gardens, Screening, Small space gardening, Trends, Vertical Gardens. Labeled as Arbors, climbing vines, december garden hack, fence planters, garden hack of the month, garden hacks, indoor planters, indoor vertical gardening, outdoor planters, outdoor vertical gardening, pergolas, plant walls, small space gardening, teepee trellis, vertical gardening, woolly pockets.