While most of us tend to appreciate our gardens in the daylight when we can see all the blooms and unique foliage, there are also plenty of options for enjoying your garden at night. Moon gardens are usually planted with white blooms, bright foliage, fragrant flowers, and night blooming plants that will catch your eye even on the darkest nights.
Plants with White Blooms
Astilbe- The dark green, fern like foliage of Astilbes make the perfect backdrop for the showy, white flower spikes in summer. 'Vision in White', 'Bridal Veil', and 'Deutschland' are all great options for moon gardens.
Blue Mist Fothergilla (Fothergilla gardenii 'Blue Mist')- Although many choose Fothergilla for its outstanding fall coloring, the bottlebrush flower clusters shine bright in the evening. Blue Mist Fothergilla also has the added benefit of blue-green, almost silvery foliage.
Echinacea- This herbaceous perennial comes in many different colors but, for a moon garden, your best bets are going to be 'PowWow White', 'White Swan' and 'Green Jewel'. Blooming starts in early summer and continues through fall.
Hydrangeas- With their large, showy blooms, Hydrangeas are a no brainer for the moon garden. There are many different varieties to choose from so that you can find the right one for your space. White blooming Hydrangeas include 'Incrediball', 'Annabelle', 'Wedding Gown', 'Snow Storm', and 'Snow Queen'. Many Hydrangeas also have really great fall coloring.
Waterlily Star Magnolia (Magnolia stellata 'Waterlily')- This large deciduous shrub (which can also be trained into a small tree) has big, white, fragrant flowers in Spring on bare wood. This Magnolia blooms a little later than other Star Magnolias, as well, keeping it safer from late frosts.
Plants with Bright & Variegated Foliage
Variegated Hostas- There are just too many good ones to choose from when it comes to variegated hostas. You can find hostas that have bright gold, bright green, and creamy or bright white colorings. Some examples would be 'Guacamole', 'Great Expectations', 'Fire and Ice', 'Night Before Christmas', 'Patriot', 'Trifecta', 'Robert Frost', and 'Grand Tiara'.
Big Ears Lamb's Ear (Stachys byzantine 'Big Ears')- Not only does this plant have silvery-blue leaves that shine in the moonlight, but the large, fuzzy foliage will add an interesting tactile texture to the garden. Younger kids especially like the feel of this plant.
Variegated Giant Dogwood (Cornus controversa 'Variegata')- If you're looking for a much larger option to add to your moon garden, the Variegated Giant Dogwood has shimmery white variegation on its foliage with a unique horizontal branching habit. It also has white flowers in spring.
Snow Angel Coral Bells (Heuchera sanguinea 'Snow Angel')- Heuchera's come in many different colors but this one has white and green speckled foliage throughout the year. Rose red flower spikes rise tall in Spring.
Japanese Painted Fern (Athyrium nipponicum 'Pictum')- This deciduous fern has silvery, blue-green fronds that are accented with purple tones along the stems. The Ghost Fern (Athyrium x 'Ghost') is another option with similar colorings. Both stand out in shade and moon gardens.
Night Blooming Plants
Tufted Evening Primrose (Oenothera caespitosa)- While white flowers might stand out the most in a moon garden, you can find evening primrose in many different colors to match your taste. The cupped shaped flowers also attract moth pollinators.
Midnight Candy Night Phlox (Zaluzianskya capensis 'Midnight Candy')- Pinwheel shaped flowers have bright white insides and purple-maroon undersides making this a great plant for both moon gardens and everyday gardens. At night they also release a vanilla-honey scent.
Angel's Trumpet (Brugmansia)- The very large trumpet shaped, pendulous flowers are easily seen no matter how dark it is outside and come in shades of white, yellow, and pink. They are most fragrant in the early evening and night time with a citrusy scent. All parts of the Angel's Trumpet plant are poisonous so that is something to keep in mind if you have pets or curious children.
Four O'Clock (Mirabilis jalapa)- These flowers get their name from their late afternoon blooming time. The flowers will remain open until morning and may even continue to stay open on cloudy days. They come in shades of white, yellow, red, and pink and have a vanilla scent when they open.
Chocolate Flower (Berlandiera lyrata)- Daisy-like, yellow flowers bloom at night in late summer and release an intoxicating chocolate scent which lasts until morning. The bright yellow petals have red stripes on the undersides and greenish-brown centers.
Plants with Fragrant Flowers
Fragrant Sarcococca (Sarcococca ruscifolia)- This evergreen shrub has tiny, white flowers that are highly scented with vanilla in winter. While the flowers might not be very visible in a moon garden, your nose will certainly find the fragrance pleasant.
Daphne transatlantica 'Eternal Fragrance'- Blush pink flower clusters cover this semi-evergreen shrub starting in spring and may repeat bloom in summer through fall. It has a strong citrus-like scent.
Korean Spice Viburnum (Viburnum carlesii)- If the large pinkish-white globes of flowers weren't enough for your moon garden, they also give off a nice, spicy scent in spring. It also has great reddish fall color.
Peonies (Paeonia)- Whether you want them for a cutting garden for your flower arrangements or in a moon garden for their fragrance, you can't go wrong with peonies. They come in a ton of different color combinations (including white) and many people say they smell similar to roses but without the thorns. 'Duchesse De Nemours', 'Jan Van Leeuwen', 'Moonstone', 'Double White', and 'Shirley Temple' are some examples of white flowered peonies.
Ivory Silk Lilac (Syringa reticulata 'Ivory Silk')- Another tree option, the Ivory Silk Lilac has white flower clusters in late spring that have that classic lilac smell. It also has reddish-brown bark throughout the year.
Ornamental Grasses
Frosty Curls Sedge (Carex albula 'Frosty Curls')- This evergreen grass-like sedge has silvery-green blades that are narrow and curl around offering an interesting texture in the garden.
Golden Variegated Hakonechloa (Hakonechloa macra 'Aureola')- The soft, flowing, golden foliage gives off a glowing effect in moon gardens when planted close to darker leafed plants.
Little Bunny Fountain Grass (Pennisetum alopecuroides 'Little Bunny')- A deciduous grass, the foliage is rich green through spring/summer and turns slightly golden in fall. The tan colored plumes of flowers standout against the foliage in fall.
Karl Foerster Feather Reed Grass (Calamagrostis x acutiflora 'Karl Foerster')- This tall grass provides a good amount of winter interest especially when planted en masse. The purplish, cream colored flower stalks stand atop green foliage and rustles in the wind providing another sensory option for the moon garden.
Variegated Silver Maiden Grass (Miscanthus sinensis 'Variegatus')- Another large ornamental grass, the Variegated Silver Maiden Grass has dark green arching foliage with creamy white stripes. Silvery white flower plumes emerge in fall.
Evergreen Plants
Goshiki Holly Olive (Osmanthus heterophyllus 'Goshiki')- This highly variegated shrub has splatters of various shades of white, green, and pink on its foliage. Once mature, the flowers are also fragrant in fall.
Chief Joseph Lodgepole Pine (Pinus contorta 'Chief Joseph')- Although this doesn't follow the white trend, there's no way you can miss this pine in the landscape. The Chief Joseph Lodgepole Pine has lime green new growth which matures to a bright yellow by fall.
Golden Irish Yew (Taxus baccata 'Fastigiata Aureomarginata')- This upright shrub has glossy green, needle-like leaves with golden yellow edges. It works well as a hedge or backdrop plant.
Quicksilver Hebe (Hebe pimeleoides 'Quicksilver')- The dark stems of this low growing shrub complement the silvery-blue foliage with small purple flowers appearing in summer.
Girard's Rainbow Leucothoe (Leucothoe fontanesiana 'Girard's Rainbow')- This deer resistant hedge plant has white speckled foliage with scarlet red stems and white flowers in spring. In winter the foliage takes on a bronze-pink coloring.
Do you have a moon garden? Which plants are your favorite to lighten up your garden at night time? We'd love to hear from you!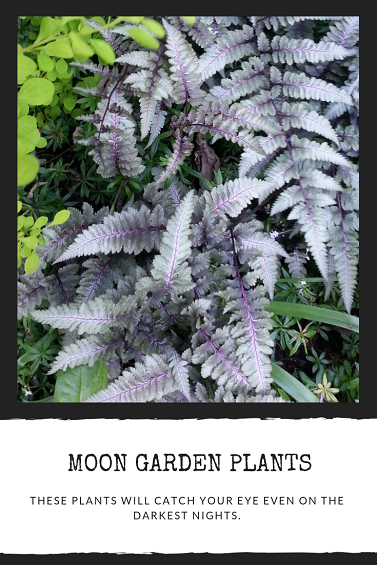 Organized under Foliage, Gardens, Moon Gardens, Plants I Dig, Shade Gardens, Trends, Variegated Foliage. Labeled as evergreen plants for moon gardens, fragrant blooms, grasses for moon gardens, moon garden, moon garden evergreens, moon garden grasses, moon garden night blooming plants, moon garden plants, moon gardens, night bloomers, night flowers, night time bloomers, night time plants, ornamental grasses for moon gardens, plants for moon gardens, plants with fragrant flowers, plants with variegated foliage, plants with white flowers, trees for moon gardens.