Whether you have a big or a small space, outdoor furniture makes a space feel cozy and inviting. If you're a DIY-er, there are tons of crafty tutorials out there to make your own out of pallets and other materials or if you'd rather stay away from the drill and glue, there are so many places to find unique outdoor furniture to suit any style of garden.
Before you hop online or head to your nearest store, it's a good idea to think about how you want your outdoor space to function. Do you want it to be a place where you can sit back, read a book, and unwind from the day? Do you like entertaining and having family and friends over throughout the year? Do you like eating dinner outside whenever you get the chance? If you can't stand the idea of eating outside with the mosquitoes, a dining table may not be high on your priority list, and instead you might opt for more comfy seating options and vice versa. Knowing how you want to use your space will help guide you when you're trying to choose the right outdoor furniture.
Purchasing quality outdoor furniture that's been made with durable and weather resistant materials like cedar, metal, teak, and wicker will make sure your furniture continues to look good through every season and year after year. This is definitely a situation of you get what you pay for. That plastic end table may look good on the shelf but will start fading in the sun and cracking with weather extremes. It's important that if you have cushions to choose fabrics that are made for being outside and are easy to maintain and clean. This will make your life a whole lot easier and means you'll get to spend less time cleaning and more time enjoying being outside.
For smaller patios, you want to be able to use as much space as possible without it feeling cramped. For many, this could mean finding pieces that double as other useable things that may not fit in a small garden otherwise. You can find tables that have built-in fire pits and side tables and footrests that have storage areas for cushions, coasters, toys, etc.
Built-in benches and seat walls can be a good way to maximize the amount space you have available for both large and small areas but is a more expensive option and requires a bit more forethought.
Fire pits that have removable lids can double as tables when you're not having a fire. And portable fire pits are a great option for when you need to put it away to make room for more chairs or bring it back out if you have a smaller group.
Stackable, foldable, and moveable furniture might be a must if you have a small space. Being able to stack chairs, move a table, and rearrange furniture sets makes it easy to put things to the side when they're not needed or in the way.
Chaises can add a relaxing vibe whether it's under a pergola, on a rooftop, or by the pool. You can find modern, contemporary, and even rustic chaise lounges and ones with or without cushions.
Sofas, benches, and sectionals are a good option if you're wanting plenty of seating space. You can find so many different unique styles at different price points to fit into your budget.
If you host dinner parties and enjoy being outside at meal times, you can find all shapes and sizes of tables to fit your needs. From grand tables for elegant dinner parties to small round tables for a quick lunch outside, tables are a great addition to your outdoor furniture set.
Large boulders, while not your standard "outdoor furniture", can be placed around fire pits and patios for more of a permanent, natural seating option.
A simple set of matching Adirondack chairs or a small bistro set or a brightly colored table and chair set work well to finish a small space and incorporate everything together.
Full outdoor furniture sets may be a bit more expensive but finding a quality one that matches your space can last you many years. They provide a ton of possibilities for seating and entertaining.
If your space doesn't have a covered area, it may be a good idea to invest in an umbrella. Smaller ones can help provide light shade while large and over sized ones not only provide refuge from the elements but also help protect your outdoor furniture. Just like with cushions, you can find almost any color and pattern of umbrella to match your style.
To finish things off, you can find all-weather rugs that are durable and dry quickly in fun, bold colors and patterns. Rugs can help ground your patio furniture, finish off the space, and bring the indoors, out.
What are your favorite outdoor furniture pieces? What's your favorite place to shop for outdoor furniture? Let us know in the comments, we'd love to hear from you!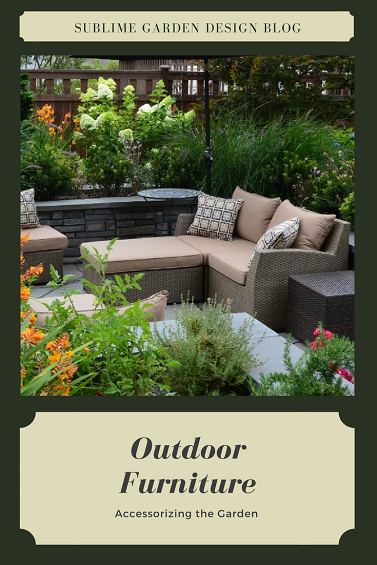 Organized under Gardens, Outdoor Gathering Space, Trends. Labeled as accessorizing the garden, adirondack chairs, boulder seating, built in bench, built in seat wall, built in seating, chaise lounge, fire pit tabletop, fire table, how to choose outdoor furniture, moveable outdoor furniture, outdoor chairs, outdoor chaise, outdoor furniture, outdoor rug, outdoor sofa, outdoor table, over sized umbrella, Portable Fire Pit, umbrella.