The Formal Landscape Style is geometric, balanced, structured, and symmetrical and usually requires more maintenance than most other landscape styles. Many Formal Landscape style gardens also use fountains, pools, and sculptures to add focal points. The main plants are usually ones that can be sheared or clipped into hedges or other shapes along with lawn. Perennial borders are often used along the outside of the main garden space or inside of hedging to help soften the more rigid geometry of a formal garden space.
Hedging
Boxwoods (Buxus)- This is one of the most commonly used plants in formal gardens since they can handle shearing very well. Boxwoods are evergreen shrubs with small, glossy foliage that grows in rounded tufts if left unpruned. They work well for borders or edging a pathway and even in containers or as topiary.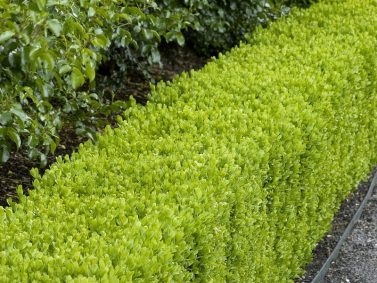 English Lavender (Lavandula angustifolia)- Lavender can be used to create hedges but they may form a slightly less tidy appearance. But, what they lack in formal geometry, they make up for in great fragrance. Lavender plants can be trimmed after flowering or in February to form it into a hedge. Lavender colored (or blue or white) flowers rise above the green foliage in summer and requires full sun and well-draining soil. Once established, Lavender will do just fine if you cut back its watering and feeding.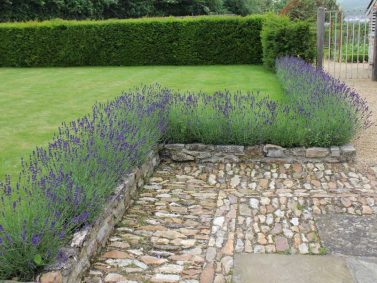 Irish Yew (Taxus baccata 'Fastigiata')- If you're looking for more height in a formal garden, an Irish Yew might be a good fit. Irish Yews make great hedging plants since they take to shearing really well and have a dense growth habit. The dark, evergreen needles add a nice contrast to any garden and the bright red berries really stand out in later spring/summer. They do grow slower than some other hedge plants but it's well worth the wait. Irish Yews should be planted in full sun but then can handle light/open shade and will be drought tolerant once established. Fruit, foliage, and bark can all be toxic though so just be mindful if you have curious dogs or children.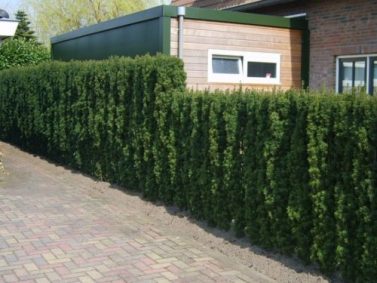 Rosemary (Rosmarinus officinalis)- Another plant that some might not think of for hedging is Rosemary. It can handle shearing well in February so it adapts easily to being a hedge and can also be used in cooking so it can pull double duty in a formal garden. They do best in full sun and will be drought tolerant once established. Blue flowers may start appearing as early as January depending on the weather and are complemented by the gray-green needle-like evergreen foliage.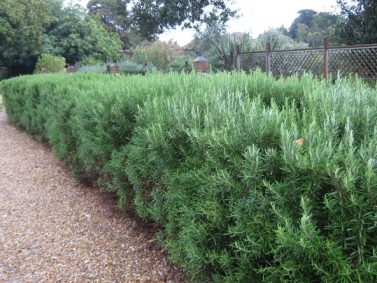 Other plants that are commonly used for hedging in formal gardens include: English Yew (Taxus baccata), Privet (Ligustrum), Barberry (Berberis), Laurels, and Japanese Euonymous.
Pleaching
Pleaching is also commonly used in formal gardens to create tall hedges with trees. It's done by planting trees close to each other and weaving their branches together to fill in weak spots and strengthen it until the hedge fully fills in. You can also see this technique used for making arbors, tunnels, and arches out of plants. It can be a lengthy process and takes dedication to get it to turn out right. The trees below are some examples of ones that will work for pleaching.
Hornbeam (Carpinus betulus)- This is a classic choice for pleaching in formal gardens. The deciduous, textured green foliage turns yellow in fall and both the bark and buds are attractive throughout winter and into spring. Hornbeams need full sun and well-draining soils. Prune in winter while it's dormant.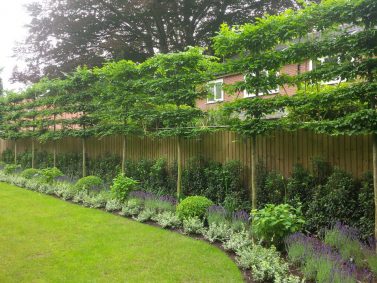 Copper Beech (Fagus sylvatica 'Purpurea')- These large, graceful trees are known for their smooth, gray bark and fantastic foliage. If you're looking for a different color and you have a large enough space, this could be a good option. Leaves are dark bronze-purple, almost black and provide a great foil for lighter colored plants in the garden. Foliage can turn to copper-red in fall. As a pleached tree in formal gardens it can sometimes make the space feel a bit heavier but also gives a unique feel to it. They prefer full sun but can tolerate partial shade and like well-draining soils with regular watering.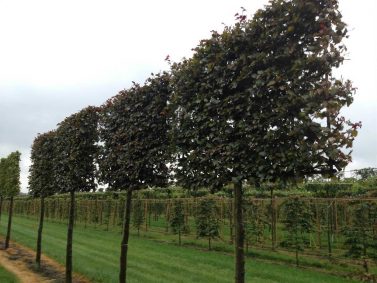 Littleleaf Linden (Tilia cordata)- Deciduous foliage is dark green and heart shaped with gray-green undersides and turns yellow-orange in fall. The bark is smooth and gray but will get fissures as it ages. In summer, clusters of white flowers smell sweet and attract bees and other insects.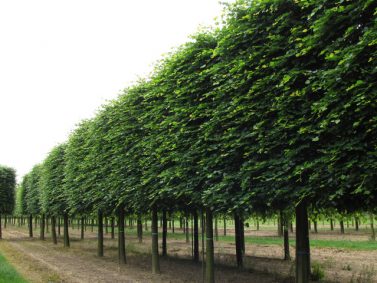 Other tress that adapt well to pleaching are: London Plane Tree (Platanus x acerifolia), Chanticleer Pear (Pyrus calleryana 'Chanticleer'), Chestnut (Aesculus), and Common Ash (Fraxinus excelsior).
Borders
The main formal gardens will use mostly hedging plants combined with walkways of gravel (or other hardscaping material) and/or lawn. On the border though, many shrubs and perennials are used to help soften the hard, geometric lines. Most formal gardens include symmetry and repetition of plants and materials so keep that in mind when choosing plants.
Alliums- These globe-like flowers add a touch of whimsy and height to a formal garden. You can get different varieties each with tall stems topped with small, golf ball sized blooms all the way up to volleyball sized flowers. Even though they bloom later than flowers like Daffodils and Hyacinth, Allium bulbs can still be planted with the other earlier blooming bulbs.
Hydrangeas- No matter the Hydrangea, they can really add a lot of colorful impact in a garden. You can find some like Hydrangea paniculata 'Little Quick Fire' that have a more compact habit or if you have a bigger space, ones like Hydrangea paniculata 'Limelight' have bigger growth habits and bigger blooms. You can read more about Hydrangeas here but they typically can handle filtered sun or full sun and need regular watering with well-draining soils. Different Hydrangeas are pruned at different times of the year depending on whether they bloom on old or new wood. You can read more about pruning Hydrangeas here.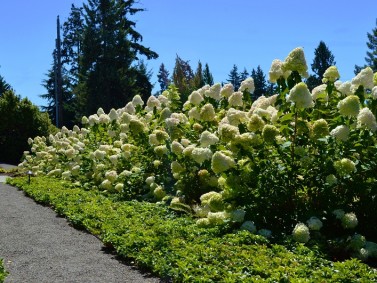 Salvias- The tall stalks of flower clusters come back fuller each year and works great to attract more hummingbirds year after year. Flowers blooms in early to mid-summer and come in shades of blue, purple, pink, white, and red. You can remove spent flowers throughout the season to encourage new blooms. They'll do best in full sun with well-drained soils with regular watering. Once established Salvia's can tolerate short periods of drought.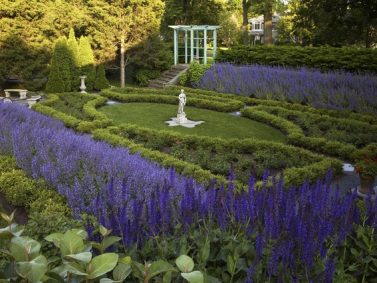 Maries Doublefile Viburnum (Viburnum plicatum tomentosum 'Mariesii')- While this shrub can get to be quite wide (10-12' tall and wide), it provides all season interest and as long as it has room, works well in a variety of situations from full sun to partial shade and even in well-draining sandy or clay soils. Because of its size, it can be planted as a screening shrub or as a small, multi-stemmed tree. In winter, the Maries Doublefile Viburnum has a unique form with horizontal layers of branches and is soon covered in bright white flowers in spring. In summer, foliage is a medium green color and has red berries in late summer. Fall color is very showy with vibrant red and orange leaves.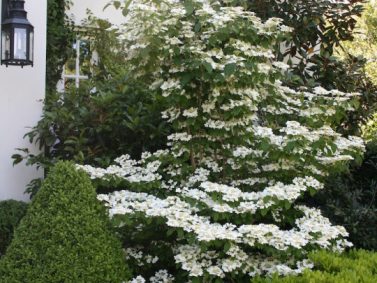 More plants that work well in formal garden borders are: Tulips, Skimmia, Begonias, Pansies, Roses, Asters, Agapanthus, and Dianthus. If you're ever struggling with color in a formal garden, white tends to be a more traditional color for formal gardens especially with a lot of shade but it doesn't mean you have to do only white. Keeping it simple with color will at least make the space seem less busy and therefore more organized.
A formal garden is usually considered one of the more maintenance heavy garden styles. This is especially true in the beginning when shrubs are being shaped into hedges and trees are being pleached. But, with all the maintenance, comes a tidy and organized space that many people have come to appreciate and enjoy. If you have the time and energy, a formal garden can look great and provide a relaxing atmosphere for you and your guests.
Have you visited a formal garden? If so, which one? Let us know in the comments, we'd love to hear from you!