The Prairie garden style is usually characterized by swaths of grasses, horizontally structured plants, and repetition. This style is inspired by the open and flat mid-west landscape and its characteristics are used to bring attention to the relationship between the sky and landscape. This Prairie style lends itself well to bigger gardens but that doesn't mean you can't implement some of the features in a smaller setting. These plants will look right at home in a Prairie inspired garden.
Ornamental Grasses
Karl Foerster Feather Reed Grass (Calamagrostis x acutiflora 'Karl Foerster')- This tall deciduous grass has purplish cream-colored flower stalks in fall. While this isn't an evergreen grass, it does provide good winter interest.
Morning Light Maiden Grass (Miscanthus sinensis 'Morning Light')- Another option if you're wanting to add height or have a taller backdrop in your prairie garden, the Morning Light Maiden Grass has graceful, arching, variegated foliage with pale red flowers in fall turning to reddish brown.
Giant Feather Grass (Stipa gigantea)- This densely mounded grass has arching foliage and tall panicles that open to silvery-purple and turning to golden-yellow in late summer/fall. It can get to be about 8' tall.
Hakonechloa macra- You can find quite a few different varieties of Japanese Forest Grass that range from deep green to golden to variegated to streaks of red. The mounding, flowing form works well along pathways.
Fountain Grass (Pennisetum alopecuroides)- A compact deciduous grass with deep green foliage in summer and plumes of flowers in fall. You can find different varieties of Pennisetum at different sizes and different foliage colorings.
Perennials
Black Eyed Susan (Rudbeckia)- You can find Rudbeckia in a variety of sizes from 'Little Goldstar' to 'Goldsturm' to suit different gardens and really brightens up any space. Daisy like flowers come in various shades from bright yellow with dark centers to muted red with maroon centers. Once established, Rudbeckia doesn't need much watering or maintenance after it's established other than deadheading to encourage reblooming.
Cone Flower (Echinacea)- The color options are nearly endless with Echinacea. You can even find ones, like 'Cheyenne Spirit' that have multiple colors on one plant. Cone flowers bloom in summer through fall and are great for cut flowers as well.
Joe Pye Weed (Eupatorium purpureum maculatum)- This butterfly attracting perennial has large clusters of dusty rose flowers in mid-summer to late-fall.
May Night Salvia (Salvia x sylvestris 'May Night'): This compact herbaceous perennial has spikes of deep violet flowers starting in Spring and re-blooms throughout the summer. Both hummingbirds and butterflies are attracted to salvia and will get to be about 2 feet tall and wide. This plant will tolerate drought after it's been established. Removing spent flowers will help it to rebloom.
Lil Bang Red Elf Tickseed (Coreopsis x 'Red Elf'): This bright deciduous perennial has bright red blooms with yellow centers. In the heat of summer, flowers may also become tipped with white. It only gets to be about 18 inches tall and has a mounding habit which works well in smaller prairie gardens and can be divided in Spring.
Heatwave Hyssop (Agastache x 'Heatwave')- Adding a different texture via flowers, the Heatwave Hyssop has cluster spikes of bright pink flowers in late spring through fall which attract bees, butterflies, and hummingbirds.
Sedum x 'Autumn Joy'- This herbaceous perennial has rose colored flowers in late summer that darken through fall and doesn't need too much water once established.
Hidcote Lavender (Lavandula angustifolia 'Hidcote')- Evergreen perennial with lavender colored blooms in summer and highly fragrant and tastes delicious in lemonade or ice cream!
This isn't an exhaustive list of all prairie garden plants, but this is a good place to start if you're thinking of making your own prairie garden here in the Pacific Northwest. Do you already have a prairie garden? What's your favorite plant to use? Leave us a comment, we'd love to hear from you!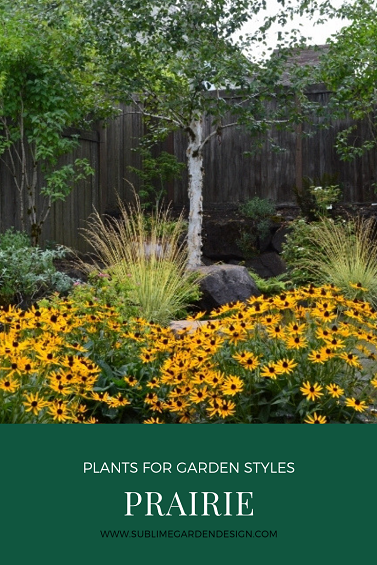 Organized under Buds and Blooms, Gardens, Low Maintenance Gardens, Plants I Dig, Sustainability, Water-wise Gardening. Labeled as agastache, Autumn Joy Sedum, Black Eyed Susan, calamagrostis, cone flower, coreopsis, echinacea, eupatorium, fountain grass, Giant Feather Grass, hakonechloa macra, hidcote lavender, hyssop, japanese forest grass, joe pye weed, Karl Foerster Feather Reed Grass, lavandula, May Night Salvia, miscanthus, Morning Light Maiden Grass, pennisetum, plants for garden styles, plants for prairie garden style, plants for prairie gardens, prairie garden style, Rudbeckia, salvia, sedum autumn joy, stipa gigantea, tickseed.