The warming weather has turned our frozen gardens into spongy goo again and has us thinking about drainage. The rain and melting snow can cause you to question: where should all of that water be going?
Other than the giant puddle you formerly called your garden.
Proper drainage is always important but in the winter months drainage problems become much more apparent. The cooler temperatures and increase in precipitation inhibit the gardens ability to dry out even with a few days of dry weather.  Look here for more information on improving the drainage in your garden.
We are working on a project right now with a rain garden. Through the entire project we have been able to see the rain garden capture and filter runoff that has been diverted from the new barn on the property. The bio-retention soil mix installed has a much higher water holding capacity and filtration rate than the surrounding soils. The plantings are not yet established but once they are they will increase the function of the rain garden by further slowing the flow of water and taking up additional water as their root systems expand.
We anticipate that we will continue to see increasing interest in rain gardens as awareness spreads and the demand for more sustainable development grows.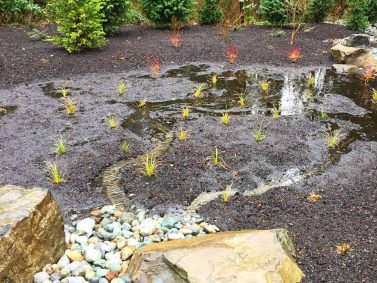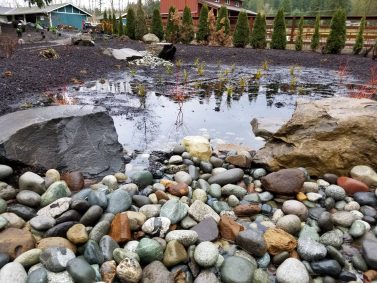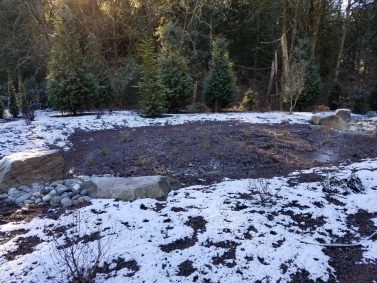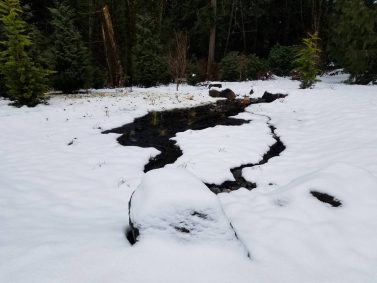 A rain garden is not the perfect solution for every situation but if the site conditions are conducive a rain garden can be a very useful tool to deal with drainage. One of the greatest benefits to having a rain garden is that it creates a designated area to hold water on-site and to infiltrate it on-site rather than sending the water downstream or into the sewer system. The increase in population and housing has put additional stress on both natural and man-made systems to deal with storm water runoff. When possible we advocate for and design gardens that have the ability to reduce the stress on those systems by creating areas to deal with some of that runoff. Here are a few other projects with on-site drainage solutions…
Do you have an area in your garden to capture water? If you're interested in incorporating one into your garden, please contact us!
~Kryssie