Winter might seem like its the off season for your garden but that's not true with these plants. Despite the cold temperatures, there are still plenty of plants that are blooming this time of year or just about to and many, many evergreen ones with interesting and bright color. Add in a couple of these winter favorites and you've got a winning winter garden.
Blooms
Lenten (Christmas) Rose (Helleborus)- Depending on the variety of Hellebore, you'll start seeing them bloom in December (hence the name Christmas Rose) and you'll really start to see them shine in January and February. You can find them in all different colors from bright white to deep purple almost black. They'll do best in full to partial shade and well-draining soils and likes to be watered regularly.
Chinese Paperbush (Edgeworthia chrysantha)- It's no wonder this multi-stemmed shrub is related to Daphne, the sweet-smelling flowers bloom in late winter/early spring and resemble a showerhead. Before the white and yellow flowers bloom, the buds are silvery blue and fuzzy. It works well in woodland garden settings since it can reach anywhere from 6 to 10 feet tall and wide. It does best in well-drained soils and full shade to partial sun and requires a regular watering schedule during its first growing season.
Camellia (Camellia sasanqua and japonica)- Many Camellias start blooming in September and will continue to bloom through January (sasanqua) while others will bloom in December through April (japonica). The vibrant shades of pink, white, red, and even striped flowers come in both single and double blooms and stands out against the deep green evergreen foliage. Camellias like to be placed in light shaded spots or spots that get afternoon shade and watered deeply while its root system is being established.
Arthur Menzies Mahonia (Mahonia x media 'Arthur Menzies')- The upright growth habit paired with the bright yellow sunshine flowers make this a strong standout in the winter garden. The evergreen foliage grows to look like fern fronds and the flowers turn into blackish berries in late summer. It can get to be about 8 feet tall and 5 feet wide and does best in full sun to partial shade. Once established, this shrub will be drought tolerant.
Maejima Winter Variegated Daphne (Daphne odora 'Maejima')- Not only is the brightly variegated evergreen foliage welcome during the gray winter months, but the extremely fragrant pink flowers standout in the late winter garden. You'll want to plant this near an entry way so you can smell it whenever you go in or out. The Mae Jima Winter Variegated Daphne gets to be 3-4 feet tall and wide and does well in partial sun. It will be drought tolerant after it's been established.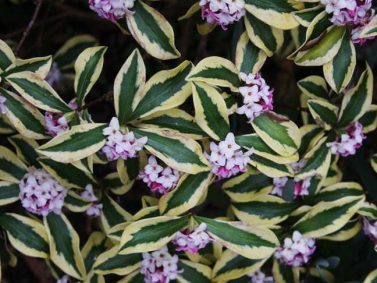 Foliage
Coral Bells (Heuchera)- Heuchera foliage comes in all shades of colors and multicolored varieties as well. With a good frost the leaves really sparkle. While it won't bloom until early summer, this small mounding evergreen is a great addition to the winter garden. Heucheras do best in filtered to full sun and avoid extra winter moisture.
Black Mondo Grass (Ophiopogon planiscapus 'Nigrescens')- The dark purple/black grass-like evergreen foliage does well along the edges of planting beds and provides contrast throughout the garden. The foliage will clump as it grows and spreads slowly. Place in partial to full sun and well-draining soils and water regularly.
Heavenly Bamboo (Nandina domestica)– The evergreen Nandinas are certainly welcome in the winter but there are some varieties that take it a step further. Nandinas like 'Moyer's Red', 'Obsession', and 'Tuscan Flame' all turn shades of red in winter. Once established, they'll be drought tolerant and can be placed in full sun.
McKeanii Hebe (Hebe 'McKeanii')- This upright evergreen shrub has tiny, oval, glossy leaves. When the frost covers the tips, the architecture of the foliage will really stand out in winter. It only gets to be about 18" tall and 12" wide. This Hebe will do best in full sun to partial shade and can withstand urban pollution. However, it cannot tolerate standing water so its best in well-draining soils.
Golden Variegated Sweet Flag (Acorus gramineus 'Ogon')- If you have consistently wet soils the Golden Variegated Sweet Flag will do well as long as it gets partial to full sun. The golden yellow grass-like foliage will brighten up any garden no matter the time of year. It will grow to about 10" tall and 4-6" wide but will slowly get wider. It will not tolerate dry soils so make sure to water regularly and keep it sheltered from extreme heat.
Do you have a favorite winter plant? Let us know in the comments, we'd love to hear from you!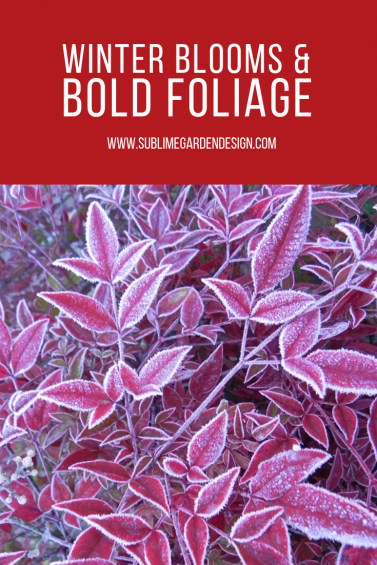 Organized under Buds and Blooms, Evergreen Foliage, Foliage, Gardens, Plants I Dig, Variegated Foliage, Winter Gardens. Labeled as acorus, arthur menzies mahonia, Black Mondo Grass, bold foliage, Camellia, chinese paperbush, christmas rose, coral bells, daphne, edgeworthia, Evergreen plants, Golden Variegated Sweet Flag, heavenly bamboo, hebe, hellebore, helleborus, Heuchera, lenten rose, mahonia, mckeanii hebe, moyers red, nandina, ophiopogon, plants for winter foliage, plants for winter interest, winter blooming plants, winter blooms, winter interest plants, winter plants.