As a designer, reading plans is second nature, but it is very difficult for some people to visualize and understand what a landscape plan will actually look like when construction is completed.  Plans that are presented from a plan (or "bird's eye") view do not allow the homeowner to see things like the heights of walls, stairs, and structures, and how they relate to the existing home and landscape. That is where 3d modeling capabilities can make a world of difference.
3D modeling allows the designer to give a real world view of what is on paper to the homeowner in a way that is easier for them to understand.   Imagine being able to look at a picture of your completed landscape before construction even begins…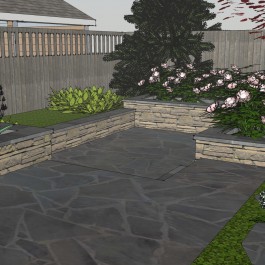 Although a very useful tool, 3D modeling is not included in every design. Typically it is added onto a design if the homeowner needs it to get a better understanding of the plan. It adds quite a bit of time to the process and therefore adds to the cost of the design. Like a landscape plan, the additional cost depends on the size and complexity of the project.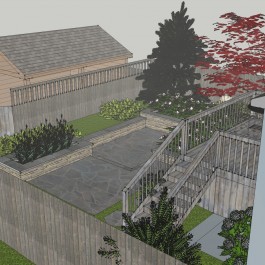 If you would like to see the actual photos of this project click here.