Seeing a space in 3-D is a skill that the average homeowner does not always have. As a designer it is often second nature, and we are always striving to help our clients better visualize and understand their designs.
Using 3D modeling software can help in designing a space or just to portray the design intent more clearly whether that be to the client or the contractor.
Design or construction detailing comes in handy but we have started using 3D models instead of construction details in many cases. Often it will take the same amount of time to draw a few different views of an element as it would to construct a 3d model of the same element. There are still circumstances where a construction detail is necessary to make sure something is constructed properly but when the design style and look is of primary concern 3D is the way to go.
With a 3D model it is easy to zoom around the model and show many different angles of the element not just front and side views.
In areas that have many interconnected elements like the one shown here it is much more effective to be able to show everything together in one 3d model.
The space now (soon to be referred to as the before photo)…and a couple screen shots of the 3D model showing the proposed design.
Everyone processes information differently.  Perhaps this plan view on paper would be sufficient for some to visualize the end result.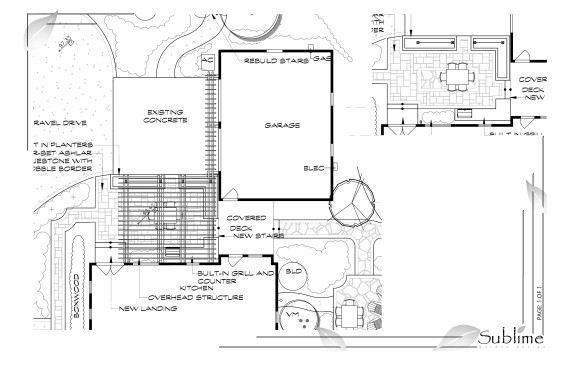 What do you think?  Do the 3D models portray the design ideas more clearly for you?
~ Kryssie
Organized under 3d Modeling, Before and After, Design Style, Landscape Architecture, Landscape Design, Outdoor Gathering Space, Screening. Labeled as design trends, Garden Design, Landscape Architecture, landscape design, Snohomish landscape design.