Since having a child four years ago, the notion of creating a garden that not only draws him outside, but holds his attention, has taken center stage as my husband and I gradually re-design our yard.  I have fond memories from childhood when our neighborhood cohort literally ran free. We played outdoors for hours on end, coming inside only as the sun set.  There were forts to build, creeks to splash through, trees to climb and bugs to catch.   Our imaginations and spirits were nourished on a daily basis by the natural world.  Children today no longer roam neighborhoods unsupervised, or if they do we have the sense they're up to no good and we wonder where their parent's are.  Now, outdoor time usually takes the form of team sports such as soccer or a trip to a local park with an existing play structure.  Don't get me wrong, there's nothing wrong with these activities, but how do we provide our children with the opportunity to be alone in nature without fear of them getting lost or hurt?  Even more challenging – when all we may have is a small suburban lot, how do we encourage them to explore, create and linger outdoors?
In researching ideas for our own backyard, I came across a lovely book by Molly Dannenmaier, titled, A Child's Garden.  In this book she outlines nine elements and activities that highlight, "how children really play".   While I won't go into detail on each, some highlights include;
WATER – children are fascinated by the sight, sound and feel of water.  Even a city garden can accommodate a fountain or small pool to captivate a child's imagination.
REFUGES – children love to create little nests, caves or dens where they feel hidden, but can keep an eye on their surroundings.  This can range from a playhouse to a thicket of shrubs for crawling in and around.
MOVEMENT – As adults we marvel at the energy of children and wistfully think of by-gone days when our knees didn't ache.  It seems as if they're moving non-stop.  Gardens are perfect places to promote this need to run, jump, twist, swing, dance…  Grassy areas to play, winding paths and places for jumping all fill the bill.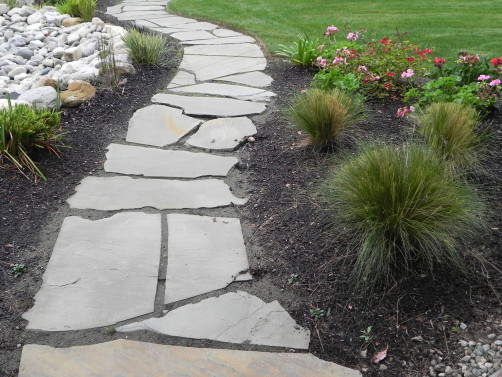 DIRT – No surprise here, studies show exploratory digging in the dirt is a favorite childhood pastime.  It can be as simple as allocating a "kid-friendly" space in the garden where children can dig to their heart's content without fear of disrupting a precious plant. 
NURTURE – With gentle guidance from an adult, children can learn to take care of their own little plot of land.  Spaces can range from raised planting beds to containers on a deck.  In either case, vegetables, thorn-less berries and pickable flowers are favorites.
To tie together the experience of the garden are of course, the plants!  There are numerous non-toxic beautiful and functional plants that can be used when creating a garden for children.  Think plants with interesting smells, shapes, textures or colors.
Examples include;
Lavender (Lavendula angustifolia) and sage (Salvia officinalis) – not only will the intense aroma of a plucked flower head or leaf leave a lasting impression, but they also attract butterflies and can be used for cooking!
Ornamental onions (Allium sp.), with their globe shaped heads, add whimsy and color to a garden.
The velvety soft leaves of lamb's ear (Stachys byzantina) and the fleshy leaves of hens and chicks (Sempervivum sp.) are sure to capture a child's attention and encourage them to touch.

Marigolds (Calundula officinals), in their bright shades of yellow and orange, are not only edible, but can be grown simply from seed.
Speaking of edibles, the list is endless, but here are some favorites that also play an aesthetic and functional role in the garden.
Sunshine Blue blueberry (Vaccinium corymbosum 'Sunshine Blue') – Talk about a performer! Sunshine Blue blueberries are  compact evergreen shrubs with a semi-dwarf 3-4 ft by 3-4ft habit.  Flowers emerge hot pink and fade to white in spring, while the summer months provide large crops of delicious blueberries.  Some leaves turn orange and red in fall and drop, but most stay on the plant to provide year-round interest and screening.
Pink Panda strawberry (Fragaria 'Pink Panda') produces small tasty bright red berries, but also acts as an attractive groundcover with its bright pink flowers that emerge in spring.
Rugosa rose (Rosa rugosa) is a tough as nails plant whose hips can be used for tea.
Brazelberries' Raspberry Shortcake is a new introduction to the market that thrives in containers.  This sweet little raspberry stays compact and doesn't require trellising.  The fact that there are no thorns to prick little fingers is just icing on the… shortcake!
The possibilities are endless when creating a garden with a child in mind.  The point is for kids to get dirty and explore – so nothing should be too precious.  The bottom line is, have fun, experiment… be a kid!
~ Courtney