Although deck railings are installed mainly for safety and security reasons, that doesn't mean they can't look good. Railings can help finish the look of a deck and help add a little extra style to your outdoor space. There are a lot of options when it comes to deck railings including wood, metal, glass, composite, and combos of different materials.
Wood
Wood railings give designers and contractors quite a bit of flexibility. You can use a mix of premade and custom pieces to create a railing and goes well with all types of wood decks. It's one of the more inexpensive types of railing as well. Wood does require a certain amount of upkeep though since it needs to be cleaned and stained annually to keep it structurally sound and looking its best. If you have a curved railing or something more intricate it can add even more time for maintenance. Wood railings can also be mainly made vertically or horizontally to compliment the type of deck, house architecture, and landscaping you have.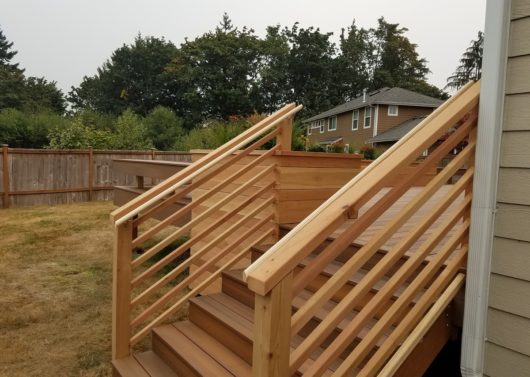 Composite
Similar to wood, composite railings can be a mix of premade and custom pieces to help you achieve the look you're going for. Depending on the type/brand of composite you choose, it can work with both wood and composite decks since the look of composite can be very close to that of real wood. Composite comes with the added benefit of not being quite as maintenance heavy since it doesn't require annual staining although you'll still want to keep it clear of debris. Composite tends to be a step up in pricing from wood but not always.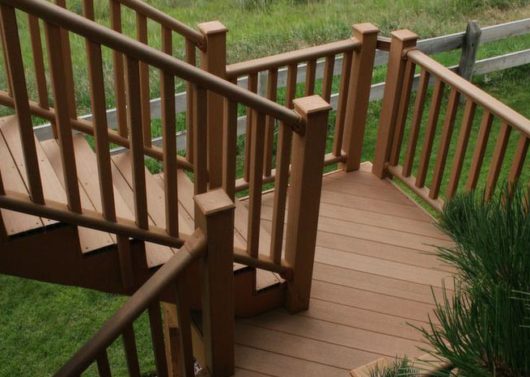 Metal
The most common types of metal that are used in railings are aluminum, galvanized steel, and iron. In the past we've used aluminum that's been powder coated. Metal can be made to feel more open than composite and wood so that the landscape beyond the deck can be viewed easier. Maintenance is also pretty quick and easy since they just need to be wiped down with a sponge and water. If you do a powder coated metal, you can choose different colors to match your deck and your tastes. A metal railing can be combined with a wood or composite deck easily, but metal will be more expensive than the other options we've already talked about.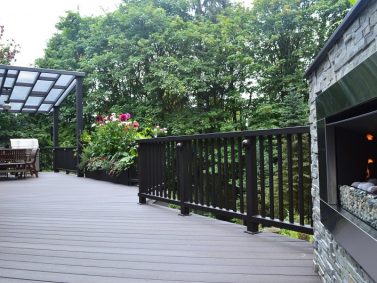 Glass
You'll often see tempered glass deck railings when the homeowner has a view they don't want to block like on waterfront property or if they have a deck that's been built higher above the landscape. Tempered glass is also great for places that get strong winds as it can add a layer of protection for your outdoor space while still keeping the view intact. It's most commonly paired with wood post. Like with windows, you'll want to use a glass cleaner to keep them clean and smudge free. This is going to be one of the more expensive options for railings.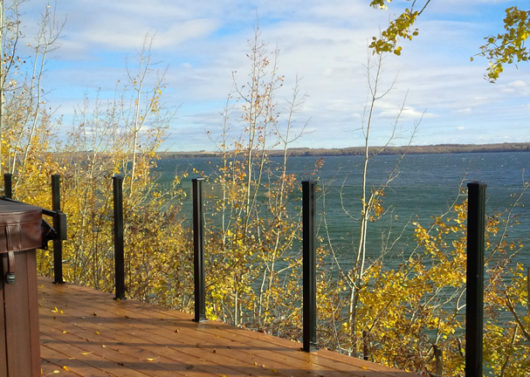 Combination Railings
Wood can be paired with metal, cables, and composite for a more customized deck railing. A contemporary combo railing option is wood or composite with cables. Horizontal cables are placed between wood or composite posts and capped with wood or composite. It can be expensive because of the cables but if you're wanting to have a railing and not miss out on the views, this could be a good choice for you. Cable railings have an industrial look that lends itself well to modern landscapes.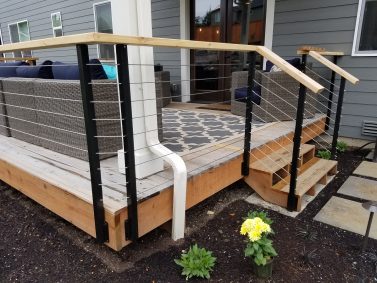 A popular option with our clients is black hogwire framed in cedar. It looks good with both wood and composite decks. Hogwire are panels made of steel rods that have been welded together at each intersection. You can also get hogwire with a zinc coating keeping the steel color instead of it being black.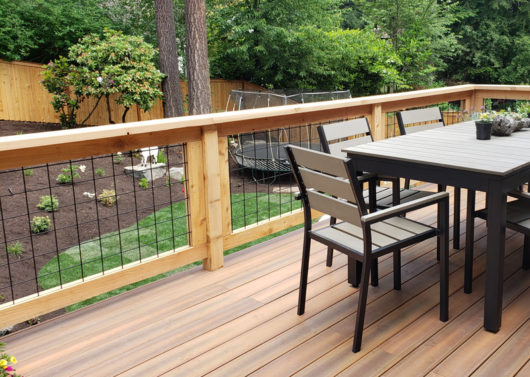 As you can tell, there are almost endless options for deck railings. When choosing your railing, many factors will come in to play such as your budget, your styles and tastes, the architecture of your home, and of course your landscaping, but being informed about your different options will help make your choice a lot easier in the end. We hope this overview has helped you out if you've been going back and forth or having a hard time figuring out what will look best for your deck. What kind of deck railing do you have? Let us know in the comments, we'd love to hear from you!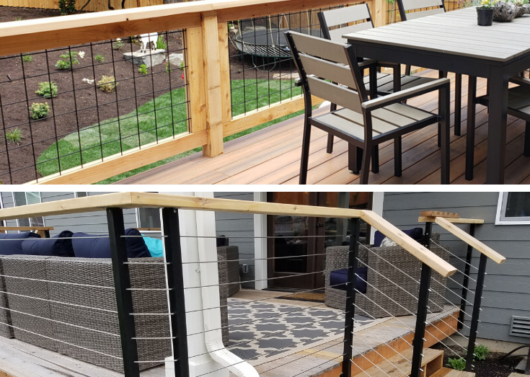 Organized under Landscape Architecture, Landscape Design, Outdoor Gathering Space, Screening, Trends. Labeled as cable and wood deck rail, cable deck rail, composite deck rail, deck railing ideas, deck railing options, deck railings, glass deck rail, how to choose a deck rail, how to choose deck railing, metal and wood deck rail, wood deck rail.