If you've ever had a garden, whether ornamental or edible, you've probably seen a deer or 2 or 5 come through your garden and chomp away at plants. This can be incredibly frustrating especially knowing how expensive plants are and how much work you put into helping your garden grow and thrive. We talked with Karen Chapman, author of Deer-Resistant Design, about what it means to have a deer resistant garden along with plant choices and tips for creating a deer resistant garden. We also have an exciting book giveaway at the end of this interview so make sure to read all the way through!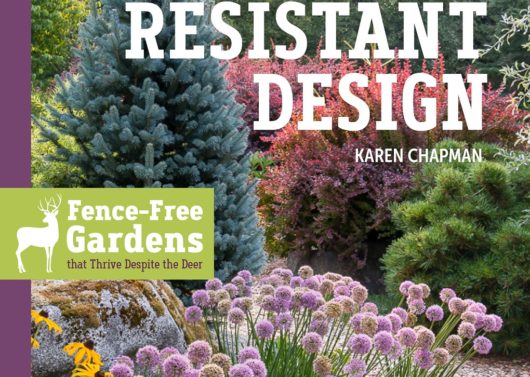 1. What does it mean for a garden to be deer resistant?
It is able to withstand the presence of deer and still look attractive and functional for homeowners. This means that the homeowner can still enjoy it while allowing deer to pass through the land without decimating everything in their path. A good thing to remember is that deer create chaos so you want to help create some kind of order. When designing a deer resistant garden it's important to focus on more than just the plants so that includes the hardscaping (patios, walkways, walls, etc). Hardscaping gives order, definition, and a sense of control. Since deer can't eat hardscaping it also helps with having some part of the landscape that won't be damaged by them. It's also worth noting that no matter what tricks you do or how deer resistant your plants are, there will be some amount of loss.
2. What are your top 5 must have plants for a deer resistant garden in the Pacific Northwest?
Blue Star (Amsonia hubrichtii), Lavenders, Salvias, Artemisias, and Euphorbias.
Blue Star (Amsonia hubrichtii)- This perennial works really well and comes back every year. Foliage is thin and threadlike and light green and turns to bright orange-gold in fall. When planted en masse it creates a really interesting feathery texture in the garden. In spring, powder blue star shaped flower clusters bloom on top of the stems. Once established, they are also fairly drought tolerant. It does best in full sun to mostly sunny sites and like moist, but well-draining soils. They'll get to be about 2-3 feet tall and wide.
Lavenders- Whether you want a purple, blue, white, or pink lavender, these aromatic plants won't see much deer nibbling due to their scent. This low maintenance plant is easy to care for and once established, does not need much extra watering or feeding. You can read more about lavender here.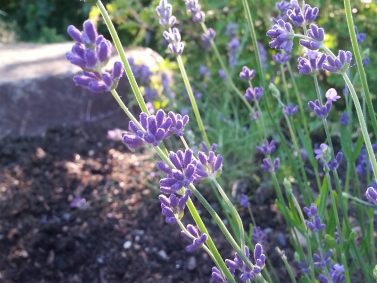 Salvias- Similar to Lavender, Salvias strong scent will usually keep the deer from chowing down too much but it will attract plenty of hummingbirds and pollinators. Flowers blooms in early to mid-summer and come in shades of blue, purple, pink, white, and red. You can remove spent flowers throughout the season to encourage new blooms. They'll do best in full sun with well-drained soils with regular watering. Once established Salvia's can tolerate short periods of drought.
Artemisias- Aromatic foliage is finely textured and is soft to the touch especially new growth. It works well planted en masse and forms a nice mounded shape. It prefers full sun and the soil can be allowed to dry out slightly before needing to be watered again. It grows quickly and depending on the variety can be small around 6-12 inches tall and 12-18 inches wide up to 2-3 feet tall and wide.
Spurge (Euphorbias)- Evergreen foliage is narrow and comes in all difference shades of green along with variegated varieties as well. In summer, brightly colored bracts emerge. They are low maintenance and a good waterwise plant. They get to be about 18-24 inches tall and wide. The milky sap that is produced by euphorbias can be a skin irritant so make sure to wear gloves when pruning this plant.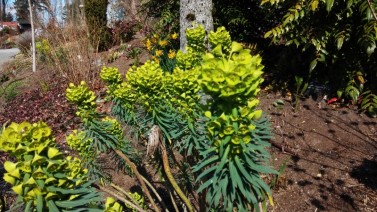 These plants are also largely rabbit resistant except for Artemisias. This is barely the tip of the iceberg when it comes to your choices for deer resistant plants. There are literally hundreds more to choose from. This Rutgers Database is a great starting point for finding plants for deer resistant gardens and each plant has a deer resistant rating for how likely it is for deer to damage it (A- rarely damaged to D-frequently severely damaged). Although plants that fall in the A category are rarely damaged, this doesn't mean that they are completely deer proof as there is no such thing. The success of the plants you put in your landscape will largely depend on what your local deer populations are like along with weather conditions. If deer are hungry enough, they'll eat what they need to survive.
3. What's the best tip you can give someone for trying to keep deer out of their garden?
This isn't what my book is about so there's not really one specific tip. The only guarantee you can have for a deer free garden is an 8 – 10 foot tall fence. This isn't always realistic though due to price, sight lines, codes, HOA's, etc. It's about creating a space that you can exist in harmoniously with the deer rather than pushing them out completely.
4. What's the ideal time of year to implement changes in your garden for the best chance to keep deer at bay?
There are seasonal changes you can make which depend on what the deer are doing at different times of the year. Spring is when they start eating a lot. If you want to try to use spray repellants, you'll need to spray in early spring as soon as the first shoots appear and keep applying it throughout the growing season according to the directions. The next time you can make a difference in your garden is in fall when they start rutting, or antlering. This refers to the time when deer mate and bucks (male deer) are rubbing the velvet off of their antlers. You'll want to setup protection for your trees, especially younger ones, in later summer/early fall as the rubbing can significantly damage them. This can be done by placing t-posts and poultry fencing in a circle around the perimeter of your trees. This keeps the deer far enough away from the trees so they can't rub on the bark. You can take this down in spring if it's around a specimen tree or one that's close to your line of site, otherwise, feel free to leave it up year-round if you don't see it or don't mind seeing it.
5. Is it possible to have a deer resistant garden while also attracting other wildlife like bees, butterflies, and birds?
Of course! While it's hard to be selective of wildlife, you can have both a deer resistant garden and still attract pollinators and birds. Plants like Echinacea and Coreopsis are great for pollinators but tend to be left alone by deer. Because it can be hard to differentiate between deer and rabbit damage sometimes, you'll want to protect those plants that might be tasty to rabbits. An example of this is Echinacea. Rabbits love the young shoots so you can use chicken wire, or a hanging basket frame placed upside down over the plants until they're about 6" tall and start to get fuzzy. After that the protection can be removed since the rabbits will usually stay away since they don't like the fuzzy stems.
6. Can I have a vegetable garden and still be able to keep deer out? Are there veggies that are also deer resistant?
Yes and yes. There are couple of different ways you can have a vegetable garden and still keep deer from damaging everything. One way is to protect each individual veggie bed. This can be done by using PVC pipe to make a frame and then putting netting over the PVC pipe frame. Another way is by using a double fence system. This requires a 5 foot tall fence followed by a 5 foot wide gap and then another 5 foot tall fence. Deer typically won't jump over this double fence since they can't see where they can safely land on the other side. Veggies that are usually considered deer resistant are most things in the onion family (onions, garlic, scallions, etc) and rhubarb along with sage, mint, lemon balm, etc. Rhubarb is one of those veggies that can be placed in an ornamental garden or a veggie garden since it can pull double duty with its giant leaves.
7. What kinds of plants are deer usually not attracted to?
Spiky or aromatic. This isn't clear cut though. As was mentioned before, there is no such thing as a deer proof plant. I've seen them eat barberry and roses or sage and lavender so it's not exclusive. If a deer is hungry enough, they'll eat it. You can use the Rutgers Database as a starting point for plant choices.
In general, it's important to understand that deer resistant is not a black and white topic, there are plenty of shades of gray. You really want to look at the bigger picture when designing a deer resistant garden and think long term. Depending on weather conditions and deer populations, you might notice that a good chunk of your deer resistant plants get chewed down but after that for the next 4-5 years, they won't get touched. Like most things, you'll notice cycles and you'll be able to determine the best strategy for your garden.
Another tip is to understand how to use interesting foliage, both in texture and color. Deer love eating end shoots where flower buds usually form so having a good mix of foliage throughout your garden will help camouflage areas where the deer have really gone to town. It's best to have a mix of plants and not just design around flowers alone.
Karen has been so great and we loved getting to chat with her about deer resistant gardens and design. Karen Chapman's book, Deer-Resistant Design, is available now everywhere books are sold including Amazon, where you can even get a peek inside.
Now here's the fun part! In partnership with Karen, we're doing a book giveaway for one free copy of Deer-Resistant Design!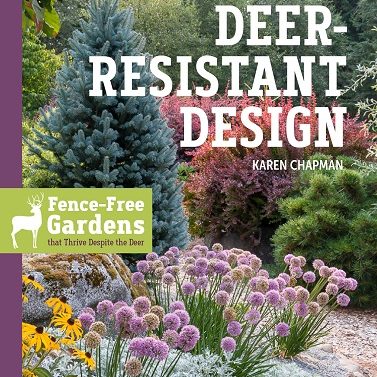 How To Enter
Leave a comment below telling us why you need this book, to be entered into a random drawing to win a copy of this great book! Winner will be drawn on Friday, November 8th, 2019 at 12pm and notified by email. Winner must live within USA or Canada (sorry…)
Winner will have 48 hours to respond, after which another name will be drawn.
Comments left on social media posts, or on images will NOT be entered into the drawing – only those left in the comment thread below this blog post will count.
We hope you've learned a new tip or trick or about a new plant that will help you out with your deer resistant garden. Don't forget to leave your comment below to be entered to win!
We have a winner!
The winner of a copy of Deer-Resistant Design by Karen Chapman is Cathi L. Congratulations!!
Organized under Ask an expert, Education, Garden Tips & Advice, Interviews, Landscape Design, Plants I Dig, Sustainability, Trends, You don't know what you don't know. Labeled as book giveaway, deer resistant design, deer resistant gardens, deer resistant landscaping, deer resistant plants, interview.