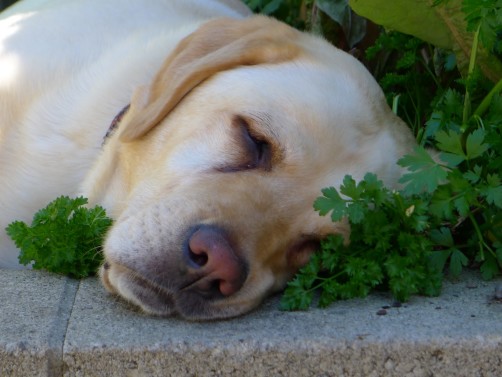 The thought of having a dog and a beautiful garden often don't go hand-in-hand.  In fact, the first things to come to mind are usually, digging, chewing and yes, yellow spots.  It's true, this is often the case but there are ways to have the aesthetically pleasing garden you want while providing a safe and entertaining environment for your dog.  In this first post we'll discuss creating a safe environment for your furry friend.  Keep an eye out for our next post, Part Two, full of creative ways to keep your playful friend entertained while maintaining a beautiful garden.
As much as Fido may like to explore the neighborhood, a top priority should be keeping him home safe and sound.  You can fence the entire perimeter of your home or just a dog run within a portion of the yard.  Consider choosing a fencing material that matches the style of your home and garden for continuity.  The fence should be tall enough to keep him in and designed so his head won't get stuck between boards, should he decide to stick his snout out.  Plant a  border of your favorite plants around the fence to soften the look.
Help your dog be prepared for all weather conditions. Dog's can easily overheat on a hot summer day.
Provide shade through strategically planted trees and shrubs or shade cloths that stretch over a designated area if plant material just won't work, to help keep your pooch cool.  For a chilly wet day, they'll need shelter.  There are so many ways to get creative with a dog house.  You can opt for a pre-made doghouse or kit or if you're particularly ambitious, build your own.
We all know dogs are curious creatures and often like to eat things they shouldn't.  Instead of trying to break your dog of this habit (is this possible?), make sure your landscape is toxin free.  There are many plants, some surprising, that can be harmful to dogs if ingested.  Such plants include; azaleas, lilies, mums and daffodils.  For a complete list of plants that have been shown to cause side effects in dogs you can check the ASPCA website.  Another way to keep your landscape toxin free is to skip the use of pesticides and chemicals all together, but we advocate for that anyway.  The same goes for baits for snails, rats and other pests.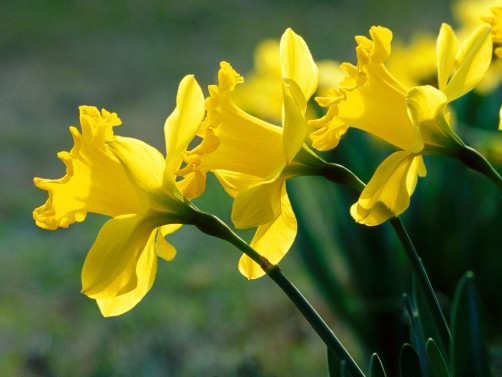 Landscaping materials should also be considered.  While the smell of cocoa mulch may be lovely, it can cause the same effect as chocolate if eaten by your dog.  A pebbled walkway may look great, but with those rounded edges pebbles will fly into your beds as your dog races down the path.  Opt for crushed gravel, concrete, pavers, brick or wood chips instead.  You also don't want to choose materials that will get too hot and potentially burn the pads of your dogs feet.  Lighter surfaces are better than dark surfaces for this.
We hope you enjoyed reading about these simple ways to keep your garden safe and healthy for your dog.  If this is something you're interested in doing in your own yard, we'd love to help.
Stay tuned for another post about creative ideas to keep your dog entertained (read; out of your prized perennials) so you can have the beautiful garden you've  always dreamed of!