Yes, it's holiday gift giving time already.  Are you feeling stumped when trying to come up with a thoughtful and unique gift for your garden loving friend?  Why not give a gift that "gives back"?  We here at Sublime Garden Design thought it would be a great idea to come up with a list of gift ideas that not only the recipient would find thoughtful and enjoyable, but would also contribute to the greater good.  I know, it seems like a lofty goal, but we're pretty confident we've come up with a list any Pacific Northwest garden / outdoor lover would appreciate.
1.) Adopt a Garden
We have so many amazing gardens to enjoy here in the Seattle area, from decades old botanical gardens to neighborhood pea patches – and all could use our support.  Why not make a donation or purchase a membership, in your friend's name, to a garden they'd love to visit and be a part of.
Just a HANDFUL of suggestions include:
Dunn Gardens – www.dunngardens.org
Just Garden Project – www.justgarden.org
Seattle Children's Play Garden – www.childrensplaygarden.org
The Arboretum Foundation – www.arboretumfoundation.org
The Bellevue Botanical Garden – www.bellevuebotanical.org
 2.) Classes – Give the Gift of Learning
For the life-long learner, purchase a class for something they'd enjoy.  This could be a plant ID tour of a local garden or a class on how to create their own seasonal containers.  Check your local nursery for a list of classes or organizations such as the Northwest Horticultural Society for a wide variety of choices.  One of our local favorites is McAuliffe's Valley Nursery in Snohomish.
Northwest Horticultural Society
The University of Washington Botanic Garden
3.) Garden Art 
Who wouldn't appreciate a little extra pizzazz in their garden?  The gift of garden art from a local artist will not only thrill the recipient but will help support local business owners, something we whole-heartedly believe in.  No matter what style of garden your friend or loved one has, you're sure to find something unique.  The Puget Sound Area is a mecca of creativity and the list of local artists is ENDLESS!
Here are two previous posts we shared about art in the garden.
Art in the Garden: A Simple Way to Transform Your Garden from Boring to Bold
Robert Fairfax: Foliage, Form and Fantasy Morph in a Woodland Garden
 4.) Locally Sourced  Seasonal Flowers

This year when presenting your gracious host of the holiday party with flowers, make it a locally sourced, seasonal and sustainable bouquet.  Not only will you be reducing your carbon footprint – yes sometimes those flowers travel from a long way away, but you'll also be supporting our local flower farmers and floral designers.  To learn more about the locally sourced flower movement, look no further than Seattle-based Debra Prinzing, author of Slow Flowers: Four Seasons of Locally Grown Bouquets from the Garden, Meadow and Farm (St. Lynn's Press, 2013) and The 50 Mile Bouquet: Seasonal, Local and Sustainable Flowers (St. Lynn's Press, 2012).
You can also stop by the Seattle Wholesale Growers Market, located at: 5840 Airport Way S Ste 201 Seattle, WA 98108 .  The Seattle Wholesale Growers Market is a cooperative market that bustles each week as farmers sell their flowers, greens, potted plants and ornamentals directly from the market floor to local florists, stores and professional buyers.
5.) Homemade Coupon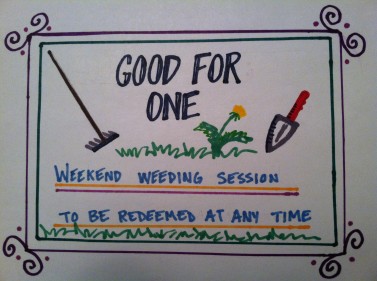 Remember when we used to make coupon books for our mom's for Mother's Day?  It included things like, "Good for One Dish-washing (without complaining)", or "One Foot Massage".  Why not resurrect the idea but instead offer a one-day weed blitz, tree and shrub pruning or a day at your beloveds favorite garden with a picnic included.  After all, its time spent together either helping or just sharing an experience that truly embodies the meaning of this holiday season.
If you're still stumped, please feel free to contact us if you'd like to give a gift certificate to a friend for Custom Container Design or Landscape Design from Sublime Garden Design! We'd be happy to meet with your friend or loved one to discuss their individual needs.
We hope you find some inspiration from these ideas.  Goodness knows there are many more fun ways to give meaningful and lasting gifts.  We'd love to hear your ideas!
Organized under Containers, Garden Art & Funky stuff, Gardens, Landscape Architecture, Landscape Design. Labeled as Bellevue Botanical Garden, Container Design, Container Gardening, Dunn Gardens, Garden Art, Garden gift ideas, Jesse Kelly, Landscape Architecture, landscape design, Northwest Horticultural Society, Seattle Garden Art, Seattle Wholesale Growers Market, Snohomish garden art, Washington Arboretum.