The landscape surrounding your home serves many purposes from curb appeal to outdoor entertaining and enjoyment. Transforming an outdoor space that was previously unusable not only adds to your quality of life but, if well executed and planned out, can add to the resale value of your home as well.
A Clemson University study found that landscaping can result in more than a 100% return on investment. They state that, "Homeowners wanting to increase the value of their property will do well to consider the cost-effective, return potential of quality landscaping, and to safeguard their investments by hiring licensed, landscape professionals to perform the work." This study also found that consumers value a landscaped home up to 11.3% higher than its base price.
According to the American Nursery & Landscape Association, an improved landscape can increase the value of a homeowner's property value by 7% to 14%. The association's study also revealed that such improvements could accelerate the sale of a home by 5 to 6 weeks. The American Society of Landscape Architects (ASLA) recommends that homeowner's invest 10% of their home's value in the landscape. This may seem like a lot to some, but if you consider the return on investment, the added function and the enjoyment you will receive, it can be well worth the investment. Regardless of the amount of money you have to spend, the guidance of a landscape architect or designer can help ensure that the investment you make is a wise one.
See the video of the complete transformation of the small Seattle backyard
Should you decide to invest in your landscape, the first step is to evaluate your landscape as it currently is and decide which things you like and don't like and which elements you would like to add. Take a look at our client questionnaire to get and idea of the kinds of questions we ask to get you started. Once the design process begins we can help you prioritize your wants and guide you to the best options for getting the most for your money. The biggest return on investment is in creating functional spaces such as patios, decks, and outdoor kitchens. Even if your dream landscape doesn't quite fit within your budget, a well-designed plan can be phased into multiple projects over the years as budget permits.
When creating your landscape design we take into great consideration how the site functions and which materials will be the best for your site and style. The details are often what makes a space really work well. Kryssie is a LLA (Licensed Landscape Architect) with the necessary knowledge and skills to make sure the pieces come together.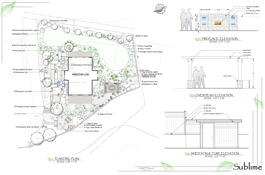 When it comes to plants, maintenance and sustainability are big considerations. Selecting plant material that fits the space, will thrive in the given conditions, and has enough space to grow takes knowledge of plant material, consideration of exposure and soil conditions, as well as the amount of time (and money) the homeowner wants to spend maintaining the garden. Heidi is a CPH (Certified Professional Horticulturist) with vast plant knowledge and expertise to create plans that flow and look beautiful with interest throughout the seasons.
Once the landscape design is complete, the next step is to select the best contractor for installation of your new landscape. Getting the most out of your investment hinges on having your landscape well-constructed by talented craftsmen. Not all contractors are created equal, and most will excel in one area or another. We really get to know our contractors (and their strengths and weaknesses) so that we can select projects that fit their talents.  We work with the contractor and the homeowner through the entire process to make sure the plan is carried out accurately and with the homeowner's goals in mind. Our role in the construction process is to be the homeowner's advocate on site, evaluating and approving each major step in the construction process.
See the video of the complete transformation of this Sammamish backyard
Whether you decide you renovate a small area or add want to a add a complete new outdoor living space, a landscape architect or landscape designer can help guide and assist you in making a wise investment for you and your home.