Now that the summer is really heating up, most of us are trying to spend as much time outside as we can, especially at night when it's a little cooler. With the right lighting, you can add on hours of useable outside time. Lighting can be added to pathways and stairs for easy accessibility, accentuate unique features of trees and plants, and provide a soft ambience to your whole outdoor space.
Lanterns- You can purchase inexpensive lanterns from IKEA and other home goods stores which can be used with candles, tea lights, and flameless lights. They're perfect for table top center pieces or even hanging from branches (use flameless lights just in case).
Chandeliers- You can either purchase chandeliers made for outside or you can also DIY some pretty neat ones for a whimsical or rustic look. Using a large wooden hoop or something similar, wrap a set of string lights around the hoop while letting some of them dangle down. You can also use mason jars with tea lights in them and hang from a sturdy wooden hoop with string or wire for a more rustic touch. It's easy to add as much or as little light as you want with chandeliers.
String Lights- If you're wanting an almost effortless way to add in some light outside, string lights can help you out. String lights come in all different sizes and lengths and can be strung up between posts over a patio, between stakes along a pathway, or along a table as a table runner. String lights offer a lot of creative potential, just make sure you buy lights that are outdoor safe in case it rains.
Mason Jars/Empty Bottles- Mason jars and empty bottles paired with battery operated craft lights are an easy solution for temporary patio lighting. As long as your mason jar or empty bottle has a big enough opening, you can simply put a set of battery operated craft lights inside of your jar or bottle and hang them from rafters, tree branches, or set along a path or throughout the garden. If you're feeling really crafty, you can also make small torches with mason jars and wine bottles. Just make sure not to leave them outside and to take them inside if it starts to rain so you don't ruin your lights.
Fire- Whether you have a fire pit, fireplace, or an assortment of candles, fire adds a special kind of light to an outdoor space and can keep you warm on those cool summer nights. Be mindful of burn bans throughout summer time and neighbors that might be sensitive to smoke.
Tea Lights- You can find many kinds of tea lights including flame and flameless and color changing. With all the options out there, you can mix and match tea lights with holders to create your own unique lighting look that can be easily changed out whenever you want.
Glow Stones- You can purchase rocks that have been coated with a glow in the dark paint which can then be added in to your gravel walkway. They can also be placed throughout your garden to give a sparkling effect. If you have kids, you can also have them paint rocks with glow in the dark paint and then they can place them where they want.
Uplighting & Downlighting- With uplighting and downlighting it's best to purchase quality fixtures so you don't have to spend more money on fixing or replacing them. They may be more expensive up front, but they'll save you time and money overall. Uplighting can help light smaller shrubs and specimen trees throughout the garden. Uplighting works especially well on architecturally interesting trees with unique branching habits. Downlighting can be hung from tree branches to create shadows and patterns that looks similar to what moonlight would look like coming through the trees. Downlighting also works well on overhead structures.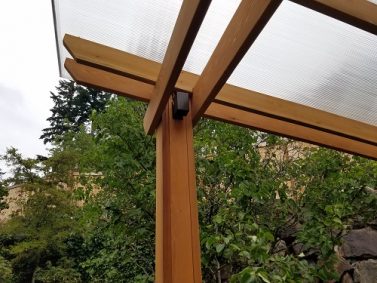 Water Lighting- If you have a water feature or pool, adding in under water lights can make the space feel even more calming. You can get both static lights or color changing lights. If you have a ponding feature or pool you can also find different kinds of floating lights and orbs to use in your water feature.
What are your favorite options for lighting up your outdoor space? Do you like to change things up or stick with a classic look? Let us know in the comments, we'd love to hear from you!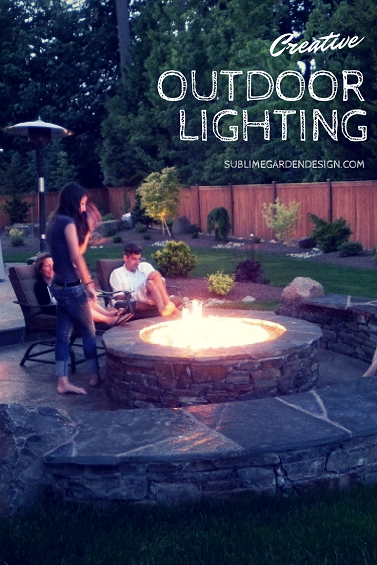 Organized under Outdoor Gathering Space, Trends. Labeled as bottle lights, candles, creative outdoor lighting, downlighting, downlights, fire pit, fire place, glow in the dark rocks, glow stones, landscape lighting, lantern, mason jar lights, outdoor lighting, outside chandelier, string lights, tea lights, up lights, uplighting, water feature lighting, water lights.