A contemporary landscape design is one that's classified as having a simple and minimalist feel. It makes use of native plants and sustainable materials. It is commonly characterized by single specimen plants and mass plantings and sometimes incorporates metal and concrete into the design with accents of wood.
Because of the minimalism and simplicity in the contemporary style, you'll often see groupings of plants, architecturally interesting plants as focal points, and all-season interest. Soft grasses and bold foliage complement the more angular forms of metal and concrete while hedge plants can add symmetry and shape to a more flowing space or soften hard edges.
Ornamental Grasses:
Black Mondo Grass (Ophiopogon planiscapus 'Nigrescens')- The black grass-like foliage lasts year around with purple flowers in spring. Each plant can spread between 9-12" and works well as a groundcover or en masse.
Karl Foerster Feather Reed Grass (Calamagrostis x acutiflora 'Karl Foerster') – This deciduous grass can grow up to 6 feet tall making it a great option to add height. The feathery, purple-cream flower stalks stay throughout winter adding visual interest through all seasons.
Bowles Golden Sedge (Carex elata 'Bowles Golden')- This evergreen grass-like sedge has bright green-yellow foliage in spring and continues throughout the year.
Hedge Plants:
Black Bamboo (Phyllostachys nigra)- Although this is definitely a plant you'll want to keep contained to avoid spreading, Black Bamboo can add height quickly to help with privacy or screen unwanted features. Stems start out green and turn dark black. Foliage is green and has a feathery appearance.
Hicks Yew (Taxus x media 'Hicksii')- This low maintenance evergreen shrub has a narrow, upright growing habit that makes it a good option for foundation plantings, as a hedge, or as statement makers at doorways and entries. Foliage is a deep, glossy green color and bright red berry-like cones appear which attract birds.
Tuscan Blue Rosemary (Rosmarinus officinalis 'Tuscan')- For a softer look and more fragrant hedging plant, rosemary is a good option with proper pruning. Tuscan Blue Rosemary has light blue flowers and needle like green foliage and can be used in cooking.
Specimen Trees:
Japanese Maple- Many different Japanese maples have visually interesting branching habits and leaf colorings throughout the seasons. Their unique branching habits are highlighted throughout winter until they leaf out in spring and turn bright shades of green, red, orange, and yellow, throughout summer and into fall.
Smoke Tree- Whether you like the deep purple or the golden green coloring, the smoke tree makes a great small specimen tree for contemporary gardens. Airy plumes of light pink flowers cover the smoke tree throughout summer. In fall, green smoke trees turn brilliant shades of orange and red while the purple smoke trees remain purple.
Maidenhair Tree (Ginkgo biloba)- This deciduous, narrow tree has bright yellow-green leaves that are fan shaped. The leaves catch the breeze and flutter in the winder making it an attractive specimen throughout spring, summer, and fall. Leaves turn golden yellow in fall.
Bold Foliage:
Japanese Painted Fern (Athyrium nipponicum 'Pictum')- This deciduous fern has silvery fronds that are accented with purplish stems and blue green tones. This really stands out in shade gardens and works well in container gardens as well.
Hostas- With their large undulating leaves and striking colorings, hostas stand out in any garden. Flower stalks rise in summer in shades of purple and white.
Japanese Aralia (Fatsia japonica)- This tropical looking plant has large, rich green leaves that are evergreen. Spheres of tiny white flowers bloom in October through November making this equally interesting in all seasons. It works well in containers or located in a sheltered or shaded area.
Blooms:
Allium- Alliums have a rounded or globe shaped flower and have a Dr. Seuss feel and add a touchy of whimsy to the garden. Flowers sit atop tall stalks and come in various shades of white, pink, and purple. Flower blooms can either have tight or loose forms and can be as large as grapefruit or softballs down to small little lollipop sizes.
Lavender- Spikes of showy purple, blue, or white flowers rise above the foliage in summer and on warm summer days can be smelled throughout the garden. It can also be used as a hedge plant like Rosemary and in cooking. It works well en masse in contemporary gardens and can attract butterflies and help deter mosquitoes.
Hydrangea- Hydrangea blooms vary in shape and size depending on the type and variety you choose making them easy to fit into any garden. They're visually interesting blooms in spring through fall can add unique colors to the contemporary landscape and provide multiple seasons of interest. They can be planted as a specimen or focal plant or as a hedge and are great in cut flower arrangements.
Do you have a contemporary garden? What kind of plants do you like to use? Let us know in the comments, we'd love to hear from you!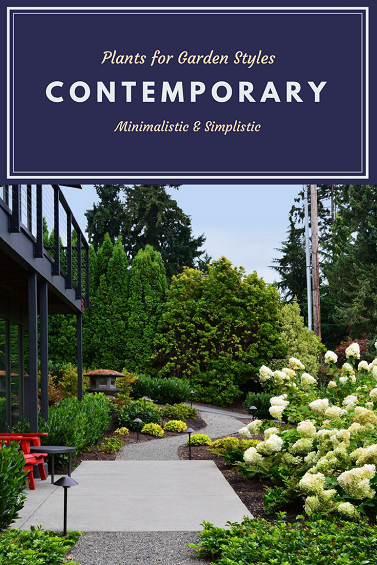 Organized under Buds and Blooms, Design Style, Gardens, Landscape Design, Plants I Dig, Trends. Labeled as black bamboo, Black Mondo Grass, bowles golden sedge, contemporary design, contemporary garden, contemporary garden plants, contemporary garden style, contemporary landscape design, contemporary plants, hicks yew, Karl Foerster Feather Reed Grass, ornamental grasses, plants for contemporary gardens, plants for contemporary landscape design, plants for contemporary landscapes, tuscan blue rosemary.