Growing up I was lucky enough to have parents who encouraged me to play outside whenever I could and let me get dirty when I wanted to (and didn't let me have a cell phone until I was 18, so that may have contributed to my amount of outside time). My summers were spent riding bikes through the dirt, camping, and swimming; in the winter we went sledding and built armies of snowmen. I watched the flowers bloom in spring and loved jumping in all the leaf piles in fall. Now with all of the technology easily accessible to kids, a lot of them would prefer to stay inside. While technology can be great and useful, what can be challenging is making an outdoor space that is interactive and inviting and makes children want to get outside and enjoy their backyard. Younger children will like things they can touch, feel, climb on top of, and run around. Older kids might go for areas that they can relax in and get involved in. These landscape elements will help encourage kids to explore, create, and spend more time outside.
Boulders, logs, stumps, and mounds can offer spots for kids to climb around on and provide varied terrain for little ones to learn about what the natural world around them looks and feels like. They can be made to work as natural obstacle courses while still being pleasing to the eye. While sand may sound like a good option for a natural obstacle course as well, it will also attract plenty of neighborhood cats and other wildlife so if this is a must, you might be cleaning it out quite often.
Tee pee structures- Kids love playing hide and seek and having a place to call their own. Tee pee like structures and fort building opportunities can provide hours of fun and can be made from all kinds of materials. You can buy pre-made outdoor safe tee pees or your kids can have free rein with found objects.
Hopscotch pathways are an easy DIY project that kids will have fun helping with. You can customize them easily with different shapes and sizes of stepping stones, colored numbers, and other little decorations. It'll keep younger kids active and entertained throughout the year and helps with fine motor skills.
Outdoor chalkboards- If you have an empty wall of a shed or fence or other outdoor structure, you can easily turn it into an outdoor chalkboard. With some wood (such as an old door), chalkboard paint, and chalk you can update a boring wall to something useful for the kids. Bonus points if said boring wall is also near a concrete walkway for even more creative chalk canvas area!
Water features are a great multifunction addition to the landscape. While they'll provide a calming atmosphere to the landscape, they can also double as a place for children to play in and explore. If you have a large space, a splash pad is becoming a popular option that will definitely attract all the neighbor kids. Ponding water features with plants and fish can provide learning experiences about science and ecosystems on a smaller level that kids can understand easier. Smaller bubbling water features are great for younger children who like to play with water.
Fire- Fire pits and fire places can be enjoyed by all ages. You can cook on them, relax around them, and they can last for years. This is also a piece of the landscape that kids can grow up with and not get "too old for".
Tactile plants- When kids play outside they want to feel and smell (and maybe eat) anything they can get their hands on. There are quite a few plants that have different textures and scents that kids might enjoy. Allium blooms look like they're straight out of a Dr. Seuss book with their lollipop shaped flowers which are soft to the touch. Lamb's ear has soft, fuzzy textured foliage and Chenille has catkin-like blooms that are fun to "pet". Sedum x 'Autumn Joy' has rubbery feeling foliage paired with soft pink flower clusters in later summer through fall.
Cutting gardens and edible gardens are an excellent way to get kids involved outside and encourage their curiosity. It'll teach them how to care for and grow different kinds of plants while also teaching them the value of patience and responsibility. Sunflowers, hydrangeas, lavender, peonies, black eyed susans, echinacea, dahlias, marigolds, and cosmos are all good choices for kids cutting gardens. Edible gardens are a great place to grow new fruits and veggies that kids may not try otherwise. By mixing in likeable things such as blueberries and strawberries with the possibly unpopular others like brussel sprouts and squashes, you might find that they will want to try these new foods that they've helped grow themselves.
To read more about designing a garden with children in mind, check out this previous blog post. How do you keep your children entertained and engaged outside? Let us know in the comments, we'd love to hear from you!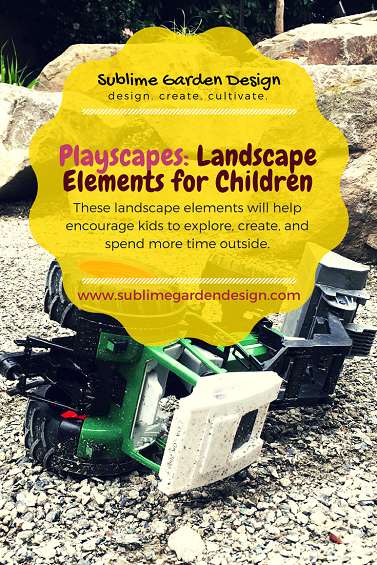 Organized under Cutting Gardens, Edible Gardening, Edible Gardens, Garden Art & Funky stuff, Gardens, Landscape Design, Outdoor Gathering Space, Trends. Labeled as cutting garden, edible gardening, edible gardening with kids, fire, hopscotch pathway, kid friendly cutting garden, kid friendly gardens, kid friendly landscape design, kids edible garden, landscape elements for children, landscapes for children, natural obstacle course, outdoor chalkboard, outdoor tee pee, tactile plants, water feature.