Autumn Joy Sedum is a great late summer-fall bloomer that benefits from summer pruning to keep it looking its best.
Pruning Autumn Joy Sedum in June will result in a shorter height which means the stems will be stronger. They'll be less likely to flop over, and the growing habit of the plant will be more upright and in a tighter clump. This early summer pruning will also cause it to flower later which will last into fall. You'll want to prune back about half of the plant in June.
To help Autumn Joy Sedum with its stem flopping issues, it's also best to plant in full sun and well-drained soils that are allowed to dry out. In spring-summer, flower heads will be light green and will open to pink and fade to bronze in fall and get darker as winter sets in. Many people like to keep the blooms on throughout winter for interest until spring, but they can be removed in late fall/early winter if you don't like the look of them.
How do you maintain your Autumn Joy Sedum? Do you prune them in June or leave them be until next year? Let us know in the comments, we'd love to hear from you!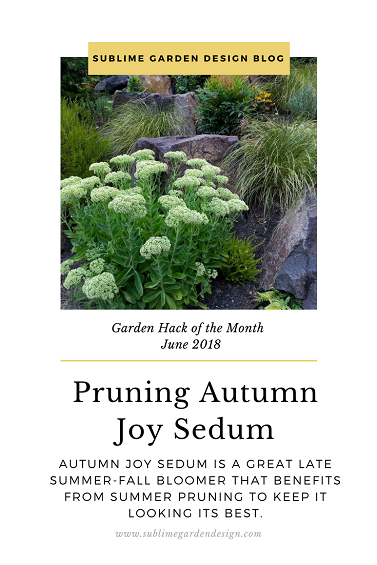 Organized under Buds and Blooms, Education, Garden Hack of the Month, Garden Maintenance, Garden Tips & Advice, Low Maintenance Gardens, You don't know what you don't know. Labeled as Autumn Joy Sedum, autumn joy stonecrop, garden hack of the month, pruning sedum autumn joy, when should i prune autumn joy sedum.