These evergreen plants work hard to provide all season interest. They can be placed in partial to full sun areas and are a fuss free plant in general. Most types are heat tolerant, but they should be watered regularly during their first growing season to help establish a good root system. Another benefit to these is that they are deer resistant so deer shouldn't be munching on them much and they stay at about 18-24 inches tall and wide making them perfect for both container gardens and mixed beds. The milky sap that is produced by Euphorbias can be a skin irritant so make sure to wear gloves when pruning this plant. It's also important to be aware that Leafy Spurge (Euphorbia esula) is considered an invasive species so it's best not to plant that one. While Euphorbias (Spurge) don't start blooming this time of year, they do still help brighten up a gray, winter day. These are a few that really shine this time of year.
Rudolph Winter Spurge (Euphorbia x martinii 'Rudolph')- This evergreen winter stunner adds some much-needed cheer to the gray rainy days we've been having. While it's not blooming quite yet, it features bright red flower bracts, like Rudolph's nose, and in spring will have greenish yellow flowers with red centers on blue green foliage.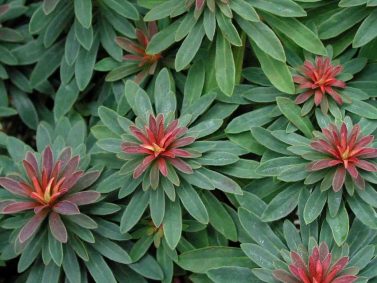 Ascot Rainbow Spurge (Euphorbia x martinii 'Ascot Rainbow')- During spring and summer, foliage is a mix of sage and lime green with a yellow margin. In winter it flushes to pink and peachy-salmon colors. In late spring and into summer, the green and yellow bracts will have bright red blooms.
Redwing Spurge (Euphorbia x martinii 'Redwing')- This spurge has blue-grey foliage which forms a nice, tight mound. Later in winter the flower spikes will start to develop and turn a dusty red before opening in spring to brilliant, bright golden-green. Another one that has similar coloring is Red Martin Spurge (Euphorbia x martinii 'Red Martin').
Blackbird Spurge (Euphorbia x 'Blackbird')- If you're looking for a darker spurge, Blackbird is a good choice. It has bright red foliage starting out which matures to dark purple. Clusters of yellow-green flowers appear in early-late spring. The best foliage coloring happens when planted in full sun. Do you use Euphorbias in your container gardens or mixed beds? Do you have a favorite? Let us know in the comments, we'd love to hear from you!
Do you use Euphorbias in your container gardens or mixed beds? Do you have a favorite? Let us know in the comments, we'd love to hear from you!
Organized under Buds and Blooms, Evergreen Foliage, Low Maintenance Gardens, Plant of the Month, Plants I Dig, Water-wise Gardening, Winter Gardens. Labeled as ascot rainbow spurge, blackbird spurge, container gardens, deer resistant plants, euphorbia x blackbird, euphorbia x martinii ascot rainbow, euphorbia x martinii red martin, euphorbia x martinii redwing, euphorbia x martinii rudolph, Evergreen plants, evergreen shrub, plant of the month, plants for containers, red martin spurge, redwing spurge, rudolph winter spurge, winter interest plants.