Of all the planting plans that we've used Rudbeckia on, I can't believe we haven't included this one in our Plant of the Month lineup! Rudbeckias are herbaceous perennials with daisy like flowers that come in shades of yellow, red, and orange. They're great for waterwise gardens as they handle periods of drought well and they're bloom season lasts from summer through fall. Rudbeckia flowers also work well in cut flower arrangements. They do best in full sun and well-draining soil and grow quickly. The flower remnants and the foliage should be cut back in February. These are a couple of our favorite Rudbeckias.
Dwarf Black Eyed Susan (Rudbeckia fulgida sullivantii 'Little Goldstar')- Perfect for smaller spaces, this compact Rudbeckia has bright, golden yellow flowers with dark brown centers and dark green foliage. It'll get to be about 14-24 inches tall and 18 inches wide.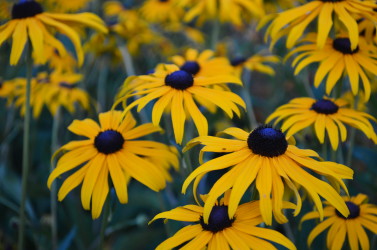 Cherry Brandy Gloriosa Daisy (Rudbeckia hirta 'Cherry Brandy')- While Rudbeckia's are mostly well known for their yellow blooms, this one is the first fully red one! The dark, chocolate brown centers complement the mute red petals that have white tinged tips. It blooms continuously through summer and will bloom even more if deadheaded. This Rudbeckia will reach about 20 inches tall and 15 inches wide.
Goldsturm Black Eyed Susan (Rudbeckia fulgida sullivantii 'Goldsturm')- Similar in look to Little Goldstar with bright yellow flowers, this one will fit in perfectly for bigger spaces. It'll reach 24-26 inches tall and 18-24 inches wide but in the perfect conditions can get bigger and really thrive. This Rudbeckia can tolerate clay soils and urban pollution.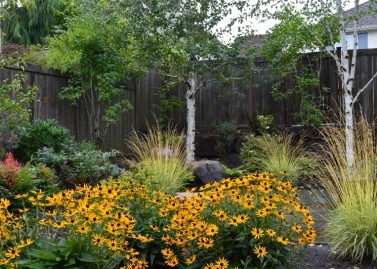 Other Rudbeckias with fun color combos include 'Summerina Orange' (deep rust-orange flowers which fade outwards to brighter orange on the tip of the petals), 'Summerina Brown' (dark brown centers with rust orange petal tips), 'Toto Rustic' (deep orange flowers with a bright yellow hallow), and 'Chim Chiminee' (yellow to bronze colored flowers with narrow, quilled petals).
Rudbeckia x 'Summerina Orange' Photo Courtesy of Garden Tags

Rudbeckia x 'Summerina Brown' Photo Courtesy of Monrovia

Rudbeckia hirta 'Toto Rustic' Photo Courtesy of Monrovia

Rudbeckia hirta 'Chim Chiminee' Photo Courtesy of Monrovia
Do you have Rudbeckia in your garden? Which one is your fav? Let us know in the comments, we'd love to hear from you!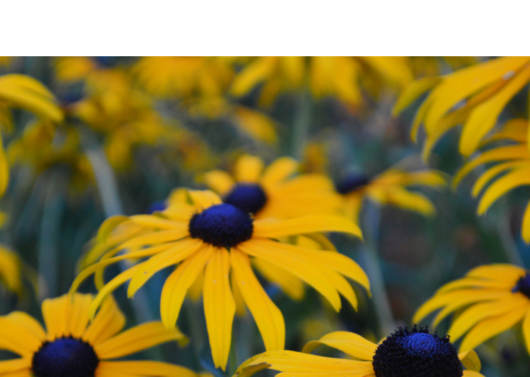 Organized under Buds and Blooms, Cutting Gardens, Low Maintenance Gardens, Plant of the Month, Plants I Dig, Water-wise Gardening. Labeled as august flowers, cherry brandy gloriosa daisy, chim chiminee rudbeckia, drought tolerant perennial, goldsturm, little goldstar, long blooming perennials, plant of the month, reblooming flowers, Rudbeckia, summer flowers, summerina brown rudbeckia, summerina orange rudbeckia, toto rustic rudbeckia, waterwise gardens, what's blooming now.