Whether you've added in a handful of new plants to your garden or have completely remodeled your outdoor space, these tips and tricks will help you understand what to expect with a new landscape and how to take care of your new garden.
Plants
When designing a space, the mature size of the plants you want, need to be considered. This will make it so you won't have to constantly prune your trees and shrubs to keep them from outgrowing their space. At the time of planting, your plants won't be planted at their mature size so your new garden may look a little bare compared to what you were expecting. It will take time for them to grow into their space, but you'll be rewarded for your patience in a couple of years once everything starts to fill in.
Once planted, plants may go through a period of shock. This is normal. As long as you water them properly, they will bounce back, but it's good to keep an eye on them to see if you need to replace or possibly move any plants after a couple months.
If a plant tag states that it is drought tolerant or heat tolerant, it will still need to be watered regularly in its first couple of years to establish a healthy and deep root system. After about 3 years, you can cut back on how much water your drought or heat tolerant plants get.
Watering should be done in the morning before it gets too hot. The best way to water is with deep, infrequent watering instead of frequent, shallow watering. This will help the root system reach deep into the soil instead of forming roots right on the surface where they'll dry out much faster.
If you have container gardens, you'll need to water them more often as the smaller the container, the more often it will need water. Any containers placed under eaves will not get water from rain or snow fall so they will need to be hand watered. You can read more about caring for container gardens here.
New trees will need proper staking. This will help the tree establish a deep root system during its first year and will protect it from strong winds. After a year, the staking should be removed so as not to restrict its growth.
Mulch should be reapplied about once a year. This will help the soil retain moisture and suppress weeds. It will also help protect your more tender plants throughout the winter.
When you see weeds, pull them out as soon as you see them. You may be tempted to go out and buy round up or other similar products for a quick fix, but they will do more harm than help. There's plenty of reasons to not use synthetic products on your lawn and throughout our garden and there's a many different options for non-toxic weed killers.
Lawn
If you've installed sod, you'll want to immediately water until 1 inch of water has accumulated in a flat pan or pie plate. You'll also want to minimize foot traffic for about 2 months from installation so that the roots have time to establish. For the first 2-3 weeks you'll want to keep it consistently moist, especially in the dry summer months. You can back down on the amount of water after 3 weeks or so. Keep an eye on your lawn and probe your soil frequently to make sure it's receiving enough water, especially in the summer months.
Sod can be mowed about 7-10 days from installation. If the sod can still be moved, wait until it feels firm and in place before you mow. You'll want to make sure that your mower height is set for 2.5-3 inches. You can fertilize new sod after about 30 days, every 4-6 weeks throughout the growing season which is typically February-November.
You'll be able to see sod lines for the first couple of weeks but they will disappear over time as the grass grows in.
If you're seeding a new lawn, you'll still want to use the same 1 inch of water rule for watering immediately after you've spread the seed. You'll want to keep the seeded area wet at all times. After 7-10 weeks, you can start backing down to 1 inch of water per week.
After 30 days, you can start to apply fertilizer every 4-6 weeks throughout the growing season which is typically February-November.
You'll want to stay off the seeded areas until it begins to grow in so you won't disturb the germination process.
Hydroseeding uses a mixture of seed and mulch and sometimes a fertilizer. It can be a less expensive option than sod but is similar to seeding a new lawn in that it needs to be stayed off of until it establishes itself. About a day after it's been sprayed, and the mulch has dried, you'll want to water it the same as new sod and seed (1 inch) keeping it lightly moist. After 2-3 weeks once it's germinated, you'll want to water it at least 1-2 inches per week.
You can mow hydroseeded lawn once you see that it's needed keeping it 2.5-3 inches tall. Make sure the mulch is dried out before mowing.
Hardscape
What you set your patio with, will determine what to expect for maintenance of your patio. Polymeric sand set patios cannot be pressure washed unless you plan to replace the sand. A low-pressure nozzle is ok for cleaning it off, though. If you need to fill or repair any sand, you'll just want to make sure you know which color you used so you can match it.
Mortar set patios can be power washed all you want but can be harder to fix if stone needs to be replaced or if there's cracking so it's important to know what materials were used so you can fix pieces quickly.
Concrete patios will eventually crack. It could be the day after it's poured or 10 years later, but it is inevitable. Scoring the concrete can help with that. While concrete can be cheaper, this is something to keep in mind so you know what to expect. Decorative concrete should also be re-sealed every year.
Wood decking will need to be cleaned and refinished annually to protect the wood from moisture and to keep it looking good. We recommend using a penetrating oil sealer like Penofin to seal and protect wood surfaces. If you pressure wash to clean it make sure to be gentle as softer woods can be damaged easily.
Composite decking should be washed at least twice a year to remove dirt and debris and any thing that might be clogging the gaps between boards. This will help prevent mold and mildew from forming. Pressure washing is ok but should be at a lower psi. Be careful of any harsh chemicals that may stain or damage the surface. Some composites can also be stained and discolored from rubber so be aware of the backing of any rugs you may have on the surface.
Water features are a great addition to the landscape but also come with their own set of maintenance expectations. The key things to remember is to keep the pump fully submerged underwater and always keep the filter clear of debris. If you have a pondless water feature, or a drystream, you can use an air blower to clear away debris and a small aquarium net for smaller ponds. You can read more about water feature care here.
This list may make it seem like there's a lot of work to be done after a new landscape is installed but as a general rule of thumb, if you remember to water your plants, keep things debris free, and pull a few weeds, you'll be good to go!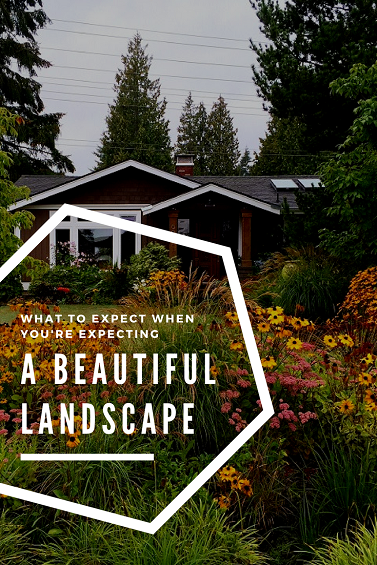 Organized under Education, Garden Maintenance, Garden Tips & Advice, Low Maintenance Gardens. Labeled as container gardens, how much should i water my plants, how often should i water my plants, how to care for new deck, how to care for patio, how to take care of deck, how to take care of new garden, how to take care of new landscape, how to take care of new patio, how to water new lawn, lawn, lawn seed, new garden, new landscape, sod, what to expect with a new garden, what to expect with a new landscape, when to mow new lawn.