Mill Creek Landscape Designers / Mill Creek Landscape Architect
Outdoor spaces that feel good and do good.
Sublime Garden Design creates holistic outdoor spaces that promote the health and well-being of the client, the garden, and the eco-system in which they all exist.
With our Snohomish team led by Heidi (owner, landscape designer, certified horticulturist) &  Kryssie (Landscape Architect),  we can handle your project  from creation & design to architecture and client representative services.
Small renovations to complete outdoor living spaces all across Snohomish County and North King County.
Ready to get started on your landscape design?
Great! The best way for us to get started is to schedule a free phone consultation to find out if we are the right Mill Creek landscape designers for your project. Please fill out our client questionnaire so that we can get to know more about you and your goals, and we will contact you shortly to schedule a phone call. We will typically respond within one business day.
Not sure you need a landscape designer?
No problem.  We can help you figure out if you need a Mill Creek landscape designer. Provide us with some information about your project and your goals and we will get back to you shortly. We will typically respond within one business day.
"I now have an amazing outdoor living space that is better than I could have ever imagined. I appreciate the way Heidi took into account my lifestyle, taste and the existing plants that I already had into her design. My yard looks more and more amazing each day. I can't wait to see it in the spring."
—Lila B. (Everett)
See what other clients have said…
Recent Mill Creek Landscape Architect and Landscape Design Jobs
Sublime Garden Design has designed many different landscapes in the Mill Creek area and each have a distinct feel and range in size from small renovations to complete outdoor living spaces. With each of these landscape designs in Mill Creek, as with all our designs, we worked with the client throughout the entire process and determined what the best use of space would be while taking into consideration their wants and needs, goals, budget, and timeline.
Curb Appeal
While this Mill Creek residence was one of the most well-maintained yards on the block, the clients wanted to transform and update it to match their needs and aesthetic. The first thing that the clients wanted was for the existing lawn and some of the trees that had become too big for their space to be removed.
After that was determined, we came up with 3 separate concept designs for them to choose from.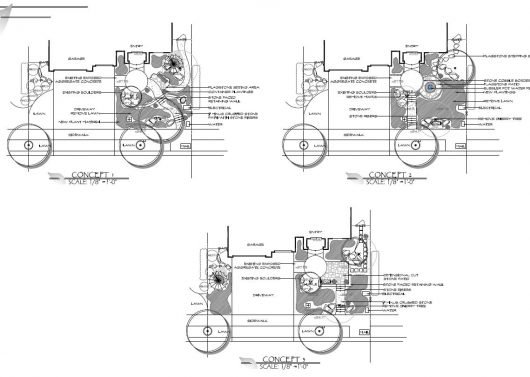 After meeting with the client and discussing different possibilities, we revised their chosen concept into a final design and planting plan.
Their new front yard included a new crushed marble pathway with stone risers, a stone veneered wall, a bubbler pot water feature, and a lush planting plan that tied everything together with a balance of color, texture, and seasonal interest. Shortly after installation this garden was awarded Mill Creek's Great Garden Award!
This Mill Creek residence is a great example of how a Mill Creek landscape architect can take a small space and transform it.  This is how a landscape architect/designer can create options for both small and large spaces. Your landscape is an extension of your home and a reflection of your personal style, and you should enjoy it to the fullest. We work hard to make sure that we understand your wants and needs, goals, timeline, and budget and turn those wishes and dreams into an outdoor space that you'll love for years to come.