While there's plenty of pumpkins and scarecrows to decorate with, the right plants can also add a spooky touch to your Halloween decorations. Take a look at these interesting plants.
Black Mondo Grass (Ophiopogon planiscapus 'Nigrescens')- This evergreen ornamental grass has purple/black grass-like foliage which clumps and spreads slowly. Small purple flowers emerge in spring which are then followed by dark purple berries in fall. These are great along borders or even in container plantings. Frost also adds a neat touch to this plant, as well.
Contorted Filbert (Corylus avellena 'Contorta')- If you're looking for a something that will fit in perfectly with your Halloween décor, the Contorted Filbert is it. This deciduous shrub is prized for its twisted and curled branches. Foliage is also spectacular in fall. In Spring it has showy, yellow green long catkins before the foliage emerges. It can work well in large containers or as a specimen plant in the landscape. You can also find cultivars with mixes of red foliage.
Wingthorn Rose (Rosa sericea 'Pteracantha')- This plant is not messing around. While most roses are grown for their flowers, this one has some show stopping thorns. The thorns grow along new growth in large flat wing shapes that are deep crimson red. With a little backlight, the thorns really stand out. Small, fern like foliage emerges in spring and is followed by small, white flowers in summer and orangeish rose hips. Because the thorns are so big, it's a must that this is planted away from curious children and pets, so no one gets hurt. You'll definitely want to make sure you have proper gear when pruning this plant as well.
Camperdown Elm (Ulmus glabra 'Camperdownii')- If you've ever come across one of these, especially at night, they can be a bit daunting. When the foliage is still on the branches, it can look like anything from an umbrella to a large monster reaching out for you. When fall hits, the leaves turn yellow-green and when just the branches are left, it creates a really interesting skeletal silhouette. This is definitely not for very small spaces as it can grow to be 20-25 tall and 18-20 feet wide. When the leaves return in spring and summer, it's a really fun hideout for kids and adults alike providing a natural umbrella shape. Fun Fact: The University of Idaho has the oldest and largest collection of Camperdown Elm's west of the Mississippi River.

Sensitive Plant (Mimosa pudica)- While this will do best indoors in our climate, I couldn't pass up mentioning this plant. The tiny leaflets have a fern like appearance and forms small pink flower blooms when it's mature. The Sensitive Plant gets its name because when the foliage is touched, it will collapse right before your eyes and play dead…but after an hour or so it springs right back. This is a really fun one for kids. You can learn more about growing it and see it in action here:
There are so many fun plants for both inside and out that you can find for Halloween but just keep an eye out for what is and isn't poisonous. There are definitely many plants that look scary and look that way for a reason so be careful out there!
What's your favorite creepy plant for this time of year? Let us know in the comments, we'd love to hear from you!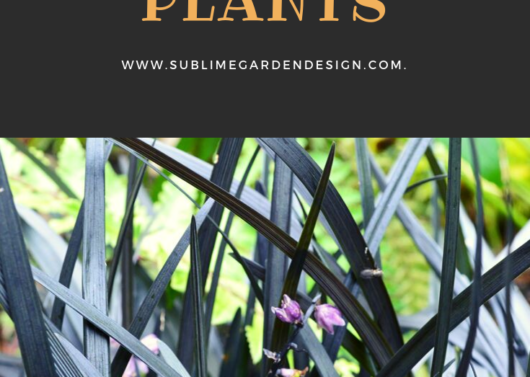 Organized under Fall Foliage, Plants I Dig, Trends. Labeled as Black Mondo Grass, camperdown elm, contorted filbert, corylus avellena contorta, creepy halloween plants, creepy plants for halloween, halloween plants, henry lauders walking stick, mimosa pudica, plants for halloween, rosa sericea pteracantha, sensitive plant, spooky plants, ulmus glabra camperdownii, wingthorn rose.