Deer Fern (Blechnum spicant) is an evergreen fern which is native to our area. It's one of those immediately recognizable plants in our area due to its upward growing, reddish tinged fronds and black stems this time of year. It actually has 2 different kinds of fronds; the reproductive fronds, which are deciduous, and the sterile fronds, which are evergreen.
The sterile fronds are rich green and have denser, larger/wider leaflets while the reproductive fronds are darker in color almost black, have much smaller/narrower and less dense leaflets, and grow more upright and stiffer out of the sterile fronds. The reproductive fronds will stay on throughout summer.
Deer Fern, like many other ferns, requires full shade but can tolerate partial shade and prefers that the soil is evenly moist, so it needs to be watered regularly. It can grow to be 8-20 inches tall and about 24 inches wide.
Maintenance is pretty simple for Deer Ferns. You can remove the fertile fronds after they've started to fade at the end of summer/early fall. In February, you can clean up and remove any old and tattered sterile fronds so that sun can get into the center of the plant and let new fronds grow.
Ferns are a staple in the Pacific Northwest and Deer Ferns are just one of the many ferns that are native to our area. Do you have a favorite fern? Let us know in the comments, we'd love to hear from you!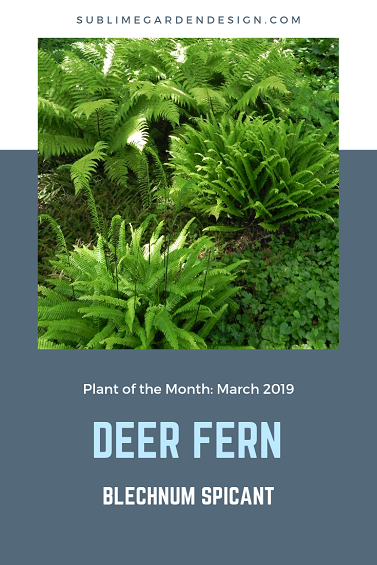 Organized under Evergreen Foliage, Foliage, Plant of the Month, Plants I Dig, Shade Gardens. Labeled as blechnum spicant, deer fern, evergreen fern, fern frond, native fern, native plants, northwest native plants, pacific northwest natives, plant of the month.