If you're looking for a multi-season stunner that packs a colorful punch in fall, Fothergilla is a great option for you. Fothergilla is a deciduous, compact, mounding shrub that works well as hedges or in shrub borders. In spring, it has fragrant white bottlebrush-like flowers that cover the entire shrub. The blooms are followed by serrated green to blue-green leaves (depending on the variety) in summer.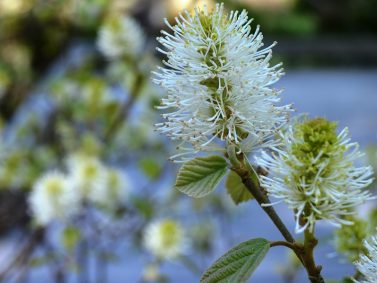 While the flowers and leaves in spring and summer are already good reasons to have this plant in your garden, the fall color will really wow you. Foliage in fall turns shades of bright red, yellow, and orange which gives a glowing effect to the whole shrub.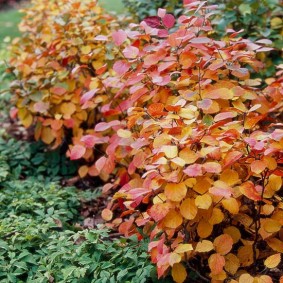 Mount Airy Fothergilla (Fothergilla gardenii 'Mount Airy') has deep blue-green foliage and gets to be about 5-6 feet tall and wide.
Dwarf Fothergilla (Fothergilla gardenii) has lighter blue-green foliage and reaches 2-3 foot tall and 3-4 foot wide.

Blue Shadow Fothergilla (Fothergilla major 'Blue Shadow) and
Blue Mist Fothergilla (Fothergilla gardenii 'Blue Mist') has icy blue-green foliage. Blue Shadow gets to be about 3-5 foot tall and wide and Blue Mist reaches 2-3 foot tall and wide.
Fothergilla does best in partial to full sun with regular watering. It can be pruned in late winter but is usually not necessary unless you have dead or broken branches.
Do you have this multi-season plant in your garden? What's your favorite season to see this plant in? Let us know in the comments, we'd love to hear from you!
Organized under Fall Foliage, Foliage, Plant of the Month, Plants I Dig. Labeled as blue mist fothergilla, blue shadow fothergilla, dwarf fothergilla, fall color plants, fall foliage, fothergill major, fothergilla, fothergilla gardenii, mount airy fothergilla, plant of the month, plants for fall color, witch alder.