This group of evergreen ferns includes our native Sword Fern (Polystichum munitum), Japanese Tassel Fern (Polystichum polyblepharum), Christmas Fern (Polystichum acrostichoides), and the Hard Shield (Polystichum aculeatum) and Soft Shield Fern (Polystichum setiferum) along with quite a few others. They look best if the fronds are cut back in late winter to reveal the intricate fiddle heads emerging, but this isn't necessary. We frequently use the Japanese Tassel Fern (so much so that it has its own nickname "poly poly" in the office) and the Sword Fern.
Sword Fern (Polystichum munitum)- The Sword Fern is one of the hardier evergreen ferns on this list making it low maintenance as well. Its sword-like fronds can grow to be 4 feet long with glossy green foliage and its clumping form can spread anywhere from 3 to 6 feet. This fern prefers partial to full shade and moist soil, but it will still look good in warm, dry weather.
Japanese Tassel Fern (Polystichum polyblepharum)- The Japanese Tassel Fern gets its name from its new growth. As it emerges and starts to unfurl, the new growth looks like fuzzy tassels and then flattens and matures into dark, glossy green foliage. It prefers sun spotted shade and well-drained, but moist, soils. This fern will get to be about 2 feet tall by 2 feet wide.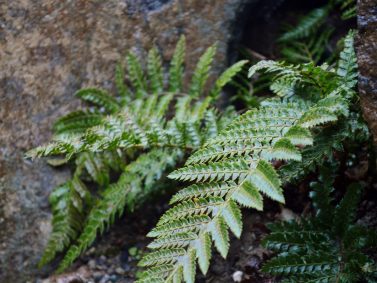 Christmas Fern (Polystichum acrostichoides)- While this fern prefers moist soils, it's also good to know that it can tolerate dry(ish) soils after it's been established which makes this fern a good option for a low-maintenance garden. The Christmas Fern has leathery, light green foliage and forms a fountain-like clump. As the name suggests, this fern will be green at Christmas time and its pinnae (the leaflets), look like stockings!
Hard Shield Fern (Polystichum aculeatum)- This fern starts out with bright, yellow-green fronds that then turn to glossy forest green as it matures. It works well between boulders and near rockeries and other woodland type settings. It prefers full to partial shade and moist, but not soggy, soil. It will grow quickly and reach 1-3 feet tall and wide.
Soft Shield Fern (Polystichum setiferum)- The fine texture gives off a tropical vibe but that doesn't mean that this fern isn't a hardy one. It likes being in full shade and to be watered regularly to maintain moist soil, but it can adapt to being in dry shady areas. Foliage is feathery and dark green with cinnamon colored stems. It will get to be about 2-3 feet tall and can spread a bit wider. Depending on temperatures in winter, it may die back with frost but will come back in spring. This plant also does well in atriums and courtyards that might not get much consistent light.
If you want to read more about other kinds of evergreen ferns, you can check out our past post on Evergreen Ferns here.
Do you have a go to evergreen fern to brighten up the shady spots in your garden? Let us know in the comments, we'd love to hear from you!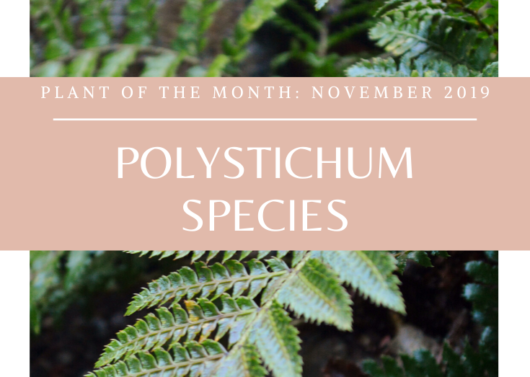 Organized under Evergreen Foliage, Foliage, Plants I Dig, Shade Gardens. Labeled as aculeatum, christmas fern, Evergreen Ferns, ferns for shade, hard shield fern, japanese tassel fern, plant of the month, plants for shade, polystichum, polystichum acrostichoides, polystichum munitum, polystichum polyblepharum, polystichum setiferum, polystichum species, polystichum spp, semi evergreen fern, soft shield fern, sword fern.