Sarcococca, also known as Sweet Box, is a winter blooming favorite. The glossy, evergreen foliage is always welcome around this time of year when many other plants lack the greenery we so crave in winter time. While its foliage is a nice sight, the tiny white flowers are why we chose this as plant of the month. Even though they're small in size, the white flowers are highly fragrant smelling like sweet vanilla. If you've ever been to the Northwest Flower and Garden Show (and if you haven't yet, the dates this year are February 20th-24th), you'll immediately smell all of the Sarcococca that many of the show gardens use. Flowers are followed by shiny dark blue or red berries, depending on which variety you have. Sarcococca does best in full shade and can tolerate dry conditions once its established as long as it's kept out of hot afternoon sun. These characteristics make it perfect for dark, dry places like underneath eaves and other such places that can be hard to find plants for.
There are couple different varieties of Sarcococca and differ mostly in size, but also in berry color.
S. ruscifolia- Grows slowly to reach 3-5 feet tall and wide. Red berries follow flowers.
S. hookeriana humilis- Works well as a ground cover and reaches 1 1/2 – 2 feet tall and can spread up to 8 feet wide. Has dark blue berries.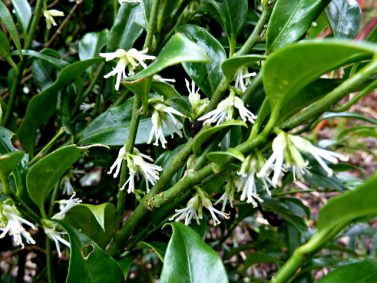 S. confusa- Gets to be about 3-5 feet tall and wide. Black berries follow after flowers.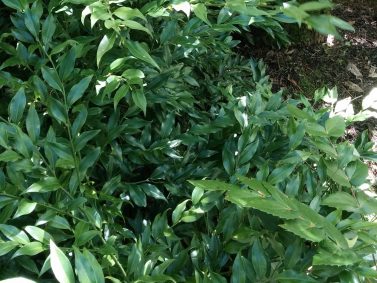 S. hookeriana var. digyna 'Purple Stem'- White blooms are tinged with pink and are followed by very dark blue berries. Foliage sits on showy reddish-purple stems. Gets to be 3-5 feet tall and wide.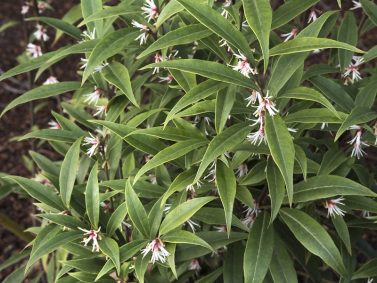 S. ruscifolia var. chinensis- Another shiny red berry Sweet Box that also works as a ground cover as it only gets to be about 20" tall and spreads quicker than some others. This one is also a good choice if you like to make flower arrangements as it has quite a long vase life.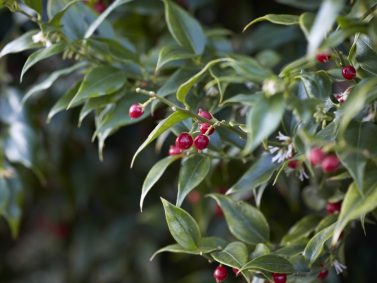 No matter the kind of Sarcococca you have (or need to go out and buy), you'll want to make sure it's placed near a doorway or along a pathway so you can make sure you'll always be able to smell it when it's in bloom.
What's your favorite winter bloomer? Let us know in the comments, we'd love to hear from you!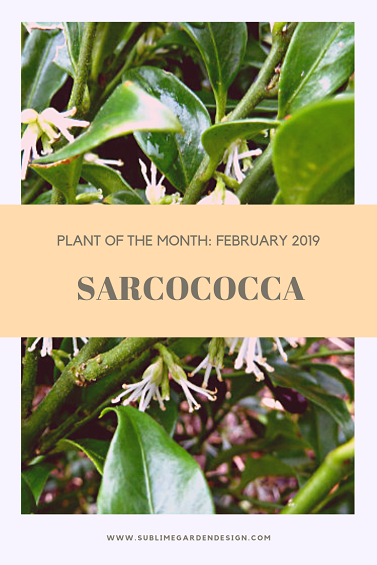 Organized under Buds and Blooms, Evergreen Foliage, Foliage, Plant of the Month, Plants I Dig, Water-wise Gardening, Winter Gardens. Labeled as evergreen for shade, evergreen shrub, february plant of the month, fragrant, plant of the month, plant of the month february, sarcococca, sarcococca confusa, sarcococca hookeriana humilis, sarcococca hookeriana var digyna purple stem, sarcococca ruscifolia, sarcococca ruscifolia var chinensis, sweet box.