Storm Cloud Lily of the Nile (Agapanthus x 'Storm Cloud') has clumps of lush green foliage that gets a reddish tinge in winter. Clusters of deep purple flowers sit atop thick green stems in summer. They stand out anywhere they're placed in the garden and add a lot of interesting texture.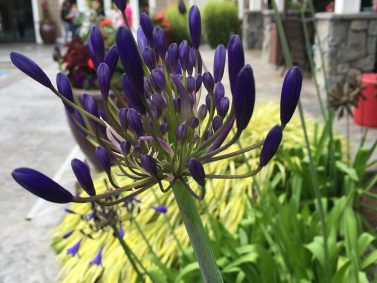 They do best in full sun with regular watering, especially in times of extreme heat. They will bloom best when they're not disturbed but you can divide them when they get overcrowded if you want to spread them throughout your garden.
The foliage can be evergreen in warmer climates, but they do well when they're cut back in the fall. The strappy green foliage gets to be about 2 feet tall and wide while the flower stalks can rise up to 3-5 feet tall.
Do you have these fun summer flowers in your garden? Let us know in the comments, we'd love to hear from you!