Clients say…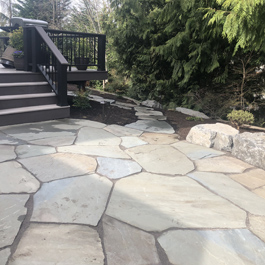 The best part of working with Sublime Garden Design was the communication, We always knew what was happening and what was going to happen. They did amazing work and an exquisite design and the lighting is incredible. Everything flows in such a balanced way. The plant selection is awesome. They chose plants that work well in our backyard environment and the design provides flowers and colorful drama all year long. Our contractors were top notch, never invasive, and always patient with our questions. Sublime was always monitoring the work and when we had a question about what was happening, we were also informed of the how and why. It was nice to know while ones yard is getting a full makeover. Our plans were to move and rent our house and now I don't want to move!
-Everett Client
---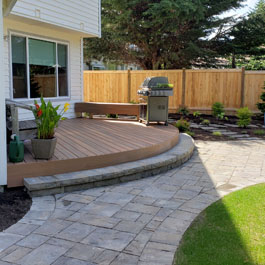 I was happy to support a woman-owned business based in Snohomish County and upon meeting Heidi and Kryssie was basically sold. I could tell you operate with integrity and talent and those were the two most important qualities to me. I loved the photos on Instagram account and website, as well. The best part of the experience was definitely seeing what plans you came up with for our back yard. Our wish list was pretty nebulous, and it was a delight to see what you came with both in regard to plant and hardscape design. We're loving the functionality of the patio and deck as well as the beauty of how their shape goes with the beautiful plants. I'm loving all the plants. Even now in their baby phase, and can't wait to see them fill in. You chose mostly things I've never grown in my yard and I'm loving it. We were happy with the contractor selection process, too. It helped to see the comparisons, so we knew our budget was not inflated, but market rate. We really appreciate the use of quality, conscientious contractors over just whoever is cheapest/fastest. You checked on things every week (sometimes more) and it definitely alleviated most of the fear we had about using contractors. Y'all have the customer experience fine-tuned in my opinion. Wish we could go straight to the front yard phase but we're starting to save already and will be excited to return our business to Sublime when we are ready to proceed with it!
-Jenny & Kyle F. (Mukilteo)
---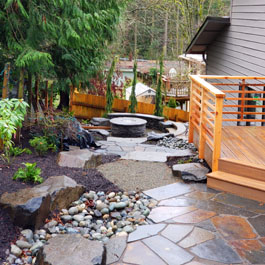 We chose Sublime Garden Design because we really liked your approach to project management, it was comforting to know that you had not only the design expertise but also the schedule, budget, and contractor management taken care of. The best part of the experience of working with you was not having to worry about anything! We love our yard and how well everything came together. We look forward to watching the plants grow and fill in the space and to see which are our favorites. The contractor selection and bid process was great! We really enjoyed working with the contractor. It was nice to see you checking in on things and see how readily you provided direction and asked questions of the crew.
-Amanda & Ryan B (Kenmore)
---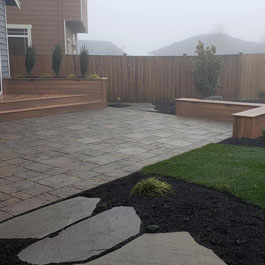 We saw Sublime Garden Design's portfolio online and knew we found our match. They do beautiful work, and their work was close to our needs. The best part of working with the folks at Sublime Garden Design was that they handled everything from the design process all the way to the end of the installation. It fit well with our busy schedules. I highly recommend hiring them to manage the project above and beyond just providing a great landscape plan. The designers listened to our needs, did a careful walk-through of the property and researched zoning/codes for our area. The interview was thorough. When we went to the design reveal meeting, we were excited by how wonderful the design they came up with was. We made just a few minor changes, it was that perfect! The designers showed us sample materials, explained the plant selections, and detailed the installation process so there were no surprises. We requested a low maintenance all-season design. The plant selection was spot on. We had a few specific requests that worked within our needs, so they worked them into our plan. The plants they chose were appropriate for the space and our level of garden maintenance. The contractor selection/bid process was seamless. The contractor we chose was phenomenal. Such a positive experience. Sublime Garden Design thoroughly went through the bids. Using their bid format, it was easy to compare bids and choose a recommended contractor from their vetted choices. We chose to have Sublime Garden design to supervise our project. Honestly, I wouldn't do it any other way. It was seamless and fit our busy schedule. They kept in close contact with our contractor and kept us posted on progress and next steps. No surprises. Sublime Garden Design did an EXCELLENT job in making our landscaping project a reality. Our experience has been very positive. No improvement needed.
-Everett Client
---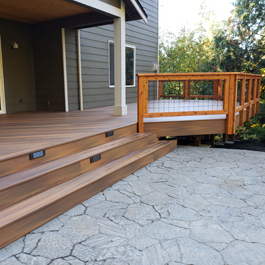 We chose to work with Sublime Garden Design because they listened to our goals for defining our outdoor spaces and accurately translated that into beautiful, easy to read plans. The website was very specific about the services offered and the process for reviewing & defining our needs, as well as quoting and managing the project. In our experience, the process made working with Sublime very easy. We knew what to expect and the timing for each step along the way. It's very helpful when you are able to articulate your own goals for using your outdoor space. We had done that before our first meeting with Heidi and Kryssie. The design options they presented checked all the boxes and we blended a combination of what we considered to be the best features of their proposed designs into our ultimate plan. The landscapers brought it all to life and met all of our requirements. All through the project, they came on site to verify that their vision (and ours) was being fulfilled by the contracted landscape service. Project management was exceptional. The plants that were selected allow our landscaped areas to border the natural vegetation and provide a smooth visual transition between the two areas. I honestly can't think of any improvements. The process was followed exactly, which made it so easy to know what the next steps would be. Communication was good, and the foreman for the landscape company was SOOOO easy to work with. We feel confident that the ongoing support they will provide our new lawn and plantings will be attentive and allow for maximum opportunity for success.
-Gerri G. & Carolyn C. (Granite Falls)
---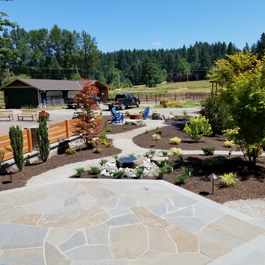 I looked at a number of landscape design sites and narrowed it down to two. After talking with Heidi on the phone I decided to move ahead with Sublime Garden Design. The bidding process was collaborative, clear cut and logical. I liked that each landscape item was separated out so that the contractors had to bid on the exact same amount/time/labor- leaving the end choice up to me as to who to choose to work with. Sublime listened to what I wanted. They provided me with other ideas to supplement mine. Their unique way of creating two landscape plans and then letting the customer pick and choose from them was fantastic. Everybody was personable. Great communication as to scheduling. They were flexible when we wanted to change something during the landscape process and was very impressed with the ongoing supervision.
—Rebecca M. (Redmond)
---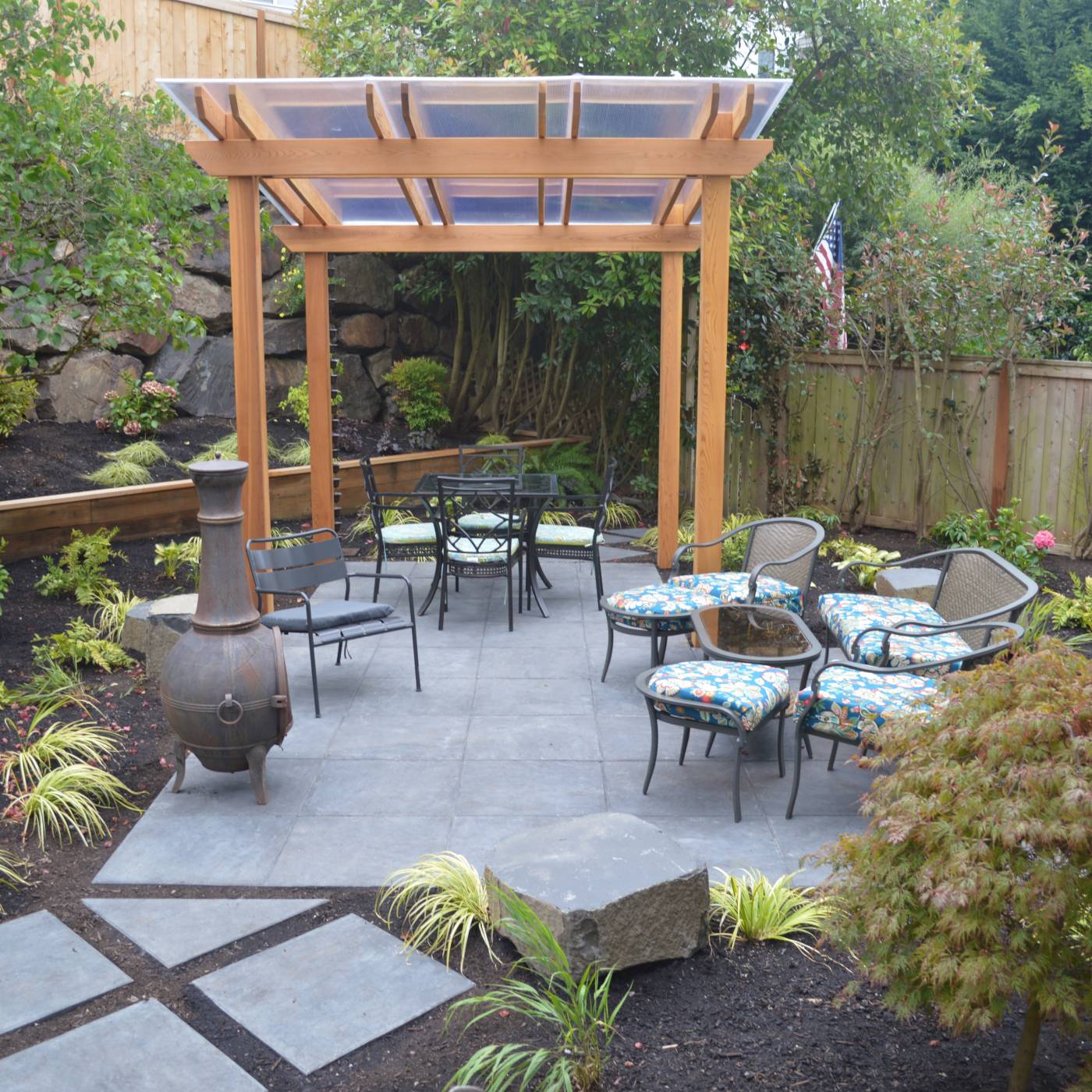 We chose Sublime Garden Design because we liked your professional attitude and portfolio. We also liked the design + bidding + project management combination. You listened well and provided us a creative design that hit our NEEDS and was completely different than our initial guess at the design. The plant selection was excellent and matched our taste and the conditions. You provided us with 2 competitive choices for contractors and we are very pleased with the one we picked. We left it in your hands and literally took off for half of the time. We are very happy with the results.
—Avi S. (Kirkland)
---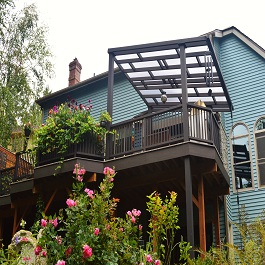 We decided to choose Sublime Garden Design because of the great reviews and great interview. The best part of the experience was the result and our beautiful deck! Everything was planned and achieved to the tiniest detail. We knew exactly what was being done and when it would be done. We really appreciated the communication and follow-through on the entire project. It was excellent. The deck crew and metal fabricators were perfection.
—Sammamish Client
---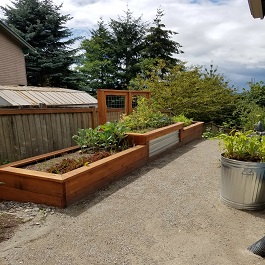 We chose Sublime Garden Design because of your commitment to sustainable, organic, water-wise landscaping and your willingness to listen to my needs and wants. I loved seeing the planting plan become a reality when the plants arrived and were tucked into the soil. The plant selections were very good. Time will tell as the fruit trees mature, and everything fills in. I've enjoyed seeing the early growth of each variety. The Japanese Maple in particular is gorgeous. The contractor turned out to be very good, easy to work with, and extremely efficient. Overall I'm very happy with the project.
—Teresa T. (Mukilteo)
---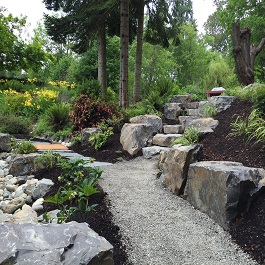 I really appreciated how supportive Heidi and Kryssie were when I first met with them and stated that I wanted to replace our ailing turfgrass with something more ecologically friendly. Although I wasn't at all sure that this idea was practical, Heidi assured me that there were many options for designing an ecologically friendly landscape while simultaneously addressing the challenges of our topography (steep slope) and integrating the plantings into the natural surroundings of our property.
The entire process was very smooth and extremely well organized. Heidi and Kryssie were super easy to work with, kept us frequently updated and followed through promptly on inquiries and requests. I must say I really enjoyed seeing the project transition from design to installation.
Kryssie did an outstanding job of transforming our initial ideas (dry creek, rock garden) into a final design that exceeded all expectations! Throughout the process she was receptive, listened carefully, and did a great job of answering all of our questions.
Heidi has a real gift when it comes to horticultural design! I love how she chose just the right plants to integrate with our relaxed Pacific Northwest landscaping and capture the colors of the various seasons. I also appreciate her incorporating the flower colors that I had requested early on in the design process.
I was very impressed with our contractor, Alliance NW. Installation was completed well ahead of schedule and to design specifications. The installation process itself was well organized and proceeded flawlessly. I would definitely use Alliance again for a future project.
Having Heidi and Kryssie onsite during landscape installation ensured that the design plan was followed to specifications. When at one point minor modifications were needed to the stone steps leading to the upper yard, Kryssie was right there to make the changes and ensure they were implemented correctly.
—Lynn R. (Snohomish)
---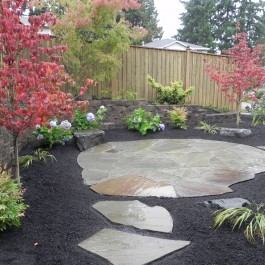 I now have an amazing outdoor living space that is better than I could have ever imagined. I appreciate the way Heidi took into account my lifestyle, taste and the existing plants that I already had into her design. My yard looks more and more amazing each day. I can't wait to see it in the spring.
—Lila B. (Everett)
---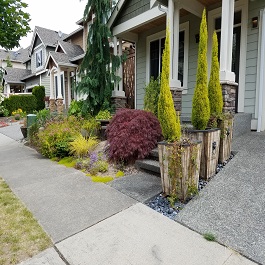 I have done a lot of work done over the years on various houses and this has been one of the best if not THE best company I have worked with. Many contractors are inconsistent which makes sites like Angie's List and yelp so useful for the consumer. Initially this company was recommended by a friend and I did my due diligence and went online to do my research and there were lots of exemplary reviews so I engaged via their web site to see how responsive they were. Within hours of my initially inquiry I got a response back same day and set up a meet and greet to go over the scope of work I wanted done. These folks have a real passion for what they do and are very professional and personable.
I travel constantly for work/pleasure and my yard has always suffered as a result. This year I decided I would fix that and wanted to start with a great design since my thumb is far from green. Even though my yard is very small Heidi and Kryssie arrived with a few different designs to completely revamp my yard. These designs were very professional, better than some home designs I've seen from architects. Included in these designs were also real pictures of all the plants they intended to use to give me a sense of the colors and styles. At first I was overwhelmed thinking my yard was too small to warrant much more than some napkin drawings, but after I reviewed them that evening with a few friends it really gave me a sense of what my outside space could look like.
One key qualities they possess is listening and understanding what the customer wants. I wanted my yard to stand out from it being one of the worst to being one of best in the neighborhood. The scope included a small basalt, multi tiered fountain with submerged pump and water reservoir coupled with an auto fill feature. Complete gut of the front yard with new plants that could be low maintenance yet gorgeous. Decorative privacy panels in the front yard to accent the curb appeal made with clear cedar and antiqued copper. Similar panels in the back yard to provide privacy `for hot tub and outdoor kitchen. Drip irrigation system to water entire yard and auto fill function for fountain. Ground cover along the narrow sides of the house. And finally some lighting to provide ambience at night for the entire house and yard.
These folks really know their supplies and did a great job of providing recommendations, examples and options to pick from. This was via a combination of methods, web sites, brochures, local companies and even a few guided tours. Also they were very efficient at managing sub contractors to make sure they were timely, doing quality work and on budget. During this project several neighbors I hadn't met stopped by and made inquiries about the work being done at my place. Seems everyone is always looking for a good landscape design company. To that end my home owners association posted a special notice about the work done to my house and invited everyone to stop by and enjoy the view of the excellent work. Everyday as parents walk their kids home for school or couples go for a walk people pause and enjoy my yard. Sure having a nice yard with curb appeal will help the valuation of my house, but the admiration from my neighborhood is even better. Mission accomplished. I would recommend this company without reservation no matter the size of your yard or your budget.
—Tim M. (Woodinville)
---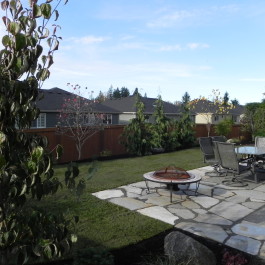 I was very frustrated after years of trying to get anything to work in my yard. Each year I would experiment with new plants and ideas that would only work marginally at best and usually ended with removal of the dead or diseased plant only to try again next year. My lawn was always a disaster not having been planted properly by the house builder, and I had given up on it. My wife and I needed to overhaul our entire front and back yards. It was going to involve a lot of work that I no longer had the time (or the back) to do myself. We called Sublime in for a consultation. It was the best thing we could have done. I provide some examples below of what you can expect from Sublime, how they work, and why you should consider using them for your landscaping needs.
Landscape design: It all starts with a well thought out, detailed, and professionally drafted design of the desired landscape result. I learned this is a crucial step for the dimensional aspects that need to come together, spacing, and to have a visual of what you can expect the final result to look like. I liked that Sublime really took the time to listen to what we wanted, consulted with us on various options, and provided us with multiple drawings for us to narrow down to the configuration we liked best. Sublime provided color photos and full descriptions of all the plants and trees proposed for our landscape. We also received pictures of the other items such as the shed, planter boxes, stone, arbor, etc. so that we always knew exactly what was being discussed and proposed. They really worked with us and made it a pleasant experience.
Plant selection: We were very impressed with the botanical knowledge Sublime could offer, not only with a complete in depth command of the types of plants, trees, shrubs, etc., but also with the insight for how the plants would work in our environment and to our expectations. We really felt a peace of mind knowing that Sublime was actually purchasing the plants on our behalf and hand selecting only the healthy, quality specimens and guaranteeing the health of the plant for the first three years. Sublime also will visit at 6 months and at one year to make sure the vegetation is holding up and to consult with us on how to best maintain them (water, prune, fertilize, etc.).
Landscape contractor selection: Sublime has a history with a variety of different landscape contractors. Because of this it removed the risk from us to try to find a quality and reliable outfit to work with. In fact, Sublime presented to us live interviews with a handful of contractors allowing us to be part of the process and to make sure we were comfortable with the final selection before moving forward. Sublime definitely steered us in the right direction that once again brought us peace of mind so important in an investment like this. Note: we had an interesting situation where Sublime really showed why they are a successful business that will be around a long time. Long story short, after we selected a contractor and an agreed price, Sublime was not comfortable with the bandwidth of this contractor to be able to adequately do the work in the time period we required. Sublime found another group on our behalf and even got them to agree to the original price and schedule we had with the first contractor. We are so grateful that sublime was watching out for us. It really showed their professionalism and their concern for their customer.
Quotation Process: Mentioned above, Sublime arranged for us to receive multiple quotations on the final design we chose. What we loved was that each quotation was itemized line by line of all the work to be done: removal, preparation, material, equipment, labor, etc. that we could compare side by side. Not only that, but we also had the option to take on any item ourselves to save or cut costs. It was very open and very flexible with nothing hidden or questionable.
On site supervision: Sublime was on site every day to oversee that the work in progress was meeting the design and Sublime's high expectations. Once again, we were relieved that we did not have to worry about this. I was also incredibly impressed by the landscape contractor. The crew showed up every morning on time, worked very hard, and always cleaned up after themselves daily so that there was no mess anywhere. They knocked all the work out in just over 5 days – incredible considering it included removing an old lawn, bringing in 24 yards of topsoil, rototilling, moving in a number of 2 man rocks, planting 98 plants/trees, and putting in a stone patio and walkway. This would have taken me a couple of years to do by myself…..
End result: Our yard looked exactly like the drawing and pictures that Sublime created early in the process. It was amazing how well and quickly it all worked out. It is a night and day difference and we could not be happier with the results. Sublime is a great investment. They are very professional, friendly, knowledgeable, open, fair, and have their customer's best interest at heart. I cannot recommend this company enough.
—John & Yuno M (Bothell)
---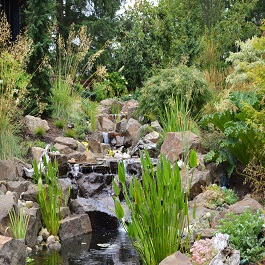 We chose Sublime Garden Design to redo the landscaping for our new 1 acre property. Of the several companies we interviewed they were clearly the best with great ideas and professionalism. They continued as they started with several well-presented designs that they modified for us until we had a solid plan. They supervised the installation and were always available for questions or concerns. We were very pleased that they incorporated plants both from the new property and our previous home. When issues arose (as they inevitably do) they were very responsive and made sure they were addressed to our satisfaction.
Our new landscape is just what we wanted with interesting features that change through the year and will continue to fit our space as they grow.
We would absolutely use them again for future projects.
—E.E. (Snohomish) reviewed on Houzz
---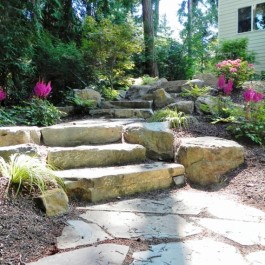 I purchased a new construction house that was on the market for quite a while. The builder ran out of money and did not do any landscaping in the back yard. Aside from the nice big trees in the back yard, it was overgrown with various weeds, invasive ivy and holly trees. The thought of me trying to maintain that backyard and slowly turn it into something nice was quite overwhelming and a lost cause.
I came across Sublime Garden through researching on the internet. In reading their philosophy and various blogs, I really felt that this company was the right fit for me. Their ideals for gardening and landscape design matched what I was looking for… in fact it was like sharing a similar vision of what I wanted my backyard to be.
The best part of the experience was how easy this process went. Heidi and Kryssie listened to what I liked and what I did not like. They provided previous design blue prints and copious amounts of pictures and magazines to get my thought process going. From this starting point, we were able to have a meaningful conversation and come up with a lot of great ideas that provided the basis for their design.
I was blown away by the design. It was better than I expected. The cool thing is that they provide different flavors of the design layouts so that you can look at them and say hmm… I like this part from this design and I like that part from the other design. Overall I am very happy with the design process.
Heidi and Kryssie were able to guide me into making sensible choices regarding my backyard. I really wanted a vegetable garden back there. They could have said yes and added a raised garden. However, they suggested to me that was a bad idea because my backyard does not get enough sunlight. I also wanted to have a certain plant and tree back there. Again they hinted to me that it was a bad idea because those plants and trees would not thrive in the shady area and perhaps would die. What they did then was provide a nice big list of plants and trees that would do well in shady areas and from this list I was able to select plantings that I liked and did not like. Easy right?
Also one of my main goals is to have a low maintenance backyard. Let's just say I did not know that a low maintenance backyard can also look that nice!!! The overall design blended well with my surrounding (I have a lot of big trees in my backyard and also adjacent to my property). My backyard still has that nice nature woodsy feeling. I can't wait till my plantings mature and bloom. There will be lots of wonderful colors for sure even if they are shady plants!
Heidi and Kryssie were wonderful to work with. They were very professional and above all they know what they are doing and they are very knowledgeable about plants, designs, and finding the right people to implement the plans. This process was very straightforward. They procured bids from three different contractors that they highly recommended. To keep them honest, I also procured a bid from a different contractor that they haven't worked with before. I ended up choosing one of their contractor based on my set of criteria: Price, manpower, and equipment. The company I ended up choosing was Devonshire Landscape Inc. and they did a wonderful job. Enough can't be said about their crew!
I ended up paying Sublime Garden to manage my backyard project. I am glad I paid for that extra service because they made sure that the design was implemented correctly. I remember watching Heidi directing the Devonshire crew in meticulously laying out the boulders and risers for my backyard. She must have had the crew lift the same boulder and rotate every which way possible until it looked just right. Heidi is quick in letting the contractors know that something doesn't look quite right and to have landscapers redo it.
The only thing that I could think of that could make the experience event better was perhaps the weather. During the project, it rained a lot and the ground also froze over. This ended up delaying the project by 2 weeks. The cool thing was that since it was winter, I was in no hurry!
—Mike C. (Shoreline)
---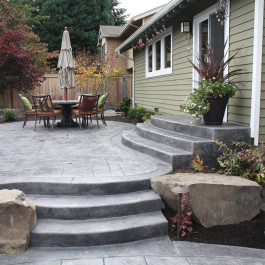 I loved the design part. It was fun to think of all the things we could do, and then figure out what we should do. The implementation process was great too. We've done a lot of work ourselves, but this project was much bigger and it was a relief to have you there to oversee and help guide that process along.
I love plants, so I was glad we could reuse some existing plants. This time around I wanted less maintenance and I think we achieved that, while still having it look fantastic. Heidi planted a few things I've never had before – looking forward to seeing how they fill in. Our old yard was very overgrown, and the difference is remarkable. Looks like a completely different yard, but very much our style.
—Elizabeth and Mike T. (Issaquah)
---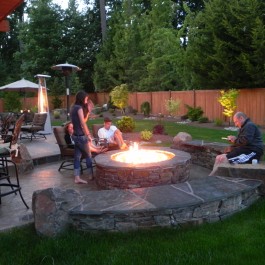 It's hard to mention all the great ideas Heidi had with our project. She took what looked like and inner city lot and turned it into a place we couldn't of dreamed of. Her ideas kept flowing and our backyard is now a destination for 4 teenagers and their friends and well as us and our friends. Why didn't we do this 10 years ago?
—Scott M. (Sammamish)
---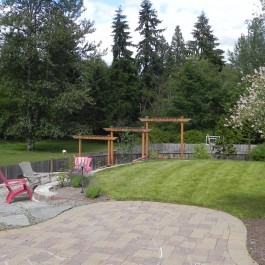 Heidi GOT us when we did our first consultation – and when she presented her ideas it was exactly what we wanted. Her work is beautiful, and there is no question her work on the design end saved us money when we went into construction. Our property looks amazing – and continues to evolve as the plants grow through the years. We would recomend Heidi to anyone looking for help with their landscape needs.
—Pirkko T. (Kirkland)
---
Heidi and Kryssie combined the rare talents of creativity and listening to our desires. The result was a consultation process that gave us every confidence that the design would reflect reality. Kryssie did a great job of staying in communication. We knew where we were every step of the way. We could not be happier. Everyone in the neighborhood loves what we've done. In fact, people drive to the neighborhood now must to view the unique landscape and get the Sublime contact points. The plants provide a sense of variety and congruency at the same time. The colors are unique yet not garish. There was enough detail in the bidding process to see differentiation but not get bored with minutia.
Again, the communication and daily updates were very reassuring. I was excited about coming home every day to see how the project was coming together based on the on-site reports from Kryssie. Quality work. Great Process. Strong relationship skills. Fantastic results. Every contractor and service professional should run their business this way.
—Scott J. (Mill Creek)
---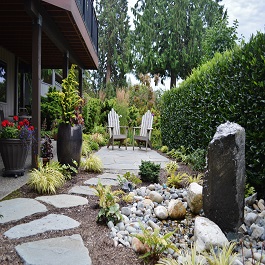 I saw an article featuring some beautiful landscapes in The Everett Herald. The landscapes were designed by Sublime Garden Design. From the article I got the necessary information to make contact. The most exciting part was probably getting the suggestions and ideas on how to improve the landscape around our home.
Heidi is very knowledgeable about the many different plants available and is an expert on designing the landscape. I'm very satisfied with the changes that were made. I like all of the plants that were recommended. I think they worked out well and I look forward to seeing how they look as they continue to grow.
We did some of the work ourselves. Heidi was here and helped with all the changes that were made. The people she recommended to also help with the work have done an excellent job. Heidi was here, on site, to supervise all the changes that were made. I have no complaints, really. I like the appearance of the yard now. I know that it will improve further as the plants mature. I have learned more about plants and yard maintenance in the process.
—Jim M. (Edmonds)
---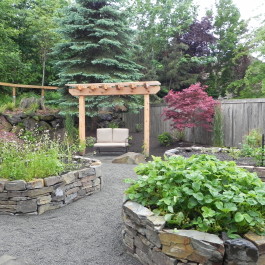 Working with Heidi and her team is such a pleasure. From the begining, I felt that she "got" what I was aiming for in redesigning our backyard, and was able to bring it all together. The end result for us is a backyard that we absolutely love, with features that we wouldn't have thought of – like the gorgeous stone planting beds! I love strolling through my edible garden, and it is a joy to look out the kitchen windows and see a yard that reflects our family's character and taste. Thanks for a great experience!
—Barb & Ben M. (Sammamish)
---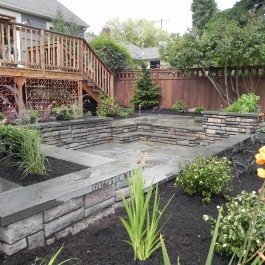 Wow, it's hard to narrow down what the best part of working with Sublime Garden Design is. I enjoyed the design process because in both the front and back yard projects we had very different concepts to choose from and Heidi was very flexible in mixing concepts and changing ideas, so I felt before demo we really had solid plans in place.
—Kim and Chris W. (Seattle)
---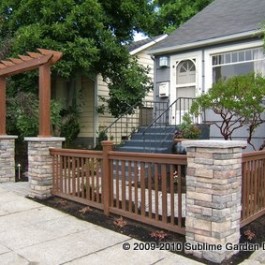 I loved being able to tell Heidi certain plants or colors I liked and have her suggest varieties I have never heard of and pull together trees and shrubs of all sizes to make a nice cohesive garden. And Heidi made the whole project from demo to finish completely worry free. I knew she would make everything perfect. The best part is the results. She has completely transformed the exterior of our house. The yard is so well thought out that with every season we get a new surprise whether it's flowers, colorful blooms, or berries, it's beautiful all year round.
—Kim and Chris W. (Seattle)
---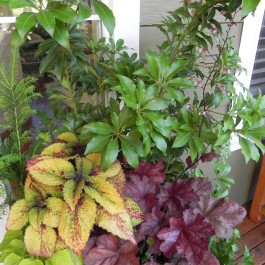 Heidi – thank you for transforming my surroundings! Who knew container pots could be this beautiful? You offered the perfect solution for my busy lifestyle and far exceeded my expectations! I love having the prettiest pots on the block!
You are a pleasure to work with. Thanks for sharing your talents with the world.
—Holly H. (Kirkland)
---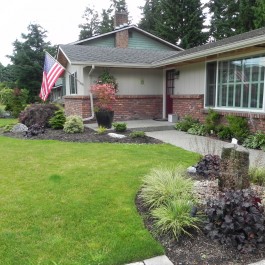 The thought of trying to landscape our front yard by ourselves was overwhelming. After seeing Heidi's website, we decided to use a professional. Needless to say, Heidi made the entire process fun and exciting. We love our yard. The plants have matured just like Heidi said they would. Her continued follow-up with us is very much appreciated. After almost 2 years, we still get compliments on our yard!
—Liz & Tim R. (Everett)
---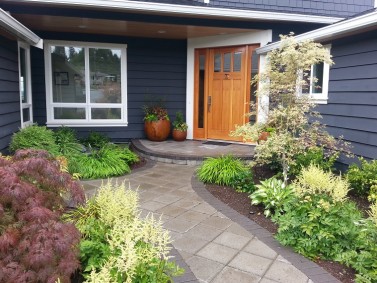 I researched a lot of local designers online and, I thought Sublime's website reflected a design process that was a notch above. The pictures of the finished projects were so impressive! And, then after I talked to Heidi and one reference, I was sure that we were going to get a super high quality plan with great creative vision behind it. The consultation, the plan itself and the awesome organized plant lists…You guys surpassed our expectations. It's funny how just having a plan has motivated us bite off bigger projects in our yard. We can't wait to get all of it done!!!
We haven't gotten around to planting everything yet. But, what we have done so far has made a visible difference, and we haven't even seen it bloom yet! We also really appreciate that Heidi tried to use the really great plants that we already had. They may need to be transplanted to a different part of the yard…..but, she doesn't waste a good plant.
We should have called you guys sooner! 🙂
—Dan and Becky W. (Edmonds)
---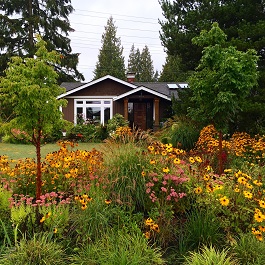 It was apparent within minutes of meeting Heidi and Kryssie that they seemed genuinely interested in helping me achieve the garden that I dreamed of …they listened to what I was saying. Previous designer/ architects I had interviewed throughout the years were very willing to tell me what they thought I should have without really listening to what I wanted.
It will sound strange but working through the process of letting go of a dated garden construct for something fresh and exciting was the best part of working with SGD. It's like SGD got inside my head… Saw the dream…. And made it even better!
SGD surpassed my desires in every way. Totally beyond expectations. I hope you've increased production of your business cards because I've been telling everyone what a fabulous experience I had. Not only that, complete strangers walking by request a card.
What I loved about SGD is they were so willing to incorporate many of my beloved plants into the new design. It is evident that a lot of forethought went into choosing that perfect specimen tree and or accent pot for the space as the end result is so beautiful. Quick, efficient. The end result is beautiful. How can one improve on perfection?
—Kristie B. (Everett)
---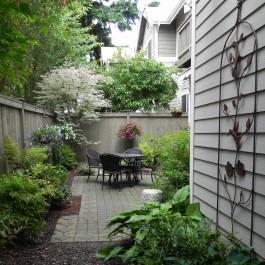 Finding Heidi & Sublime Garden Design was a true stroke of luck for us. Recently moved from Florida, we were new to NW gardening. Heidi's enthusiasm and knowledge of her filed has helped spark a new passion for these retired folks!
—Bob & Kathy H. (Issaquah)
---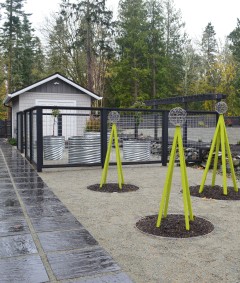 Research regarding the various landscape architects/designers showed so many designing traditional or overdone designs. We were looking for a contemporary, naturalistic landscape that was drought-tolerant and easily maintained; and that would serve to enhance our beautiful water views and preserve the natural bluff setbacks. When we met with Heidi and Devin the first time, we knew that they completely "got it"…
Wow…where do I start?! For me, the best part was the creativity and flexibility they presented. I could express likes and dislikes easily, and was thrilled with the bits of whimsy and artistry they brought to the table.
I really like things sleek and simple; in fact, my words to Heidi and Devin were that I wanted the landscape to be "simple yet stunning". We also had some unique things with which to work: an existing curtain drain running the entire length of the property that we wanted to look natural, wildlife such as deer, the marine climate and winds, large property (6.5+ acres, landscaping one acre). Heidi and Devin took these obstacles and turned them into positives. Everywhere you walk, you see something that catches the eye: beautiful and unique plants, funky culvert planters and chartreuse tripod trellises, amazing stone steps, contemporary-shaped patio with pavers that match our existing stamped concrete back porch, a rugged yet sleek custom Cor-ten steel planter and "rusted" metal panel, a meandering dry creek bed that looks as though it has been there for years…I could go on and on. But without seeing it, you miss out on all the subtleties that really make it work together, e.g., patio pavers that were cut around existing rocks so that the rocks can be used for seating or leaning. Amazing! Simple yet stunning? We got it!
The plants are perfect! I am a big fan of texture and form in the garden, and I love unique pieces…my husband, on the other hand, wanted "trees". And we both really wanted the landscape to have a contemporary look that addressed the location, with low upkeep: drought-tolerant, low maintenance, native plants. Heidi did a wonderful job of really listening to us. She ran everything by us, including when she might need to change a particular plant, and sought our input. We have not seen the landscape throughout the four seasons, but the two seasons we have observed are spectacular!
Sublime got several bids for us and got our questions answered by each contractor. The contractor we chose was terrific. We really got along well with him and his crew, and he was just as particular as we were! Sublime did a great job of finding a local contractor who appreciated the level of detail they supply, and who followed their plans specifically. If changes or questions came up, we would get together as a "team" to make a decision…love that!
At first, we were not sure why we needed to have someone else supervise the landscape installation. As the project progressed, we really appreciated the fact that Sublime was there: handling the details, taking pictures, getting information to bring back to us, researching changes, etc.
We believe that we got outstanding service and design, along with a wealth of knowledge and resources, when we contracted with Sublime. And as much as I love to garden, I know that, by myself, I could never have envisioned a landscape even remotely as lovely in design or substance. I can honestly say that I would recommend Sublime for any project, large or small. It doesn't get any better!
—John and Nancy M. (Camano Island)
---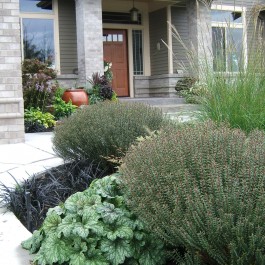 Our home was new construction so the yard was non-existent. Heidi planned the landscape completely, taking into account my likes and dislikes, the slope of the land, the uses we had in mind for different areas and did a plan that allowed us to do the work in stages as money and time allowed. She has been available for ongoing consultations and continues to help with the planning as our landscape changes with the growth of plantings and our changing needs. I would highly recommend talking to Heidi – she is very knowledgeable and willing to listen, which is a huge asset. Our yard is beautiful and we are enjoying it through all seasons thanks to Sublime Garden Design and Heidi.
—Chris L. (Snohomish)
---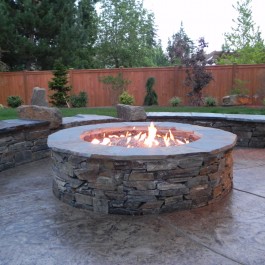 You know that we think you did and amazing job!! I/we would refer you to the world, or at least anybody in Sammamish. Before you know it, it will be time for summer plantings! I hope you guys have a great holiday season.
—Molly & Scott (Sammamish)