It's been awhile since we've updated everyone on what we've been working on throughout the summer and fall of this year. Although COVID has definitely slowed things down and messed with schedules, we've still kept busy with install projects.
For most of the summer we worked on 2 projects, one in Kirkland and one in Sammamish, both of which are now finished. We have one other project in Snohomish that should hopefully be wrapped up by the end of the year.
Our project in Kirkland started in June and wrapped up in the beginning of August. We packed in a lot of elements into this small space for our clients to enjoy including mulch pathways, bluestone entry, deck stairs in the side yard, decorative screening, seating area with a covered arbor, and a bubbling rock water feature.
The Sammamish project transformed a backyard with mostly grass to a great entertaining space that has a curved arbor with built in bench and bar space, a gas firepit patio, deck with built in metal planters, a metal planter gardening area, a swing arbor, and a redesigned dry stream.
And last but not least is our Snohomish project. We are currently waiting to finish up the under deck waterproofing which should be completed by the end of the year. This past client wanted their backyard designed and now has a covered built-in grill area, new deck stairs with cable railing, firepit patio with salvaged log bench seating, flagstone paths and mulch paths, and under deck patio with soon-to-be under deck waterproofing and screening.
We hope you've enjoyed following along with us this year and we look forward to sharing our designs and project installs next year!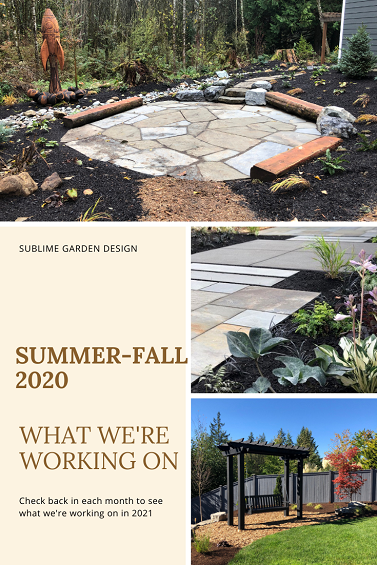 Organized under Before and After, Design Style, Gardens, Landscape Architecture, Landscape Design, Outdoor Gathering Space, Screening, Small space gardening, Water Features, What We're Working On, Whats New. Labeled as arbor, bluestone entry, deck stairs, decorative screening, grill structure, kirkland landscape design, landscape design, parasoleil arbor, parasoleil panel screening, sammamish landscape design, Snohomish landscape design, stone risers, swing arbor, what we're working on.