Himalayan blackberries are now ripe! Often thought of as a nuisance; an invasive weed that we aim to rid our properties of, Himalayan blackberries are an abundant (and often FREE) food source for wildlife and for us!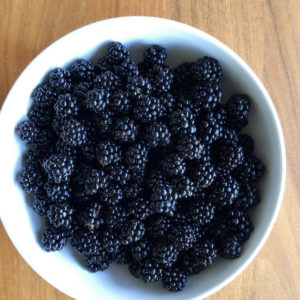 Blackberries
On our farm & nursery property we are happy to maintain a few patches of this invasive, nutritious and delicious "weed".
Blackberries are a great source of vitamins C and K and a good source of vitamin E. They also provide us with a variety of B vitamins, including folate and contain beta-carotene, which our bodies convert into vitamin A.
Blackberries are also high in manganese and copper and provide a good amount of magnesium, potassium, and other minerals. They contain a number of phytochemicals, which are thought to help prevent disease.
If you have an abundance of blackberries and you're not sure what to do with them, you can make a yummy blackberry syrup that mixes great with sparkling water (and vodka) or to put on top of your pancakes or french toast! This recipe is so easy and so good and will keep for up to 2 weeks in the refrigerator.
Blackberry Syrup Recipe
What You'll Need:
Water
Blackberries
Honey
Strainer
Glass Container for Storing
How to Make It:
Add about 1-part water to 2-parts blackberries, bring to a boil and then reduce to simmer for 30-40 minutes (or until the liquid is reduced to a bit more than half). Next, pour the berries into a strainer and smash them (a flat wooden spoon works well) to separate all the juice from the seeds. Once it cools a bit add honey to taste (how much you need will depend on how ripe your berries are and how sweet you want your syrup). I added about 1/2 cup to 3 cups blackberries. Let come to room temp, pour into a glass container, and refrigerate. It will probably keep for up to 2 weeks, but we doubt it will last that long!
If you're looking for a cool end of summer treat, another fun recipe that uses blackberries is Lavender Blackberry Ice Cream! You can easily double this recipe to fit in an 8×8 pan (which is exactly what I did) or just follow it as is to fit in a loaf pan. There's no need for an ice cream maker or churning with this recipe. It stores well in the freezer with plastic wrap or a lid. Recipe adapted from here.
Lavender Blackberry Ice Cream
What You'll Need:
¼ cup whole milk
1 tsp dried lavender buds
1 cup heavy whipping cream
½ tsp vanilla extract
7 oz. sweetened condensed milk
¾ cup blackberries mashed (there will be seeds, but you can try to strain it through a fine mesh sieve to get some of them out if you prefer)
How to Make It:
Begin by creating the lavender infusion. Warm the milk over medium-low heat in a small saucepan until the milk is just beginning to simmer. Lower the heat to low, add the dried lavender buds and let the buds rest in the milk over low heat for approximately 5 minutes. Pour this mixture into a small bowl and cover with a sheet of plastic wrap. Refrigerate until cool.
In the bowl of a stand mixer, whisk the heavy whipping cream on high speed until soft peaks form. Add the vanilla extract, then continue to whisk on high speed until stiffer peaks form.
Add the sweetened condensed milk to the whipped cream, and gently fold the condensed milk into the cream using a rubber spatula.
Strain the lavender milk using a sieve, tossing the lavender buds away, leaving the infused milk to be used. Add this milk to the whipped cream-condensed milk batter. Add in the mashed blackberries. Gently stir everything together to combine.
Pour the batter into a loaf pan, then directly cover with a sheet of plastic wrap. Freeze until firm – about 4 hours.
Scoop into your favorite ice cream bowl or cone and enjoy!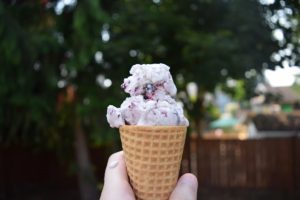 Lavender Blackberry Ice Cream
What are your favorite recipes using blackberries? Let us know in the comments, we'd love to try them out!