For most, sage is used once or twice a year to season the turkey at Thanksgiving or spice up a dish or two at Christmas but it has many medicinal uses along with its aromatic flavor.
Salvia officinalis is the common culinary sage and is grown all over the world. It reaches 1-3 feet high. The fuzzy long oval shaped leaves are a gray-green color and grow on woody stems. Flowers are blue-purple and rise on spikes above the leaves in summer. It does best in full sun and well-draining soils and can tolerate drought well. While the leaves are the main part of the plant used in food and medicine, the flowers can also be used as a garnish and even in flower arrangements.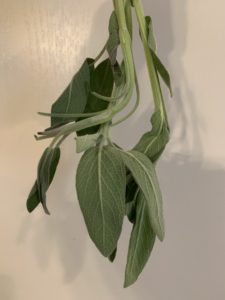 Sage is well known for helping with digestion and it can also help with sore throats in those with a cold or flu. There have also been studies showing that it can help improve cognitive function and memory in those with Alzheimer's disease. Sage can help balance cholesterol levels and has been shown to be beneficial to those with type 2 diabetes because of its positive effects on blood sugar levels.
We all know sage can be used as a seasoning either fresh or dried but this versatile herb can be used in almost any other preparation you can think of. One of the easiest is to make a sage tea with the leaves but it can also be made into tinctures, essential oils, added to lotions, powders, mouth wash, and even used for facial steams to help tone the skin.
If you're looking for something a little different to try and you have some fresh sage to use up, these Sage Shortbread Cookies are easy to make and delicious! They go great with a cup of tea, coffee, or cocoa. Perfect for this time of year!
Sage Shortbread
What You'll Need:
2 cups all purpose flour
1/2 cup powdered sugar
2 tablespoons thinly sliced fresh sage leaves or 2 teaspoons dried sage
1 teaspoon coarse kosher salt
1 cup (2 sticks) unsalted butter, cut into 1/2-inch-thick pieces, room temperature
1 tsp lemon zest (optional)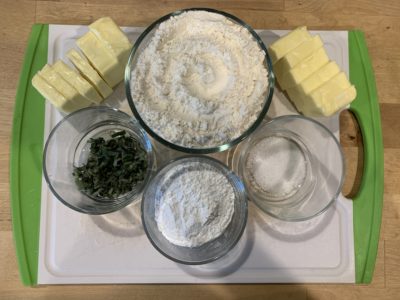 How to Make it:
Blend first 4 ingredients in processor. Add butter; using on/off turns, process until dough comes together. Mix in lemon zest if using. Divide in half. Shape each dough piece into a log about 1 1/2 inches in diameter. Chill until firm enough to slice, about 30 minutes.
Position 1 rack in top third and 1 rack in bottom third of oven; preheat to 350°F. Line 2 baking sheets with parchment. Cut each dough log into 1/3- to 1/2-inch-thick rounds; place on sheets. Bake 10 minutes. Reverse sheets so bottom sheet is on top rack of oven and top sheet is on bottom rack. Bake until cookies are golden, about 15 minutes longer. Cool on racks.
With all of the different benefits and ways to use sage, it really does make it a powerhouse herb that should be in every garden. What ways do you like to use sage? Let us know in the comments, we'd love to hear from you!