Earlier this year we were approached by Dutch Hill Elementary School to work on a special project with them.
Every year the sixth grade class at Dutch Hill Elementary, in Snohomish, works on a project to give back to the school community.
This year's class decided to give back by beautifying the courtyard and outdoor spaces surrounding the portable classrooms they've spent the year learning in.
Sublime Garden Design volunteered to create the design with the students acting as our clients. We have taken the students through the design process just as we would any client. Starting with a consultation meeting where we surveyed the class to get a feel for how they would like to use the space, what their interests are and what sorts of features they would most like to see in the final project.
From this process students created a mission statement to help guide us in the design.
"Create a space to learn, grow, eat, play, relax, observe wildlife and leave our mark for future students and have a glorious time"
A small committee of students from the 6th grade class met with the design team at Sublime to review concepts and finalize their design plan.  With their thoughtful input Heidi and Kryssie created concept plans for their review.  Kryssie created a 3-D model of the space to help the students visualize the possibilities along with these idea pages.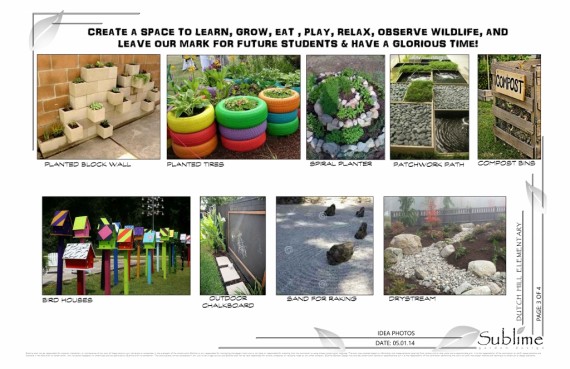 In the end a final design was selected through a great collaboration between the students.  Throughout the process the students have shown a level of maturity and thoughtfulness that has impressed us every step of the way.
Many thanks to the sixth grade class for being such amazing clients!
A generous community came together to make this project happen including Wes who made this cool time lapse video of the process.
Between the volunteers and donors there are so many people to thank:
 Other donors included:
Parker Paint in Mill Creek who donated the paint and brushes for our art projects.
All About Auto Wrecking in Snohomish for donating the tires that became cool planters and seats!
Dutch HIll PTA, SEF Grant.  Thank you Kimberlee Spaetig-Peterson!
And to Wes Plate, the Lepse Family and the Johnson Family for their donations of materials, time and support.
None of this would have happened without Emily Johnson and all her coordination efforts!  You are AMAZING Emily, thank you!
Many thanks to all that volunteered to pull this together!