Where do I start?  I feel as though I could write an entire book (and this blog post might just be one) about the process of creating our garden The Resonating Sounds of Nature, Finding Peace and Solace in the Garden for the 2012 Northwest Flower & Garden Show.
So much has transpired in this process. Creating this garden has had its ups and downs, has made me question everything, and has made me grow both personally and professionally. In the end I have learned to trust in myself and in others. I have also learned that asking for help is OK, and that moving forward with the end result in mind, having the faith that the "how" will play out in time, is how my life flows best. There is so much more I could share, but alas this is about the garden…
So I will start with the week leading up to the show. It all seems like a whirl-wind now. You can read about part one here, and where I left off last here. Our plant list from the show is here.
The final chapter…
After a week of being snowed-in we had some catching up to do. Paul had been working on the software that would control the drip system for the drums but he was having some major technical difficulties. Since this was the basis for our concept it was pretty crucial to get it right. Without a way to get the water to drop on the drums there would be nothing to resonate with.
So many thoughts were going through my head and I was second-guessing the decision to base our garden concept on something so technically difficult and something that I had no personal experience with. We had to put our trust completely in others to do something so important (something I've never been all that good at doing). I was beating myself up for it and I was losing sleep.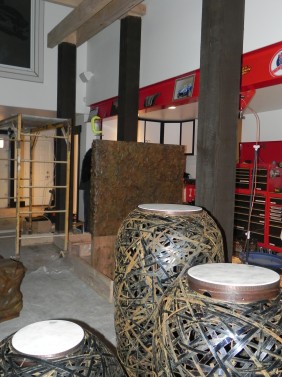 We decided that we better start considering our plan 'B', which was a switching mechanism used at nightclubs that Craig had found, just in case the system Paul was creating didn't work. We hated to doubt Paul but it wasn't looking good. But we still needed to create the rhythm. Stefan (drummer and owner of Simply Rocks in Snohomish) agreed to meet with Craig and I on Sunday afternoon. We were there for several hours and we made some good progress creating an actual rhythm.  It was the first time that I knew we could make this work. And the first time in weeks that I got a full night's sleep.
Later in the week with the help of Don, Derek and TJ from the Siding Company we got the arbor stained. Don't let the name fool you, though they may have started out doing siding they do so much more than that. If you ever need any type of woodworking these guys are simply the best!  I just cannot say enough about what truly great people they are.
The Thursday before set-up was a very rough day for various reasons. The day left me beaten down, exhausted and ready to back out of the show. Yes, 2 days before set-up.  I cannot share all of the details about this but I can tell you I felt like I had been run over by a truck…a dozen times.
The good news was that we did make some decent progress with the system Paul was working on for the drums.  All but one drum was working- something to do with the circuit board. But the rhythm he had created was just not right.  I had listened to many drum rhythms to get a feel for what I wanted but so many of them were very intense- stimulating, but not soothing.
In my search for a rhythm I came across The heartbeat Drum Song (Mahk Jchi).  Right away it resonated with me.  Maybe I was Native American in another lifetime.  I was so moved by it that it became a ritual for me to listen to it each morning in bed before I started my day.  Somehow it soothed my mind and made me feel as though everything would work out.
Translated it means: Our hearts are full and our minds are good; Our ancestors come and give us strength; Stand tall, sing, dance and never forget who you are or where you come from
Paul assured me that he could fix the circuit board and get the last drum to work and all would be fine. We left the shop Thursday night with the agreement that he would come to the Convention Center on Monday afternoon to get set-up and the final rhythm worked out. We had to be completed and off the floor Tuesday at noon for judging, so this was already cutting it pretty close.
Friday was a busy day of logistics and getting all of the materials together from various places; the ledge-stone from Rock Mountain, the big slab rock from Simply Rocks, and the plants from the horticulture department at Lake Washington Tech. Don and the guys took down and loaded up the pergola to get it ready to go. I was still feeling pretty beat up after Thursday and I relied heavily on Kryssie to be the clear thinking one that I was not capable of being.
Saturday morning arrived. I felt a new sense of energy and excitement.  I was still a bit uncertain of how it would all come together but there was no backing out now.  The guys finished loading up and picked up the remainder of trees from Wetlands & Woodlands, including several extras that I added onto the list just the day before. Kryssie and I arrived at the Convention Center about 10:00am to begin marking out our space for our move-in time of noon.
We worked hard all day Saturday and made a lot of progress.
The arbor was built and most of the stone was set, including the big slab of Montana from Simply Rocks.
Sunday went well and we were pretty much on schedule.  It was starting to come together but we still had a lot of work to do.
Monday started off great. I was surprised at how calm I felt considering the last few months and all that had led up to this day.  Kryssie took care of directing the guys on the water feature and helping Craig set up the drums and I worked with the volunteers to get the plants set and planted.  Organized chaos at its best.
I called Paul to and told him that we should be ready for him to come around 3:00 to set up his system and work out the rhythm for the drums. There was a longer than usual pause of silence followed by a sigh on the other end. He told me there was a problem, that he had had blown his circuit board. He built another one and had blown that one too.  He said he would try but it didn't look like he was going to be able to build another one in time.  My heart sank a bit but I was thankful we had a plan 'B'. So I called Stefan and, being the great guy that he is, he agreed to come that night after work to help us.
Relieved, we continued working and by 5:00 we were pretty close to being finished with everything except for the drums.  This was a much different experience than the last time I did the show when we worked frantically down to the last minute before judging. We left around 5:30 and went to get a bite to eat and a well-deserved cold beer.  We came back and met Stefan around 7:00 and worked with him on creating the rhythm until about 9:30. We left feeling pretty darn good.  The best night of sleep I had in months!
I came in relaxed and rested at about 8:00 Tuesday morning, cup of coffee in hand. I stood at the front of our garden admiring it and smiling at all we had accomplished.  Then something caught my attention out of the corner of my eye.  No way could this be happening. Our water feature had leaked and was all over the concrete floor.
Since we had made such good progress the day before we only had 2 guys coming that morning (in contrast to the 6-8 we had every other day). Soon the guys showed up and they and Kryssie went to work trying to figure it out where our leak was.  We had 3 volunteers scheduled to show up at 8:00…and none did. So I worked on the last minute cleaning up and primping- the only thing that I thought we were going to have to do that day.  Volunteers finally showed up and we frantically worked to be cleaned up and ready to go for judging.
Tuesday was shaping up to be a rough day. After much digging around there was no sign of where the leak was coming from, so we kept mopping until we had to vacate the floor at 12:00.  I was a nervous wreck leaving our garden that way knowing that the judges we soon be there.  So much work for it all to end like this.
Later than evening Kryssie, Johnny and I anxiously arrived at the preview party.  I had sent Cyle (the show designer) a text to see how our leak was doing and if the drums were working. He told me they were mopping it up but that it "wasn't horrible" and that the drums were working. Not horrible gave me little relief.
When we got to the party we quickly went our garden to see which, if any, award we were given.  Even considering the leak, I think Kryssie and I both hoped we might get gold.  We arrived to see that we had been given a Silver medal.  We took a walk around the other gardens and were surprised to see that the judges had been pretty harsh and our Silver was relatively good.  So we ate.  And drank wine.  The hard part was over.  We did it.
But nothing could prepare us for the 5 days to come.  Compliment after heart-felt compliment, people so passionately thanking us and praising us for our efforts.  It was more that we could have wished for, and it never got old.
Friday we were awarded with the Ethel Moss award, which is the favorite garden voted on by all the garden creators- what an honor for us!
And then the real surprise came when on Sunday we were awarded the People's Choice Award. We were so thrilled and excited, especially because this garden was created for the people. We wanted to create a sense of peace, if only for a moment, and for people to truly feel something just being there. I think we accomplished that.
What a truly amazing experience this has been. Once again I have to mention (in no particular order) and thank all those that contributed to creating this garden. We could not have done it without any of the people mentioned below. It truly was a team effort and one that I will always be grateful for.
Craig Penner, City rain. Craig created our water dispersal system and brilliantly came up with our plan 'B'. Without him there would have been no water to create our rhythm.
Stefan Grunkemeier, drummer and owner of Simply Rocks. Stefan loaned us the large slab at the entry to our garden and created the rhythm that so many resonated with.
Dr. Jeffery Thompson, founder of the Center for Neuroacoustic Rearch in California. Dr. Thompson allowed us to interview him on the healing properties of primordial "womb sounds", that that have the ability to change our state of consciousness.
Robert Fairfax, Artist. Robert created our "Earth Code Walls" and the "Flame Pods" (the orange skunk cabbage seed heads). He is an artistic genius and worked so hard, not only on creating the art fort the garden, but in helping us build the garden as well.
Steve Farris, Metal Artist. Steve created our "drums" with steel banding- they were beautiful and truly the centerpiece of our garden.
Barbara Sanderson, Artist.  Barbara is so talented and graciously loaned us our glass fire sculpture.
Tim Court, Advantage Light Source. Tim and Natural Concepts worked together to install the wonderful LED lighting that  gave the garden the softly lit effect that we were looking for.
Don Dawson, Derek and TJ, the Siding Company.  These wood-workings gurus are not only talented but are so wonderful to work with! I would trust them with anything wood! Contact them at 206-595-0576 or thesidingcompany@frontier.com
Natural Concepts Landscape Co, Inc. – Jeff, Craig, and especially Rafa and Leo and their team- they have such pride in their work and put so many long hard hours into building our vision!
Kathy & Ella at Wetlands & Woodlands. They generously provided our oodles of plant material for our garden, making it the lush multi-sensory garden that it was.
Northwest Nurseries. They also provided a few key plant specimens that made our garden unique.
Ben and his team at Windmill Gardens.  For forcing our bulbs and other plants into bloom and meticulously delivering them to the show.
John and David from Meyer Wells– They worked with us to custom-mill a huge salvaged Doug Fir to create our beautiful arbor.
Uriah Bueller, Parasoleil. Uriah worked with us last minute to deliver the architectural metal panels that cast the beautiful shadows in our garden.
Stone suppliers, Marenakos, Rock Mountain, and Simply Rocks. They provided literally tons of natural stone for our garden. A Special thanks to Marenakos for all the time they spend providing and setting stone for all the garden creators in the show!
Sawdust Supply Co. Inc. For the yards and yards of sawdust and mulch that provide the foundation for all the gardens.
All the volunteers, including students and alumni from Lake Washington Institute of Technology, fellow designers Leanne Goulding and Laura Kleppe, and client Tammy Quinatar.
And last but not least, Kryssie Maybay whose quick thinking, fast problem-solving skills and steadfast 'knowing' that everything would turn out helped to keep me sane and on track. I couldn't have done this without you!