Adding a deck to your landscape can add much needed outdoor space for everyone to enjoy. You have many different options when it comes to designing your deck and what surface you choose, is one of the most important parts. Depending on what type of look/feel you want to achieve with your deck and what your budget is, will help you determine which kind of surface you should choose.
Cedar
Cedar is naturally resistant to termites and rot and comes in both green and dried options. For deck building, it's best to stick with dried cedar as green lumber is much more likely to split, warp, or shrink due to the high moisture content. If you like the look and price of cedar, it's best to stain and seal your cedar deck for longevity and continue to re-seal and stain annually.
Tight Knot/Select Tight Knot Cedar- Tight Knot/Select Tight Knot cedar has small knots throughout the boards that are fully intact without holes in the knots. Tight Knot and Select Tight Knot may or may not be split up into their own categories at your local DIY store, but it will be separated from Clear cedar and will be less expensive than Clear cedar.
Clear Cedar- Clear cedar, unlike Tight Knot, does not have any knots in the boards and has a nice, smooth vertical wood grain. There is a significant price jump between Tight Knot and Clear cedar but if you're not a huge fan of knotty cedar, it may be worth it for you to go with Clear if you have it in your deck budget.
Composite
Composite surfaces are made from a combination of wood (such as sawdust, wood chips, etc) and plastic. If taken care of properly, it can outlast a regular wood deck and because most companies use recycled plastic in their process, it is usually a more environmentally friendly deck construction material. Composite does not require staining or sealing.
Fiberon- Fiberon composite decking comes in many different color options from mimicking the look of hardwoods, like Ipe, to cooler gray tones. Depending on where your deck is going to be located, Fiberon has several different lines of composite decking to help you choose which kind you want to go with. Pricing for their Horizontal Decking is comparable to Clear cedar due to the price of cedar which keeps rising.
Azek- Azek decking is a little different in that it is made up entirely of PVC instead of a combo of organic materials and plastics. Their wood like finishes come in various shades of dark browns, reds, and grays and whites and because it's made of PVC, it resists stains, scratches, and fading. Like Fiberon, they have a couple of different collections to choose from and is similar in pricing to Clear cedar.
Hardwoods
Ipe- Ipe wood (also known as Brazilian Walnut or Iapacho) comes from Central and South America and has rich red/brown colors throughout. It is a harder wood than cedar and resists rot and decay. If left unfinished, an Ipe deck will fade to a silvery gray color, but it will still resist decay and rot. You can apply a UV protectant which will help keep the color from fading in the sun. Ipe wood will be a step up in price from Clear Cedar and Composite decking making it one of the more expensive options for deck surfaces but Ipe can last quite a long time. It is important to note that it has been questioned whether Ipe wood is a sound ecological choice because of sourcing issues and deforestation. If you'd like to read more about this, follow this link.
Tigerwood- Similar to Ipe, Tigerwood is a South American hardwood that resists rot and decay. It has a more golden brown/red color than Ipe and with darker streaks throughout. Without a protectant, Tigerwood will fade to a more uniform color. It is similar in pricing to Ipe so if you like the look of hardwood decking, it'll be a matter of color preference if you have it in your budget.
Waterproofing Systems- If you have a taller deck that you might want to have a patio under or just store things under, you may be interested in ways to waterproof your deck. Systems like Trex Rain Escape use a series of downspouts and troughs to reroute water. It can be installed with both wood decking and composite decking. While this isn't exactly a decking surface, it's something to consider when choosing your deck surface as it needs to be installed prior to attaching your surface boards to your deck frame.
Kebony
Kebony's technology was developed in Norway and uses Scots Pine (Pinus sylvestris) and Monterey Pine (Pinus radiata). The pieces of pine are treated with a "bio-based liquid" and then cured and dried to build thicker wood cells. This makes it so the hardiness of the pine wood is equal to those of other hardwoods which in turn means it is resistant to fungi and rot, like cedar. Kebony can be used for decking along with cladding, roofing, and construction. There are 2 types: Kebony Character and Kebony Clear. Character is made with Pinus sylvestris and Clear is made with Pinus radiata but they can both be used in the same applications. Kebony Character contains knots and some untreated heartwood so it shouldn't be machined or split so the heartwood doesn't get exposed. Kebony Clear has a clear surface free of knots and is treated all the way through the board which allows it to be machined and split if needed like any other hardwood. Both have a deep brown color which will patina to a silver-grey over time. The speed of the patina is determined by how much sunlight it gets along with rain and what application it's being used in. It's low maintenance and only requires simple cleaning like sweeping off or gently hosing off built up gunk. To read more about Kebony, click here.
Pavers
Another option that many don't think of is using pavers for their decking surface. It requires a wood or steel decking structure and then a puck system is used to install and keep the pavers secure. In the past we've used 2'x2′ pavers but other sizes and types of pavers could be used. Pavered decks can be swept off to clear debris or hosed off to wash away built up messes so maintenance is quite easy. If you choose to have a wood decking structure, you'll want to make sure to refinish it annually to keep the wood protected like you would with any other type of wood deck.
If you could choose any type of surface for your deck, what would you choose? Let us know in the comments, we'd love to hear from you!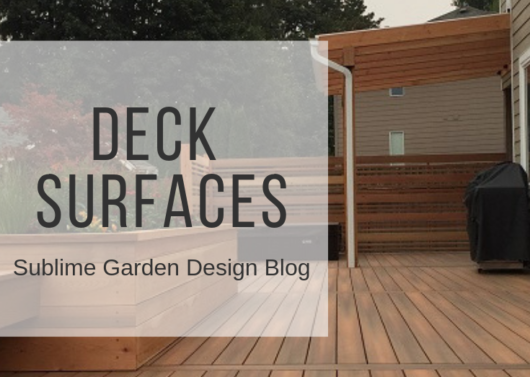 Organized under Landscape Design, Outdoor Gathering Space. Labeled as azek, cedar decking, clear cedar, composite decking, deck surface options, deck wood, decking surfaces, fiberon, hardwood, hardwood decking, ipe, ipe decking, kebony, kebony deck, kebony decking, kebony wood, paver deck, paver decking, pavered deck, select tight knot cedar, tigerwood, tigerwood decking, tight knot cedar, trex, trex train escape, types of decking, types of wood for decking, waterproof deck, waterproof decking, waterproofing system for decks, wood for decking.