July has been a very busy month for us with 4 projects in installation!
We finished up this project in Shoreline which included a Castohn Linear Slate paver patio and steppers, granite stone risers, an Azek composite deck, and a cedar arbor.
The Snohomish pool project is getting closer and closer!
A new project in Bothell started in late June. This one will have an Abbotsford Texada paver patio and steppers, an Ipe deck and planters, and an Ipe seat wall along with a cedar spa arbor and Solara covered pergola.
And last but not least is our project in Bellevue. The custom Diamond Spa was lifted via crane over the house and into the backyard to be surrounded by an Ipe wood deck.
At least 2 new projects will be starting up in August so keep checking back for progress pictures!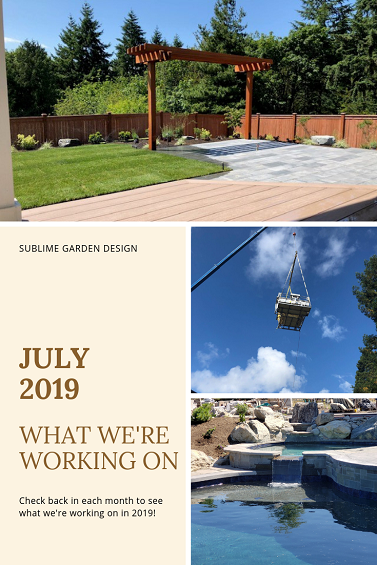 Organized under Gardens, Landscape Architect, Landscape Architecture, Landscape Design, Outdoor Gathering Space, What We're Working On, Whats New. Labeled as abbotsford pavers, backyard patio, castohn pavers, custom spa, diamond spas, ipe deck, landscape architecture installation, landscape design installation, paver patio, pool design, progress pictures, raised planters, snohomish pool, what we're working on.