We're staying plenty busy between the Snohomish pool, new designs, finishing up projects throughout the area, and 6 and 12 month walk-throughs for our clients.
We finished up a project in Mukilteo which included a Fiberon composite deck, a Belgard paver patio, and flagstone steppers.
This backyard project in Shoreline will include a Castohn Linear Slate paver patio (pictured below) and steppers, granite stone risers, an Azek composite deck. and a cedar arbor.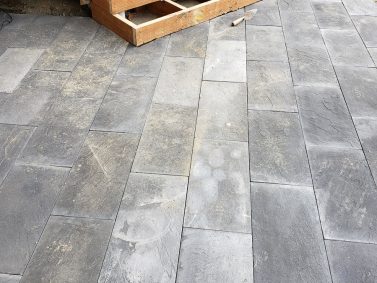 We visited a client's garden in Bellevue for their 12 month walkthrough at the end of May.
And we'll be starting on a design for a unique project in Granite Falls which is actually an Airbnb situated on the South Fork of the Stillaguamish river with a peekaboo view of Mt. Pilchuck. It currently has a yurt with a separate private bathroom and shower on the property and we'll be designing the space to enhance the natural beauty of the area with a cedar soaking tub and boardwalk leading to it, a rustic fire pit, and a place for meditation. You can find out more about this Airbnb here.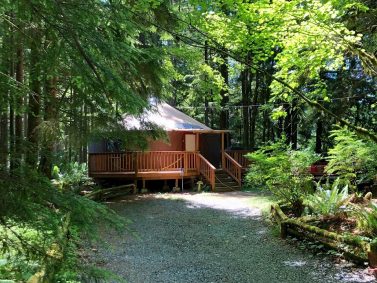 The Campanula was in full bloom at our 12 month walkthrough in Bothell.
The Snohomish pool project is coming right along with patio work. Look at this beautiful brick border. Once it's set, the interior will be Bluestone so check back in for those pictures.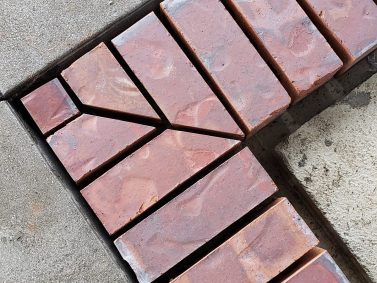 Can you believe it's summer already and we're half way through the year?! What's been your favorite project to follow along with so far? Let us know in the comments, we'd love to hear from you!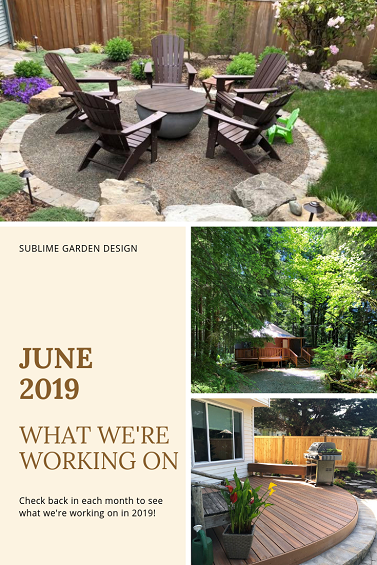 Organized under Before and After, Gardens, Landscape Architecture, Landscape Design, Outdoor Gathering Space, What We're Working On, Whats New. Labeled as airbnb design, airbnb landscape design, azek decking, bellevue landscape design, castohn linear slate pavers, castohn pavers, cedar arbor, fiberon decking, flagstone steppers, granite falls landscape design, granite stone risers, installation of landscape designs, mukilteo landscape design, process pictures. landscape design process, progress pictures, what we're working on, working on in june, yurt landscape design.