The pool in Snohomish is coming along and a lot of concrete has been poured since April. The pool tile will be starting soon so you'll have to check back next month for those pictures!
Finishing up a project in Kirkland with a deck, flagstone patio, and plenty of plants.
Underdeck waterproofing

Plants waiting to be set

Plant set day
Laying down bluestone pavers for a project in Bellevue. This will also include a custom spa by Diamond Spas with a waterfall weir into it, ipe decking, a pergola, and Parasoleil panel screening.
We're just about to wrap up a project in Mukilteo which has a composite deck, paver patio, fire pit, and flagstone steppers.
Deck framing

Paver patio

Flagstone path and plant setting
We love visiting this client's garden in Redmond.
It's been many months in the making, but our greenhouse is officially up and running and storing lots of plants for upcoming projects!
We'll see you next month with more progress pictures!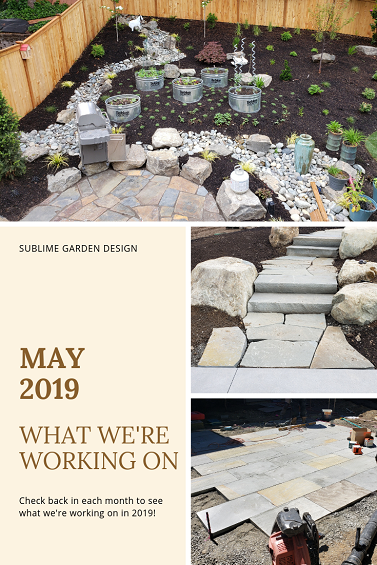 Organized under Landscape Architect, Landscape Architecture, Landscape Design, Outdoor Gathering Space, Water Features, What We're Working On, Whats New. Labeled as belgard patio, belgard pavers, bellevue landscape design, bluestone risers, diamond spas, dimensional bluestone, fire pit, flagstone patio, kirkland landscape design, montana flagstone patio, mukilteo landscape design, pool, pool construction, Snohomish landscape design, spa, stone risers, underdeck waterproofing, waterproof decking, what we're working on, what's new.