Whether you have a big or small dog, creating a space where you and your pets can spend time outside is important. These 5 ideas (along with these tips) will keep you and your dogs happy and safe while you both enjoy your garden.
Plant Choices
Choosing the right plants that will not only look beautiful but also keep your pets safe is crucial when designing a dog-friendly landscape. Plants like Heuchera (Coral Bells), Rosemary, Hakonechloa (Japanese Forest Grass), Spirea, and Doublefile Viburnum are all safe for pets. Plants such as Hedera helix (Ivy), Daffodil bulbs, Irises, Azaleas and Rhododendrons, and Dahlias are all known (among many others) to be poisonous to pets. ASPCA has a list of the most common poisonous plants here along with a list of non-toxic plants. Unless you're really wanting your pets to stay away from an area, it's also best to not have plants with thorns and other kinds of stickers so your animals don't get hurt.
While not a grass that you would plant in your garden, cheatgrass (an invasive species) may spring up in your garden from time to time as a weed (usually in late summer). Pull it out as soon as you can! The dried seed pods can easily get attached to paws and get stuck in the skin between toes and cause major irritation that could require a visit to the vet. Ouch!
Landscaping Materials
There are some materials in the landscape world that you should steer away from if you're trying to design a dog friendly garden. Lava rock can be very rough on paws and can even cause tiny cuts that can get infected. Some dogs, for some reason, also like to eat lava rocks which can really mess up their intestines and digestive system so it's best not to use lava rock. While it may smell good, cocoa mulch is still from the same plant that makes chocolate which means it's out of bounds for those with dogs. In general, it's best to use smoother materials to help protect your pet's paws, such as river rock and wood mulch.
Sun & Shade
Having a spot for your pup to layout and bask in the sun is a must but it's also important to offer shade for them since they can get overheated easily. Shade structures such as pergolas and arbors can be a good choice for both people and pets. If that isn't in your budget, having a dog house or a simple cover (trees, etc) over their area will always give them the option to seek shelter when they need it.
Dog Run/Patrol Path
If you have a big enough area, you can add in a dog run if you have a high energy pet. By designating an area specifically for them to run around, you'll hopefully be able to keep them from tearing up your garden when they get the zoomies. If your dog likes to patrol the yard, you can make a path for your dog run/patrol path around the perimeter of your garden making sure to keep room between that and plants that you don't want them to accidentally run over.
Borders & Boundaries
Having a dog and a beautiful garden at the same time can be tricky. But, by using borders and edging like timbers and driftwood along dog runs and pathways you can help create a physical barrier between where they should be and where they shouldn't. If you have a vegetable garden that they like eating from, it may be a good option to put up fencing. A small dog may only require a short 2'-3' fence while a larger dog may need a much taller one to keep them out. Fencing is also especially important if you have other animals on your property, like chickens, that you want to keep separated.
Bonus: Coyote Roller
And speaking of borders, if you have a very high jumper or a fence climber or live in a rural area with coyotes and other wildlife, coyote rollers are a safe way to keep your pets inside and wildlife out. They are round, aluminum rollers that can be attached to metal, wood, or vinyl fences. They recommend fence height be at least 6 feet high. The rollers work by rolling the animal off of the fence instead of it being able to get traction and vault over your fence. You can read more about them here.
What kind of tips and tricks have you found that work in your dog-friendly garden? Let us know in the comments, we'd love to hear from you!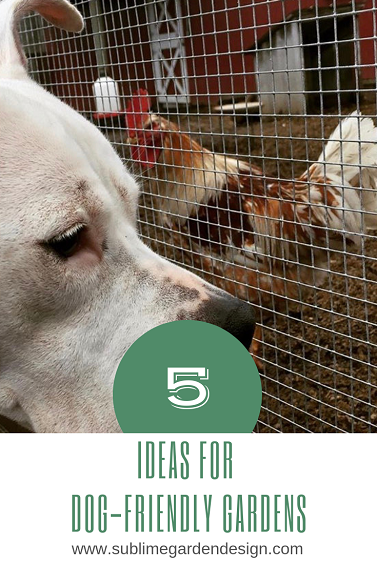 Organized under Dog Friendly Gardens, Garden Tips & Advice, Gardens, Trends, Wildlife. Labeled as 5 ideas for dog friendly gardens, coyote roller, dog friendly gardens, dog friendly landscapes, dog friendly landscaping, dog run, Dogscaping, fencing, materials for dog friendly garden, materials for dogscaping, poisonous plants for dogs, safe plants for dogs.